Cresside Collette's Postcards from Home
View(s):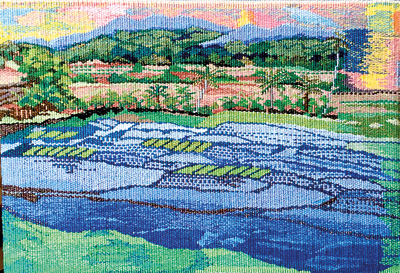 Postcards from Home, an exhibition by Cresside Collette opens on February 14 and will remain open daily until March  7 at the Saskia Fernando Gallery, 41 Horton Place, Colombo 7, from 10 a.m. to 6 .pm.
Born in Sri Lanka, Cresside Colette is the pioneer of en plein air tapestry and presents her first solo exhibition in the country this February at Saskia Fernando Gallery. 'En plein air' refers to tapestry of landscapes that are created 'on location' .The works from this collection are created in Sri Lanka as well as inspired by the Sri Lanka landscape.
Colette was employed at the Victorian Tapestry Workshop in Australia in 1976 where she worked as a production weaver for 15 years. Following this experience she went on to complete her Masters in Fine Arts at Monash University in Melbourne in 2003. In 2003 and 2004 she was awarded residencies at Bindanon (the Boyd estate on the Shoalhaven River NSW). Cresside was finalist in the first Tamworth Triennale in 2011 and her current art practice examines the dichotomy of belonging to two lands, inspired by her return to Sri Lanka in 2009 to attend the Lanka Decorative Arts Workshop.
The en plein air works have been presented in a travelling exhibition across Australia, where she now lives. The larger works incorporate the Sri Lankan landscape with a combination of collage and pastel used as the base work. Daughter of modern artist Aubrey Colette, of the 43 Group collective, this exhibition highlights her connection with her Sri Lankan origins.
"Every time I return to the country of my birth my senses are awakened to that familiarity, no longer foreign but an essential part of my being. I smell the ripe pungence of the air on arrival. The warmth envelops me in its stifling embrace. I hear the accents that surround me and I slip into the sing song easily, tailoring my own speech patterns to identify with them. The tastes have never left me – in 55 years my own culinary practice pays homage to the spices and techniques that bind me to this island. And above all, all that I see is imprinted on my psyche as I hungrily seek out the visual treasure that informs my art practice," she says.
"And so where is 'home' really? Those of us who have lived our lives separated from our birthplace dwell in limbo, longing to belong. I can feel Australian in many aspects of my life but not completely. I was planted in a different soil, grew and reached for the sun in a different climate, absorbed the culture and manners of a different society as I grew. It will always be part of me, and yet is lost to me as the country I knew as a child has evolved into something other.
"Home is what you imagine it to be, make it to be. My hands shape it into existence through the one constant that cannot be changed, the natural environment that speaks to the heart."