Canvas of social issues by young artists in the east
By Tera Jayewardene
View(s):
The striking works displayed at the exhibition by the final year students of the Department of Visual and Technological Arts, Swami Vipulanantha Institute of Aesthetic Studies (SVIAS) last week (February 5-8) in Batticaloa in the Institute were a telling social commentary on issues that impacted the young artists.
The exhibition came to be when the Director of the institute Dr. S. Jeyasankar changed the curriculum and teaching style, organising this exhibition as part of the  new direction the institute would take. Lecturer S.P. Pushpakanthan coordinated the Degree Show 2019 under the supervision of  Dr. Mariah Lookman who joined the SVIAS team as Academic Consultant for the Department of Visual and Technological Arts in 2017.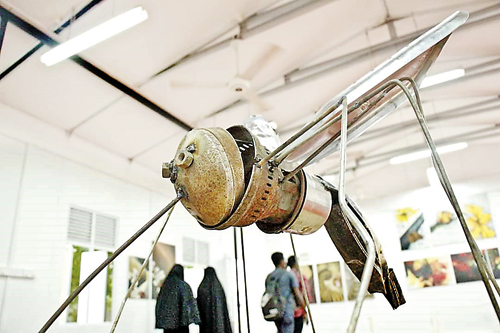 "This exhibition serves as a model for our university and will help interdisciplinary study and place our students within the wider society while also creating a broader awareness of contemporary art and culture," says Dr. Lookman.
"After much experimentation and dedication, the students have created pieces in a variety of media. These include drawings, paintings, multimedia installations, digital work, and sculpture. The young artists in the class of 2013/14 have taken up socially relevant issues, addressed local knowledge systems including craft and handicraft traditions, and have used the artistic medium for self-examination and reflection on culture," Pushpakanthan says.
Among the many works on display was 'Destroy' by Badhurdeen Siththi Mubarakka,  a take on abortion depicting a foetus in its mother's womb, the use of reds, blacks and the overall tone grabbing the viewer's attention.
Chandran Ganeshwaran's 'Landscape' had its focus on what the artist calls "the serious defects in the housing schemes constructed by the government". The staple colour used is orange, and represents the areas that are susceptible to soil erosion, an issue that affects all parts of Sri Lanka.
Pararasasingam Inthusan's 'Honour' is about the challenges people who lived through the war had to face.
The exhibition attracted many visitors.