Appreciations
View(s):

The genuine politician who spurned racism

Anura Bandaranaike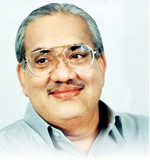 (On the occasion of his 70th birthday on February 15)
A certain era in Sri Lankan politics stands stamped with the mark of Anura Bandaranaike, only son of a politician couple who achieved international fame, the late S.W.R.D. Bandaranaike and Sirimavo Bandaranaike, the world's first woman Prime Minister. All attention focused on the young Anura growing up amidst the abundant affection of his parents, as everyone expected him to be the leader of Sri Lanka, one day. But fate decided otherwise. Perhaps this turn of events was due to the fact that Anura never indulged in the politics of deceit and opportunism. It was also perhaps brought about by false friends who surrounded him. As things turned out the leadership of the country eluded him while it was almost within his grasp.
Racism or religious bigotry was never manifest in Anura Bandaranaike's political life. That stands out when his speeches in Parliament, political speeches elsewhere and his scholarly addresses are perused. He was a true humanist. He had affection for men and women of all races. He respected all religions.
Anura Bandaranaike even distributed among the domestic aides of Horagolla several acres of commercially valuable land from his ancestral property, along the Colombo-Kandy road.
Anura wrote his own speeches. He edited them himself. I have seen manuscripts of his speeches, in his beautiful handwriting. Usually he would end with a poem or passage from a famous writer, blending it excellently with the theme of his speech. He was quite at home with Shakespeare, T.S. Eliot and other greats of western literature. Dr. Sarath Amunugama told me once that he was a fan of classic foreign films. Dr. Amunugama said he still has with him notes that Anura had written to him in his own hand. He had that habit of sending handwritten letters and messages to his friends.
Although Anura was brought up in a busy and even tumultuous environment, he always found time to read, savour poetry and the novel and view classic cinema. His father was also an avid reader. Even amidst the most serious problems, he managed to face the world with a smile. As I had the opportunity to associate with him closely I was able to observe that he had a wide and deep knowledge on diverse subjects. Only a handful of people equalled him in Parliament, in his knowledge of history, literature, political science and economics.
Anura Bandaranaike had his early education at Royal College and thereafter gained a First Class honours degree in history at the London University. He declined an offer to be a lecturer there and came home to take up his family heritage of political leadership. Thereafter he reorganized and strengthened the SLFP from the party branch right up to the national level, giving them guidance and leadership. While the party suffered an ignominious defeat in 1977, young Anura succeeded in entering Parliament from Nuwara Eliya collecting over 49,000 votes, after only six days of campaigning. He became the 2nd MP for Nuwara Eliya-Maskeliya, relegating the senior politician Thondaman to third place.
In the Nuwara Eliya-Maskeliya electorate with its preponderant Tamil estate worker population, the SLFP was never again able to poll such a high percentage. Anura's popularity, his organizing skill and his oratory made the difference. In the 1977 general elections Anura addressed meetings right round the country in every electorate. It was Anura who brought back the SLFP from the abyss. When in 1977 the UNP won with its 5/6th majority, it was Anura leading the eight MPs of the SLFP who gave them a fight using his oratory to good effect. He kept the Government at bay with his eloquence, so much so that it was said that Prime Minister Premadasa used to walk out of the chamber whenever Anura got on his feet. His argument was sharp and logical.
Anura took action after 1977 to raise the SLFP gradually from the depths to which it had fallen. He went round the country building up branch organizations and holding seminars. He thus rebuilt the party. When he served as the Leader of the Opposition, he was the youngest to hold that post in the Commonwealth. He devoted his office for public welfare and for democracy. When he later came to ascend to the chair of the Speaker of the House of Parliament, he served with distinction, maintaining the dignity and prestige of that office.
The absence of such an eloquent and imposing personality is a great loss to politics in Sri Lanka.
Gamini Gunasekera
---
 Her motherly heart was large enough for all of us
LUCILLE ENID JAYATILAKA  
'As virtuous men pass mildly away,
And whisper to their souls to go,
Whilst some of their sad friends do say,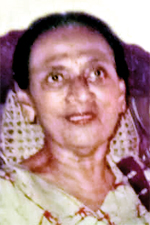 The breath goes now, and some say, No. . .' -From A Valediction forbidding mourning – John Donne
In the manner of such virtuous men and women, my mother-in-law slipped out of life on February 1, as quietly and unobtrusively as she had lived it – so quietly in fact, that no one was quite sure of the exact moment when she exited this life. But the manner of her passing did not come as a great surprise to those who had known her, for she was never a person to ruffle the waters. Instead, she believed in the virtue of maintaining silence in the midst of controversy, opting rather to keep her opinions to herself than add another to the views being expressed. This is not to say that she had no opinion. On the contrary she was an intelligent, educated and well-read woman, who, until she fell ill in 2012, kept abreast of current events and maintained a keen interest in the doings of her fellow men.
Up until her 90th birthday, Amma had led an active and useful life. She had been mistress of her own home from her early twenties ever since she met and married her postmaster husband Francis Jayatilaka, who had previously served under her own father, himself a postmaster. It could not have been easy, especially as her seven children arrived fast and furiously one after another, to uproot herself and her large household in order to accompany her husband when he was transferred to different parts of the island, as was wont to happen in the old days. Her task was to be an efficient housewife, a nurturing mother as well as the mainstay and support of her husband, all rolled into one. She did it however in the manner of other such stalwart women of that era, whose contribution towards maintaining the stability of home and family were most often taken for granted. Her family however is only too conscious of and grateful for the role she played in their lives. She protected the boys to the extent she could from the wrath of their disciplinarian father whenever they did something they were forbidden to do (which by all accounts, was quite often); she was a good listener and trusted confidante to her children who could confide in her their childhood peccadilloes as well as the heartaches and pain that came their way as they matured; and she was their friend.
Amma's life took a downward turn in 1965, when her husband Francis suffered a debilitating stroke. In consequence he took early retirement and the family relocated to Panadura, right next door to his brother's home. Four months later however, he suffered a second and fatal stroke- and Amma was left a widow at the age of 44, with seven dependent children. Despite the financial and emotional difficulties she had to face consequent to her husband's demise, she made do and continued to provide a stable and emotionally secure home for her children. After her eldest son migrated to Australia the following year, much of the responsibilities of the home previously borne by her husband, were assumed by her second son, Bandu. Everything ran on a more or less even keel for the next several years, until, in December 1973, Bandu met with a fatal accident. This was the blow that felled her. And though with the passage of time, she was able to pick up the pieces and carry on with the business of living, she was never reconciled to the loss of her child. I was told that she had once had a beautiful singing voice. I never heard it however. She never raised her voice in song after Bandu's death.
My husband, as do his siblings, bemoans the loss of his oldest friend. But he does not grudge her passing from this life, as life itself had become a burden to her in the latter years of her life. Now when I think of Amma, I think not of her withered body or her pain-filled and weary expression, but of the woman I knew until her 90th year – gracious, dignified and beautiful with a smile that would light up her entire face and a kiss for every child and grandchild. I will not forget that when I introduced her to someone as my mother-in-law, she quietly told me that she doesn't like the term 'in-law' and would prefer to be introduced as 'Amma'. And so I bid goodbye to Amma, whose motherly heart was large enough to regard her sons and daughters-in-law as her very own.
Lilani Jayatilaka
---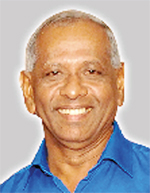 Those we love don't go away
NOEL JOSEPH FRANCIS
 It's been a year since you passed away.
Those we love don't go away,
They walk beside you every day.
Unseen, unheard, but always near,
Still loved, still missed and very dear.
Carol, Shane, Sean & Family
---
---