Test Cricket runs off an Aluminum bat….and more!
View(s):

In a 3-Test series played between traditional rivals Australia and England in the 1979-80 season, an incident took place in the 1st Test played at Perth, resulting in Law 6.1 of the game being changed.

Australian paceman Denis Lillee was who played out the drama, not with the ball but with the bat -  using one made out of aluminum. Lillee, it appears, was trying to market this type of bat for a company known to him, and had scored 3 runs from 4 deliveries bowled by Ian Botham, with this new type of bat. However, England skipper, the erudite Mike Brearley objected to this type of bat being used, as it was damaging the ball, the England skipper claimed. After the umpires agreed with Brearley, Lillee had to discard this bat and was compelled to use a wooden bat hastily brought from the dressing room. In the 1980 Code of the Laws of Cricket, it was decreed thereafter, that the bat "shall be made of wood."

This was not all. Lillee now made his name with the ball as well. In the first innings Lillee dismissed both England openers Geoff Boycott (0) and Derek Randall (0). In the second innings Boycott carried his bat through and was stranded on 99 when last man Willis was dismissed at the other end. Boycott thus became not only the first English opener to 'carry his bat through' without scoring a century, but also the first to be unbeaten on 99 in a Test, and that, after failing to score in the first innings!

Here are some more bizarre events. The first-ever Test match played in Melbourne in 1877, ended in a victory by 45 runs for the hosts. In order to commemorate the Centenary of this event, there was much planning by both England and Australia to make it a success. Bob Ripley of 'Believe it or Not' fame, must have been stirring in his grave, when the game ended after a lot of topsy-turvy turns with exactly the same result a century later! Australia again won by 45 runs. Now in comes Lille into the picture again. In the second innings, when the ubiquitous paceman was batting (now with a wooden bat!) he was dismissed by England paceman Graham Dilley for 19 runs. And this is how the alliterative scoreline read: Lillee ct.Willey b Dilley 19. And the cream on the cake was Willey was fielding at gulley!

Now here are a few more chestnuts. Sri Lanka hosted New Zealand in a Test match at Asgiriya in 1984. The Sri Lankan team boasted of illustrious batsmen of the caliber of Duleep Mendis, Sidath Wettimuny, Ranjan Madugalle, Arjuna Ranatunga, et al. But it was the No.11 batsman, left-arm spinner Jayantha Amerasinghe who was the highest scorer (33 runs) in the innings, and Amerasinghe was making his debut as well! However, 29 years later, Amerasinghe's feat was repeated by another left-arm spinner, Australian Ashton Agar, when he scored 98 runs from 101 deliveries against England at Trent Bridge and was responsible in establishing a new 10th wicket partnership Test record of 163 with Phil Hughes, who tragically lost his life later when struck on the head whilst batting. Agar also became the first player to ever score a half-century as a No.11 batsman on debut. Incidentally, Agar's mother is a Sri Lankan!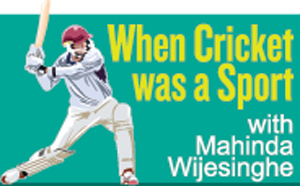 Now the scene shifts to Sri Lanka. When Sri Lanka played their first-ever Test in February 1982, Ranjan Madugalle (65) and Arjuna Ranatunga (54) registered their maiden Test half-centuries. Three years later, in August 1985, Sri Lanka hosted India at the SSC grounds. Would you believe it, the same duo of Ranjan Madugalle (111) and Arjuna Ranatunga (103), scored their maiden Test centuries in the same innings?! This is the only occasion in the history of Test cricket when two players scored their maiden half-centuries in the same innings and then 3 years later, recorded their maiden centuries in the same innings as well
Can one write on cricket lore without referring to the legendary Garfield Sobers? The scene was Swansea and the date August 31, 1968. Glamorgan was hosting Nottinghamshire. Skipper Sobers, anticipating a declaration, went on the rampage and hit Malcolm Nash, the Glamorgan left-arm spinner for 6 sixes in an over! Nearly two decades later, Ravi Shastri, playing for Bombay against Baroda in the 1984-85 Ranji Trophy season, emulated Sobers' feat by hitting Baroda's left-arm spinner Tilak Raj for 6 sixes in an over. Amazingly, there is a common factor amongst the 4 players, who were involved in the 2 separate occasions. Batsmen, Gary Sobers, Ravi Shastri, and bowlers Malcolm Nash and Tilak Raj, were all bowling left-arm spin when the six sixes were hit.
Incidentally, the writer himself was a left-arm spinner but escaped the wrath of batsmen who manhandled him in this manner.