Mithra Wettimuny- A Man of many parts
APPRECIATION
View(s):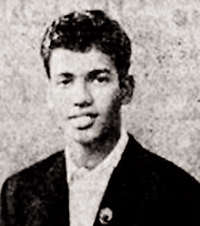 Mithra de S. Wettimuny (11.06.1951-20.01.2019),  second son of an illustrious cricketing family, who passed away aged 67, was a man of many parts. Outstanding schoolboy cricketer at Ananda College, who eventually played 2 Test matches for the country. Accountant, musician, erudite author and speaker on the Dhamma. Astute businessman and a generous philanthropist to the Sangha and to anybody among the laity as well. There was never an instance he would turn down a request to most, on these issues.
Regarding his career at Test level, his younger brother Sidath said in an interview: "He played 2 Tests with me in New Zealand. He was an accountant and then he went to Hong Kong. He was determined to go and work abroad and by the time he came back he struggled to get into the 'team'. The fact that two brothers opened batting in a Test match was a Sri Lanka record claimed by many. After all, the Grace brothers of England and the Mohammeds of Pakistan too claim the same feat, but what is an international cricket record is the fact that two brothers, Mithra and Sidath, opened batting in 2 successive games against New Zealand in 1983, which no pair has achieved in the history of the game.
Mithra's father, Ramsay (1925-1974) was a Mechanical and Chartered Engineer who became Chief Engineer at the Ceylon Transport Board, and was the beacon behind his children, urging them to learn the game of cricket. Sunil the eldest, Mithra second and Sidath took to the game like ducks to water, while Ranjan and Nimal had other interests. In fact, the father installed cricket nets, the first of this type, at the former Health Department grounds, to train them according to the ideals of the famous England mentor and captain C.B. Fry. Later, it was to Bertie Wijesinha that the boys were sent for further coaching. The 3 boys did not fare too badly either. Sunil played for the country before Test status was attained by Sri Lanka, while Mithra and Sidath played Test cricket as above.
However, father Ramsay was very interested in the Dhamma from his young days, and wrote many interesting books on the subject such as 'Buddhism and its Relation to Science' and so on. Ramsay was mostly influenced by Ven. Nanavira Thera by reading his book 'Notes on the Dhamma'. The father's interest must have permeated to the children, and they absorbed this interest themselves. Sadly, the father passed away at the comparatively young age of 49 years.
Mithra's first mentor was Ven. Matara Nanarama Maha Thera at the Meetirigala Aranya. The monk was a great source of strength and encouragement to most of us. Sadly, when this monk too passed away in 1992, after being in robes for 70 years, it was a great loss, especially to Mithra. Yet, he stood firm and, after becoming Chairman of Stafford Motors, he embarked on a new venture in garments and was a pillar of strength to his family until his dying day.
He is survived by his wife Kanthi and two sons Previn and Suvin.
May his sojourn in Samsara be short.  Mahinda Wijesinghe