Appreciations
View(s):

I have lost my mentor, confidant and more importantly friend

DIG Lionel Gunatilleke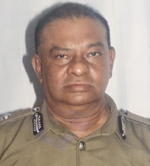 Some people come into our lives, leave footprints on our hearts and we are never the same….
To me, one of the foremost among them was Lionel Gunatilleke Jr., retired Deputy Inspector General of Police (DIG). When his daughter Vindya told me he was no more, I was in shock. I knew he was not in the best of health, yet it was painful. As a Police Officer, I have lived a life, where he guided me in no small measure. He was my mentor and a repository of great knowledge. He shaped the growth of my career and stood tall as a professional.
My association with him began at the Criminal Investigation Department (CID) where he was originally the Director. I was a young officer learning my skills as an investigator under his tutelage. Over the passage of time, he taught me to do the right thing and admonished me when I erred.
He rose to the rank of DIG in the CID which acquired the reputation of a more professional, disciplined and efficient investigative arm of the Police.
I still remember the day he was leaving the CID where I had the privilege of ushering him out of his office. To my utter surprise he was cheerfully walking out of his office carrying just a briefcase. I asked him 'Sir, is this all you have to take back?' He very smilingly said that it was only his pen and writing pad inside the bag which he brought when he came but he was carrying a bag full of everlasting memories gathered during his tenure at the CID.
Lionel Gunatilleke hailed from a very reputable family, and followed the footsteps of his late father and late brother Nimal Gunatilleke who both were outstanding policeman who did yeoman service. He joined the Police Service as a probationary Sub Inspector of Police on January 1.1970 and retired on August 28, 2007 after serving for a period of 37 years.
Lionel was a family man who loved his wife Maheshi very much. He wanted to spend a peaceful retirement and never wanted to be a burden to anyone. He was hale and hearty until the sudden demise of his beloved wife from which he did not recover -his wish was to join hands with her at the earliest. He was always a humble, selfless individual. His final and main wish was to conduct his last rites as quickly as possible.
It is not that common at this stage of our careers to have professors who shape our intellect and life in general. But my mentor did that. While we were originally brought together for academic and official purposes, I soon began to learn from his views and perspectives and his wealth of knowledge. That will always be fundamental to my understanding of the world. We would talk about anything from history to the present and that of a criminal to criminality.
He was devoid of prejudices. In fact he always had a better story about whatever particular situation. We'd laugh, and then he would give me more advice. I hope and wish that everyone, when such people cross their paths, never take people like my mentor for granted. I certainly never did, and never will. "You carve your name on hearts, not tombstones. A legacy is etched into the minds of others and the stories they share about you." Losing someone we love is not easy, but knowing that we have been able to be a part of the life of that person, will make us realize that we are blessed to have been able to share their lives.
His children lost a loving father, the grandchildren lost their hero "Seeya" and I have lost my mentor, confidant and mostly friend.
May he attain the noble bliss of Nibbana.
Ravi Waidyalankara
---
There was so much knowledge that he imparted to us
Sarath Wickramasingha
Sarath Wickramasingha who had served the Moratuwa University for over 50 years passed away recently after a brief illness. He hailed from a reputed family of Galle – the eldest son of the prominent lawyer Rex Wickramasingha and Mrs. Wickramasinghe. Having had his education at Mahinda College, in the early 60s, Sarath gained admission to the University of Ceylon in Colombo. During his varsity days he was fortunate to stay in Mount Lavinia with the family of his grand uncle Martin Wickramasinghe.
Graduating with B. Sc. in Physical Science, he joined the then Institute of Practical Technology (IPT), Katubedda, as a Lecturer in Mathematics. Soon he was absorbed to the Technical Teacher Training Unit (TTTU), set up to train staff for technical education in the country. He received a scholarship to obtain a qualification in technical education from a British University.
I wish to state with gratitude as a Lecturer in the University of Moratuwa to which the IPT had expanded to by then, I received the knowhow in education psychology and teaching methods from a workshop in which he and a British educationist were the resource persons. This knowledge helped me in my career in later years.
On the removal of the TTTU, which is now the University of Vocational Technology, Sarath was absorbed back to the Department of Mathematics. Apart from his excellent teaching abilities he had been serving the University for several years in the task of selecting students for different courses, especially to the National Diploma in Technology (NDT) course.
He served the university as a student counsellor and also as the Chairman of the Sports Council.
I can recollect over 30 workshops that we conducted in the country at the request of the Lions Club to bring computer awareness in an era where technology was hardly known. It was a delight to watch Sarath practically presenting to participants elements of technology and what it can do. These applications included introduction to word-processing, data bases, graphics, music, hoisting the national flag, applications in agriculture and even computer games and quizzes.
The passing away of his wife Sunila was a sad blow to Sarath which he never got over. The couple will be remembered with gratitude by his friends and the thousands of students he taught.
Both Sarath and Sunila were Buddhists to the core in all aspects.
May he attain the bliss of Nibbana.
Prof. G. T. Francis de Silva
---
A man of wisdom and lovable personality
Theophilus Kirupakaran Augustine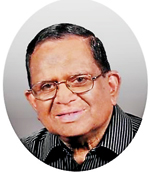 I was grieved to learn of the unexpected sad death of Mr. Theophilus Kirupakaran Augustine on December 16, 2018 in Adelaide, Australia. He was born on July 23, 1938 at Pandiyanthalvu, Jaffna to orthodox Catholic parents, father Augustine and mother Mariama with three brothers and three sisters who pre-deceased him.
During the time his father was a teacher at St Patrick's College Jaffna, Theophilus Kirupakaran joined St Patrick's College and excelled in studies and co-curricular activities. Completing his secondary education he moved to Colombo for employment and joined the Govt. Service in the Auditor General's Department. He passed the competitive exam and was selected as an Accountant and was posted to the Govt. Railway Department.
He married Indra Saverimuttu on June 1, 1966 and they were blessed with one son Emil Rohan. He was a devoted husband, an affectionate father and loving grandfather, always concerned about the wellbeing and welfare of his family.
Having served with honesty and sincerity he was rewarded with the promotion as Deputy Chief Accountant in the Railways Department. Having proved his professional excellence in serving as Chief Accountant he was appointed as Director, Internal Audit in the Treasury. While working in the Treasury, he represented the Government as a Director in the Trans Asia Hotel.He also never lost touch with Tamil culture.
After retirement, he migrated to Adelaide with his wife Indra to join their beloved son Rohan. They lived close to St Francis of Assisi Church and Augustine was much involved in church activities and social work.
A gentleman par excellence, lovable personality with simplicity, a faithful friend at times of need, many were privileged to have moved with him closely and enjoyed his love and wisdom. May he rest in peace.
S.B.David
---
A gentle, caring 'man of God' who was my father
 Rev. Somasiri K. Perera
My father was a 'man of God'with a witty sense of humour,
A well loved and respected pastor and preacher of the Methodist Church,
Always having time for others to give a patient listening ear,
Caring for his 'flock' was his passion and career,
And…. so on Black July 1983, he opened the Methodist College and Headquarters and welcomed all in need of protection, love and care,
Forever humble not seeking wealth, positions, glory or power was his trademark trait
A 'man of God indeed', a man for all 'seasons' and a 'faithful servant'.
As I contemplate on the past and our interactions,
I begin to wonder if I thanked him enough
For  all what he meant to me?
The 'rock' that made me who I am today.
I wonder if I ever thanked him enough
For all the sacrifices he made
Especially to ensure I had a good grounding and education to be a useful citizen.
I will never know if in his old age he really understood what I said,
I will never know if he knew how much he meant to me,
But this I know, until his last breath his 'Saviour' he acknowledged and praised.
In his helplessness and despair, God sent an 'Angel' to care for him,
I am sorry, Father, I could not be there for you in your hour of need,
I am sorry, Father, I was not there by your side when you took that last breath.
You never complained and only wanted to spend the 'autumn' of your life in the comfort of your 'home'& 'room', & enjoy the simple things in life
I am glad you did that to the very end.
I always picture that gentle and loving smile and give thanks to the Lord for a life well lived,
But this I know, until his last breath his 'Saviour' he acknowledged and praised.
He was satisfied and happy with simple things in Life,
And towards the end yearned for his Lord to call him 'Home'
I am sure he was welcomed home to be forever alongside with his wife for life.
Amal K. Perera
---
He always showed leadership qualities
 Major-General Sivashanmugam
Major General Sivashanmugam answered the call from his Master on December 1, 2018. He was born to the late Thambipillai and late Nagammah in Malaysia on July 1940. He had three brothers (who have gone beyond the veil) and a sister.
St John's College, Jaffna, was his alma mater where he was a senior prefect and joined the school platoon of the Ceylon Cadet Corps (CCC) and was later promoted as a Company Sergeant Major. Sivashnamugam was the Leader of the College Physical Training Squad, which won the All Ceylon P.T. Championship in 1959.
He gained admission to the Veterinary Science course in the University but opted to join the Army as an Officer Cadet on 1964. He was commissioned as a 2nd Lieutenant in 1965. In recognition of his good work Sivashanmugam was promoted as a Lieutenant in 1966, Captain in 1969, Major in 1977, Lieutenant Colonel in 1984, Colonel in 1987, Brigadier in 1988 and Major General in 1994.
He retired from the Army on 1995. He was also awarded the Uththama Seva Padakkama, Purna Bhumi Padakkama, Republic of Sri Lanka Armed Services Medal, Sri Lanka Army 25thAnniversary Medal,Sri Lanka Army Long Services Medal with clasp and the President Inauguration Medal.
In 1977, he married Luximidevi and the couple was blessed with three sons. In addition to his Army career, he took an active part in his school activities and was the Past President of the OBA St John's College, Jaffna.Sivashanmugam was also the Past President of the Institute of Materials and Supplies (ISMM)and the Organization of Professional Association (OPA).
When one looks at his school and professional career he had always shown leadership qualities. He leaves behind his wife Luximidevi, sons Shankar, Mohan, Yohan and grandchildren Ethan, Amelia and daughters-in-law Nilusha Melisa, and brother-in-law Ravichandran.
Siva was my classmate from 1955 and a close friend of our family. His last rites were held on December 5 at the General Cemetery Kanatte with full military honours.
May the Good Lord grant him eternal rest.
RBC Ariaratnam
---