Tourist driver's tragic trishaw death highlights lack of safety
By Shaadya Ismail and Hiran Priyankara Jayasinghe
View(s):
A 36-year-old Spanish woman driving a three-wheeler at high speed was killed when the vehicle crashed into a wayside concrete post off Karuwalagaswewa this week.
Kurera Jubis Anna Maria, a lawyer, had been visiting Sri Lanka with her fiancé. The couple had rented a three-wheeler from Negombo and travelled to Kalpitiya and were heading to Mannar via the Puttalam-Anuradhapura road.
Karuwalagaswewa police said the three-wheeler, which was being driven by the victim, had hit a concrete post and veered off the road, toppling upside down. The lady had been thrown out of the three-wheeler and had been lying unconscious; her fiancé was not injured.
"I feel extremely sad about what happened," said Saman Wickremasinghe, a resident from Thabbowa who took the victims to hospital.
"We saw about 20 vehicles surrounding the scene with people taking photos or videoing it. Nobody offered to help them. I got them into my three-wheeler and rushed to the Puttalam Base Hospital."
Police said failure to gauge whether the vehicle was fit for long-distance travel in unknown road conditions, and trishaw speed limitations could have contributed to the tragedy.
The accident was among nearly 4,000 three-wheeler accidents reported last year leaving more than 300 deaths.
Despite the Transport Ministry's discouragement of trishaw ownership due to safety concerns more than 20,000 of the vehicles are registered each year.
Trishaws are involved in one in 10 accidents, contributing proportionately to the annual road toll of about 3,000 deaths. In the 11 months to November 30 last year, there were 32,560 accidents, of which 3,884 involved three-wheelers.
Of the 480,799 vehicles registered last year, 20,063 were three-wheelers. In 2017, 23,537 three-wheelers were registered.
Deputy Minister of Transport and Civil Aviation Ashok Abeysinghe said he would not encourage people to buy three-wheelers given their poor safety record.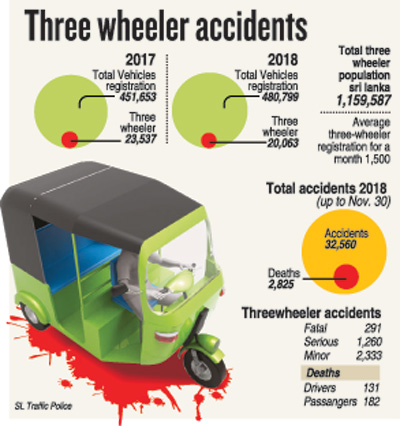 He said when the National Council for Road Safety is made a Commission by April this year, three-wheelers will be regulated by that body.
Problems in process are, however, delaying the implementation of regulations aimed at making trishaw travel safer and cheaper.
Western Province Transport Authority General Manager Jagath Perera said the statute regulating laws for trishaws was still in the process of amendments.
"Amendments to the statute is expected to complete by the end of this month and will be presented to the Provincial Cabinet," he said.
Mr. Perera said although in 2002 the statute on three-wheeler regulation was amended and gazetted, protests from three-wheeler unions prevented the implementation of the regulations; this had happened again in 2007 and again in 2010.
"When the situation repeated itself in 2016, we found out that the 2002 gazette had not been repealed by any of the subsequent gazettes as a result of which the 2016 gazette could not be implemented without repealing the 2002 gazette," Mr. Perera explained.
The regulations will make meters mandatory so that fares in all three-wheelers should be at the same rate. Structural improvements such as enclosing the right side of trishaws and installing protective covering on the interior iron-bar framework would also be mandatory. Higher driver standards would be compulsory.
Three-wheeler unions objected to safety concerns about the vehicles, saying accidents simply increased in proportion with numbers and the government should not allow so many on the roads.
"I agree that there are a lot of three-wheeler accidents on the road, but there are also other vehicles involved in accidents. They are not recorded because they have all the perks of possessing insurance," All-island Three-Wheel Drivers Union President Lalith Dharmasekara said.
All-island Three-Wheeler Drivers' and Owners' Association Chairman Sudil Jayaruk acknowledged a lack of professionalism among trishaw drivers contributed to problems on the road but he also called for better roads.
"Our main demand from day one has been to set up a regulatory authority for three-wheelers so adequate training would be given to drivers," he said.
Mr. Jayaruk said the lack of professionalism and knowledge about traffic laws had led to drivers being involved in illegal and criminal activities such as using their vehicles for drug dealing activities and transporting sex workers.