Gaping holes in gun control measures, despite Police going great guns
By Asiri Fernando
View(s):
Police were going great guns last year as they confiscated fifty percent more illegal firearms than they did in 2017– and this week they announced a three-month-long operation to take still more illegal weapons off the street.

Meanwhile, highlighting the absence of a centralised networked database of vital information, the Ministry of Defence (MOD) says it does not know the exact number of firearms licence holders in the country. The escalating gun crime is a big worry for law enforcement authorities, with automatic, military-grade firearms such as the T-56 assault rifle being the preferred tool and status symbol among criminal gangs and drug traffickers. Last year there were 52 firearms related murders said a senior police official who wished to be unnamed.
Sri Lanka has gun laws that make it difficult for a citizen to get a firearms licence without being thoroughly vetted. But data collection is a weak point. The Ministry admitted that it did not have a networked, registered firearms database for law enforcement officials and regulatory agencies to check compliance or match weapons recovered from crime scenes.
"There are no such facilities," it said. "However, particulars are provided when necessary," the MOD said. The Ministry did share some statistics, according to which, there are 21,247 licensed firearms in Sri Lanka under four categories. Of then, 15,783 licensed fire arms have been issued for agricultural purposes or pest control and 411 for sporting purposes.
Wide availability, abundance of suitable ammunition, high rate-of-fire, penetrability through soft-skinned vehicles, a magazine capacity of 30 bullets and an easy-to-master manual of arms make the T-56 ideal for criminal use. Last year, police took in nearly 200 of these rifles and carbines, up from a mere 34 the previous year.
This underscores the fact that Sri Lanka has a serious illegal small arms problem that needs effective addressing. A senior police source stressed that unauthorised firearms and the drugs trade had a strong relationship.
Successive governments announced weapons amnesties and carried out searches in an attempt to mitigate the problem. But there were limited results. An amnesty in 2016 failed to net even one T-56 despite a RS. 25,000 reward being offered. Many of the weapons surrendered were old muzzleloaders and locally made trap-guns. The significant volume of domestically made firearms and trap guns taken into custody also point to a growing illegal cottage industry
A T-56 rifle fetches Rs. 100,000 in the underworld gun market. "Gun criminals make money renting out firearms for criminal activity," the senior officer said. Revolvers and pistols are also in demand as they are easy to conceal. Many times, assassins on motorbikes had used pistols. They are also used by drug traffickers to settle scores with rivals.
In 2017, police seized 45 pistols and revolvers. The following year, 52 hand guns were confiscated. Hand guns were generally more difficult to acquire even for a licence holder. That changed after the end of the war.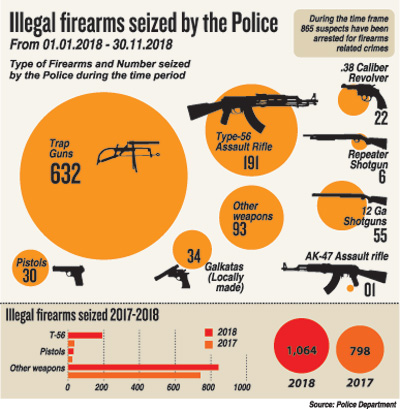 An assortment of 9mm pistols, including Chinese-made clones of the Russian Makarov pistol (commonly known as the "micro pistol"), have reached the hands of criminals during the last few years. During and after the war, arms flowed to criminals and shady political elements through several means.
The Government issues licences for pistols and revolvers with a maximum capacity of 15 cartridges under the 'Protection of Lives' category, the MOD said. There are 1,340 firearms sanctioned under that category. To qualify, an applicant must provide police clearance certificates and authenticated reports on threats to their lives. Politicians are issued Government-owned firearms on recommendation from the Secretary General of Parliament or Provincial Chief Secretary.
There was a reemergence of another category of firearms among criminals last year — an MP-5 sub machine-gun (SMG), which is also a compact, easy-to-conceal weapon. An MP-5 was taken into custody. Police believe it was used in the killing of policeman during a robbery in Matara.
A few months ago, another such weapon was found in the collection of illegal firearms held by an ex-Provincial Council member. Last month, a mini Uzi (SMG) with two magazines and 9mm ammunition were found in an arms cache in Beruwela. A smaller, improved version of the famous Israeli-made Uzi SMG, the mini Uzi is widely carried by security officers providing protection for VIPs.
In 2003, Sri Lanka worked closely with the United Nations Programme of Action on Small Arms and Light Weapons. The country established the National Commission against Proliferation of Illicit Small Arms (NCAPISA) in 2005 with international support. A survey report on the prevalence of illicit small arms in Sri Lanka was published in 2008. There has been nothing tangible since.
After the war's end, there has been little action to introduce a comprehensive national policy on controlling the proliferation of illicit firearms.