New Navy chief Piyal de Silva assumes duties
View(s):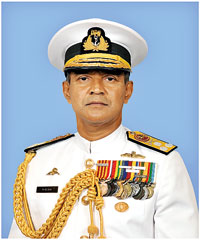 Vice Admiral Piyal de Silva assumed duties this week as the Commander of the Sri Lanka Navy. Vice Admiral de Silva, a product of Dharmasoka College in Ambalangoda, joined the Navy as an Officer Cadet of the 12th Intake in 1984. He was commissioned as a Sub Lieutenant in 1986.
After being elevated within the ranks of the Navy over the years, he was promoted to Rear Admiral in 2012. A veteran in explosive ordnance disposal and diving, he is well versed in disaster management activities, too. Vice Admiral de Silva has won the Weera Wickrama Vibushanaya (WWV) award twice, Rana Wikrama Padakkama (RWP) and Rana Sura Padakkama (RSP) for gallantry, Vishishta Seva Vibhushanaya (VSV) and Uttama Seva Padakkama (USP) for exemplary conduct, among other awards and medals.
He has a Master of Business Administration degree in Human Resource Management and also a Master's degree in Defence and Strategic Studies. He followed his National Defence Course at the National Defence University in China. He has been twice adjudged the Best Sportsman of the Sri Lanka Navy. He has represented the national basketball team at South Asian and Asian Basketball Tournaments on several occasions.
Vice Admiral de Silva held office as the Chief of Staff, prior to being appointed as the Commander of the Navy. During his naval career, he also held other positions, including the Director General Operations, Flag Officer Commanding Naval Fleet, Commander Eastern, Southern, North-western and Northern Naval areas and Commanding Officer of a number of ships, craft and establishments during his naval career. He also commanded the elite Special Boat Squadron (SBS) and Diving Unit of the Sri Lanka Navy on crucial occasions.