Airbus simulators: Captain says SriLankan paid US$12 million in excess
By Abdullah Shahnawaz
View(s):
SriLankan Airlines paid a staggering USD 28 million to buy two flight simulators more than five years ago, completely ignoring the guidelines in the company's procurement manual, a top official has revealed.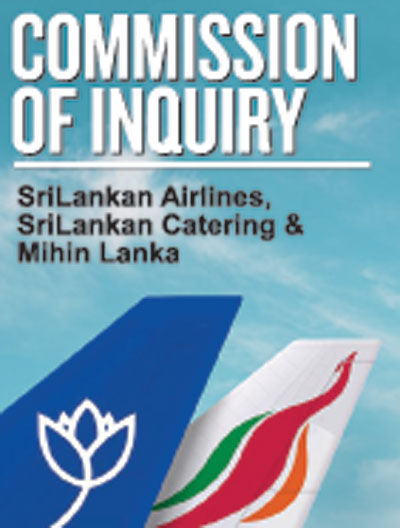 The airline's acting Chief of Service in charge of delivery, Rajind Ranathunga, who testified on Thursday before the Commission of Inquiry (CoI) appointed to investigate alleged irregularities at SriLankan Airlines, SriLankan Catering Ltd and Mihin Lanka (Pvt) Ltd, said the simulators were worth only about USD 7-8 million each.
In October 2011, SriLankan, which had previously sent its pilots to South East Asia and Europe for simulator training prior to flying a real plane, obtained one of its own. SriLankan gave simulator training to pilots twice a year, sending them through emergency scenarios.
To buy an Airbus A320 simulator. The SriLankan management had decided on SIM-Industries, a Dutch company that has since been taken over by the larger simulation technology manufacturer CAE and run under a new name. But, this was done without a proper bidding process and without a technical evaluation, in breach of the rules explicitly stated in the procurement manual of 2009.
"The proper process must include a Request for Proposal (RFP) since a large amount of money is involved. Then, we state our requirements and check which companies that had made an RFP. Next comes the closed bidding and we simultaneously run a technical evaluation of the companies before shortlisting. We are then supposed to choose the two bidders with the lowest quotations," Capt. Ranathunga explained.
The witness said the procurement was handled by the flight operations unit where he served at that time. SriLankan had subsequently bought another simulator from SIM-Industries, an Airbus A330-200 this time.
"However, the procedure was not followed. We went ahead and chose SIM-industries, overlooking bigger manufacturers like CAE and Thales.
This was despite SIM not having much experience manufacturing Airbus simulators as it specialised in Boeing simulators. No technical report was filed either," Capt Ranathunga said.
Additional Solicitors General (ASG), Neil Unamboowe who led the evidence, asked the witness as to who was behind the procurement of both simulators without following the guidelines.
He said it was former CEO Manoj de Vass Gunawardena and Capt. Druvi Perera the then Head of Flight Operations who sealed the deal based on some board papers they had submitted.
Mr Unamboowe was assisted by State Counsel Chathura Gunathilake.
According to the witness, the initial board paper said the construction of the building needed to house the simulators would cost Rs. 20 million.
However, when Capt. Navin De Silva replaced Capt. Perera as the chief of flight operations, he was given a quotation of Rs. 112 million. The simulator itself was valued at US$14 million.
The witness, who acknowledged to the Commission that there was something odd about this valuation, said that he was told by the local Airbus representative in Colombo that the simulators cost USD7-8 million each.
Meanwhile, SriLankan opted for a rental payment scheme of 7,000 Sterling Pounds a month for the use of the A330 simulator, with a 10 percent down payment. However, £77,000 was quoted when SriLankan had seven A330 aircraft in its fleet. But the company currently has to pay £5500 a month for each additional plane, as it now has 13 such aircraft.
"Obtaining our own simulator reduced the cost by about $150 an hour," Capt. Ranathunga said. "To send a pilot abroad for training, the cost was about $1,100 an hour. But if proper procedure had been followed with the calling of a bidding process and proper evaluation, we would have been able to save up to $500 an hour. This would have serviced a portion of the massive losses our airline had made."
Testifying before the Commission on Friday, astrologer Sumanadasa Abeygunawardena said he was offered a car owned by Mihin Lanka, following a directive issued by former President Mahinda Rajapaksa in 2007.
When asked why the former President gifted him a car worth Rs 8.2 million to him, Mr. Abeygunawardena told the Commission that the 'gift' was offered since he was one of the closet friends of former President Rajapaksa. However, he denied that he knew the vehicle's owner was Mihin Lanka. State Counsel Chathura Gunathilake led the evidence.
The CoI comprises retired Supreme Court Justice Anil Gooneratne (Chairman), Court of Appeal Judge Gamini Rohan Amarasekara, retired High Court Judge Piyasena Ranasinghe, retired Deputy Auditor General Don Anthony Harold and Sri Lanka Accounting & Auditing Standards Monitoring Board Director General Wasantha Jayaseeli Kapugama. The sittings will continue tomorrow.