Busting the Bangladeshi link in Lanka's biggest heroin detection
By Sandun Jayawardana
Interpol to come on board to arrest the mastermind--a Bangladeshi woman-- who has been coming here since 2007 and left the country in early December
View(s):
Sri Lanka police will seek Interpol assistance to arrest a Bangladeshi woman suspected to be the mastermind behind a network, that was busted, and led to the discovery of the biggest single seizure of heroin in the country's history.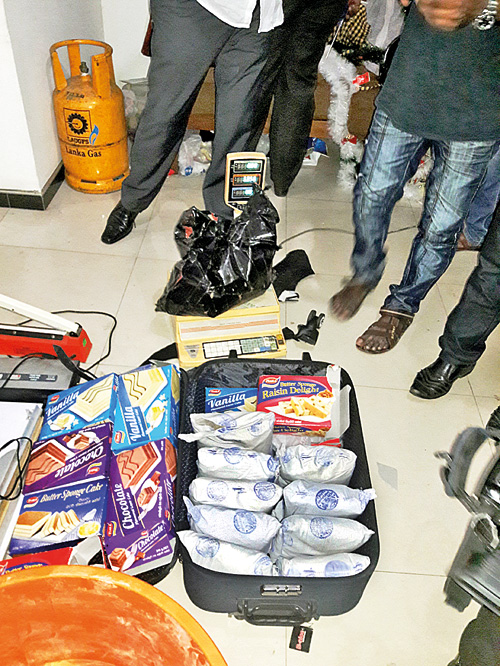 The Police Narcotics Bureau (PNB) recovered 278 kilograms of heroin during a raid where they arrested two Bangladeshi nationals last Monday (December 31). These arrests were directly linked to the earlier arrest of a 23-year-old Bangladeshi woman from Ratmalana with 32 kilograms of heroin in her possession. Police sources said the Bangladeshi nationals formed the core network that supplied heroin to local dealers to be sold.
The three Bangladeshi suspects in custody had been working for another Bangladeshi woman who allegedly is the mastermind. Investigations conducted so far have revealed that she had travelled to Sri Lanka on at least 10 occasions beginning in 2007. She had last left the country in early December. Investigators believe she is currently in Bangladesh. Law enforcement authorities here will therefore seek Interpol assistance to track her down and arrest her.
The dismantling of the network had been the result of an intensive investigation conducted last month, when two local suspects were arrested on December 14. These suspects were taken into custody when police stopped two men in a three wheeler near a park along Pagoda Road, Nugegoda, after receiving information that a drug deal would take place in the area. Officers recovered a cake box containing a heroin parcel weighing 1.11 kilograms from the suspects' possession. Under interrogation, they had revealed that the drugs were obtained from a foreign woman. They did not know her identity but suspected her to be from Bangladesh.
This was the second occasion where the PNB had arrested local drug dealers who had told them that they had obtained their supplies from a Bangladeshi woman. Suspects arrested during another raid in Piliyandala, some three months ago with 1kg of heroin, too had claimed that they had obtained the drugs from a Bangladeshi woman.
This Bangladeshi woman was arrested the following day (December 15) from Dehiwala after inquiries revealed a further drug deal would take place near a popular pizza joint in the area. The suspect, who was arrested with a similar cake box containing 1kg of heroin, had led police to the house she lived in at Delgahawatte Road, Ratmalana, from where they recovered a further 31 kilograms of heroin concealed in cake boxes. The young woman had been tasked with distributing the heroin to local dealers.
Further inquiries led the PNB to two Bangladeshi men who were staying in an apartment complex at Templers Road, Mt Lavinia. The suspects were placed under surveillance. On December 31, officers had seen the two men coming down from their fourth floor apartment carrying a heavy travelling bag. They were stopped and searched and officers found 9kg of heroin inside the bag. A search of the apartment did not reveal any drugs, but detectives found a key and a garage roller door remote, which indicated the suspects also had access to another location. Though the suspects had at first denied any knowledge of the key and the door remote, they had later confessed that they were for a house at Kawdana Road, Dehiwala. It was here that the PNB found a further 269 kilograms of heroin stashed at various locations in the two storey house. Most were in packets while police also found other stocks stashed inside false bottoms of travelling bags. They further found five kilograms of cocaine. As cocaine is far too expensive for most users here, it is believed the stock was destined to be shipped to another country.
Investigators told the Sunday Times that about 90 percent of the heroin was in parcels weighing about 1kg. They also contained a seal that police say identified them as originating from Afghanistan. "We believe the parcels had been smuggled here by boat, while those found concealed inside travelling bags had been smuggled by air," a senior PNB officer said.
There was ample evidence at the house to indicate that the drugs had been stashed there for some time and that it was a well organised, sophisticated racket, according to investigators. Some of the heroin was old, as was the packaging. There were a number of blenders in the house which had traces of heroin in them, indicating that they had been used to break down crystallised heroin into powder. There were also electric scales to measure the drugs and polythene sealers used to package the heroin. The house also showed signs that a number of people had been staying there–with empty alcohol and water bottles lying around, as well as signs of meals being cooked and eaten.
Investigations have so far revealed that the house had been rented in January, 2018 at Rs. 100, 000 a month. The owner, a Sri Lankan residing overseas had given power of attorney over the property to his brother. Since the brother lives in Eravur, he had asked another family relative living in Dehiwala to rent out the property. The Bangladeshi woman suspected to be the mastermind behind the racket had rented the property after seeing an advertisement on the internet. She had paid Rs 300, 000 in advance. The landlord had told police that the rent was never late and in fact, was actually paid well before the due date on most occasions.
Police however, believe that the traffickers had been operating at some other location before moving to their 'safe house' in Dehiwala. "There is no question that this place was a key location in the country from where heroin was sent out to dealers. There was enough heroin to meet the country's demand for six months," one PNB investigator disclosed.
The 278kg of heroin recovered during this operation, together with the 231kg of heroin recovered after police busted a separate drug racket in Beruwala, contributed to 2018 being the most successful year for police as far as heroin seizures were concerned, with 738.56kg of heroin being seized. Nevertheless, authorities claim that the increase in detections does not signify that the market for heroin in the country is growing. "The statistics don't indicate there is a rise in the numbers of drug addicts. The majority of existing heroin addicts are in the Western Province. This is why most of the big detections occur there," a source disclosed.
Focus on reducing demand for drugs in new year

While law enforcement authorities have been successful in ensuring a 'supply reduction' when it comes to heroin, it will not bring desired results as long as there is no 'demand reduction,' officials stated. As such, the main focus for 2019 is on reducing the demand for drugs through several initiatives, authorities said.

Accordingly, 1157 police officers have been trained across 42 police divisions to conduct awareness programmes while drug-prevention sub committees have been established under 14, 068 community police committees established island-wide. Responsibilities of these committees include organising drug awareness programmes and assisting police in efforts to rehabilitate drug addicts.

Assistance has also been sought from health and education authorities to help conduct drug awareness campaigns at schoollevel regarding the ill effects of drugs. "The priority this year is to focus on demand reduction while intensifying raids aimed at reducing drug supplies.

"Efforts to make Sri Lanka a drug free country can only succeed through a combined effort on both fronts can," said a senior government official involved in anti-narcotics efforts.
From drugs seizure to destruction

What happens to the drugs once they are detected, is a question that continues to be asked, especially in light of such large seizures.

The seized drugs are sealed and sent to the Government Analyst's Department for testing, where they are weighed again to check whether it corresponds to the weight that was marked when the drugs were initially detected.

Once this is done, officials from the Government Analyst's Department conduct an initial field test in the presence of investigating officers from the police or other law enforcement authorities responsible for the detection to check whether drugs are indeed present in the sample.

If the sample is confirmed to contain drugs, a more detailed analysis is conducted to ascertain what type of drug it is and its purity. This takes between two-three months, depending on the quantity of the drug. Afterwards, the Government Analyst's Department submits its report to court through police, explained PNB Director Senior Superintendent of Police (SSP) T.C.A. Dhanapala.

The drugs are kept at a securelocation decided by a High Court Judge during the duration of the trial. Once legal proceedings are over, the drugs are destroyed in the presence of the High Court Judge who heard the case, the court registrar, investigators and depending on the case, officials from the National Dangerous Drugs Control Board (NDDCB). The method of destruction depends on the type of drug, the PNB Director explained. For example, heroin is dissolved in a way that it cannot be reused, while ganja is burned.