S.Thomas' and Dellon Peiris the Best of the Best
Dialog 4G-The Sunday Times Schoolboy Cricketer of the Year 2018
View(s):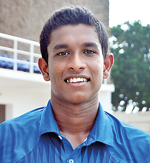 Inspirational leader and talented all-rounder, Thomian skipper Dellon Peiris was instrumental in S.Thomas' winning the coveted Best All-Island Team.
Needless to say, Peiris was adjudged Best Captain and Runner-up Best Schoolboy Cricketer 2018.
The secret behind the success of the 'School-by-the-Sea' is their bonding and coordination, which is more like a family unit. Peiris leads from the front by example, and is a willing listener to his team's opinions, while being firm with his decisions to ensure their successful execution.
Peiris always speaks to the team before the start of a match to remind them of their 'duties and responsibilities' on the field, as a team, and the individual part each one has to play for a successful team effort.
A notable feature of Peiris' leadership is the use of his bowlers in short spells. Speaking to the Sunday Times, Peiris revealed that using his bowlers in short spells never allows batsmen to get their eye in and settle into a pattern.
Peiris is an exceptional all-rounder, having scored over 500 runs as a right-handed middle-order batsman, capturing nearly 75 wickets with his left-arm spinners, and taking 30 catches. These speaks volumes of his capabilities.
Being adjudged Best Team is no small achievement by any standards, and who better than the Best Captain All-Island, to lead such a team to the pinnacle of success in All-Island Schoolboy Cricket.
Esto Perpetua!
(Be Thou Forever)