Could be anyone's game
By Aubrey Kuruppu
View(s):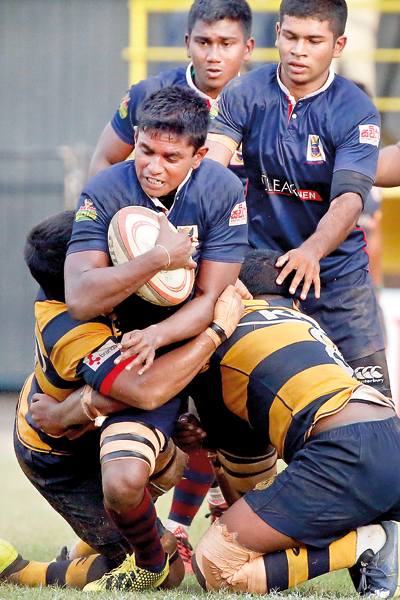 This is sudden death and both Trinity College and Kingswood College must be well aware that after 70 minutes of intense conflict today at Nittawela, only one team will go through to the next round of the Milo Presidents Cup Knockout Rugby Championship.
Two significant points have to be factored in. By virtue of winning more matches in the first round, Kingswood finished slightly ahead of Trinity. To add to that statistic, they edged out Trinity 23-21 when they met last. These facts don't necessarily make the boys from Randles Hill favourites. Yet there's no gain saying that they will enter the field with some confidence.
Kingswood is a good all round side. At national level they have produced more eye-catching back division players than rugged forwards. This team continues that trend. Number Eight and skipper Tharindu Weligampola is a tough player who is difficult to get past. Assisting him in his endeavours are prop Rashmika Chandraratne, locks Chatura Zoysa, Shanuka Gedaragoda and flanker Janith Rajanayake. These players have been consistently good throughout the season.
Good as they are, it is the players in the line that have caught the eye. Scrum half Malka Sampath has been efficient and, as a place-kicker, has enjoyed more good days than bad ones. He pairs off well with his Number 10, Asiri Seneviratne. The latter has been quite impressive in his decisions when to kick and when to pass it out. He has an eye for the gaps, too.
Centres Shazan Rahuman and Sachinta Seneviratne handle the ball well and also show thrust. Winger Ruchira Ekanayake has scored many a try by rounding off the moves with speed and slickness. Full back Dinal Ekanayake has been safe in the last line of defence and this as given the confidence to the attackers to keep pressing forward.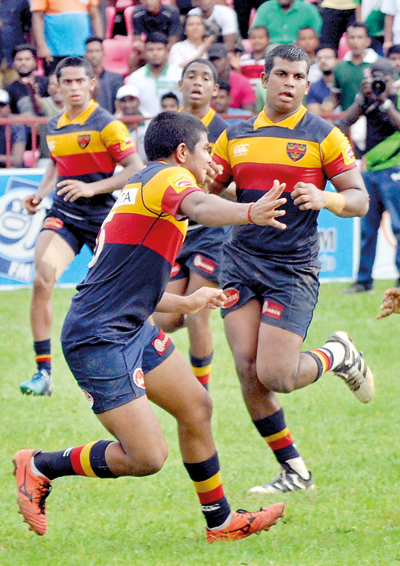 Trinity have enjoyed better seasons than this. The crowd attendance at matches reflects this. However, Trinity has had a few problems on their plate. To begin with, their place-kicking was plain awful. Akitha Sakalasooriya filled that role quite well. In fact, the reserve fly half Minidu Jayasundara is also a decent kicker.
The problem of a mis-firing skipper was the next issue that demanded a solution. Trinity were bold enough to bench Avishka Sheik for almost the entire Wesley game. Naveen Rajaratnam who stepped up, was able to pull off a win. Sheik was back for the last one and had a good game. By the way, the former coach Lote Raikabula bade goodbye to "the best school of all", and Inthi Marikar is currently in the hot seat.
To see the Trinity backs in full flight is a pleasurable spectacle. Sadly, we haven't seen a lot of that, despite the presence of an international rugby celebrity. Warran Weerakoon, Naveen Rajaratnam (with Mohamed Suhaib) pick themselves, Vishva Ranaraja, who scored tries in back-to-back Bradbys has been hugely influential. Reshan Bandaranaike, who played as a full back earlier, has acquitted himself well as a winger.
Sakalasooriya has been good in the pivotal role and scored quite a few tries. His place-licking is a bonus.
Lock Joshua Peter had an outstanding game against Zahira College. Prop Minesh Ekanayake was also in the forefront. The other prop, Praveenda Wijetilleka, seems to be resting on his Bradby laurels. Number 8, Lennox Calyanaratne is yet to come up with some brilliance. It's not for want of trying, though.
This game has all the ingredients of a cracking match. Kingswood, probably, has been a bit more consistent. Trinity wants to put the record straight and reproduce "the glories of our blood and state."