A cricketer with a future already cutout
View(s):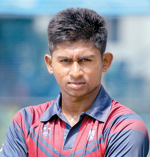 Kamindu Mendis of Richmond College, Galle, the Dialog Sunday Times Schoolboy Cricketer of the year 2018, Best Fielder and Best Batsman is a perfect allround cricketer with an exceptional ability of being ambidextrous.
This ability is a result of hard practice from his younger days. Trying to bowl with both hands as a toddler, and later when grew young he started to practice the art with his coaches. An innovation rarely heard in cricket to the extent that despite Mendis' best effort, confusion among officials often reigns when he reveals his talent.
An elegant left handed middle order batsman with a wide range of strokes all round the wicket, and a hawk-eyed fielder with the ability in grabbing any catch that fly pass, makes this cricketer unique.
From his younger days playing and leading the school's Under 13 team, the talents of his was visible as an allrounder with a bright future. Young Mendis scored over 700 runs and captured over 30 wickets as captain. This performance opened the passage for him to play in the Sri Lanka Under 15 team that toured Malaysia. This gutty cricketer never looked back from that point onwards representing Under 17 and Under 19 national sides.
His debut in the national Under 19 team was against the touring Australians in 2014. Being a regular member of the side Mendis was appointed captain and led the country in two Asian Championships and two cricket World Cups while touring eight countries.
Speaking to the Sunday Times, Mendis revealed that the experience gained in playing in different countries, in different climatic conditions and playing strips is a good experience to any junior cricketer who intends to play cricket in the highest international level. But the champion allrounder said that he never changes his technique in batting on different wickets but he is very much concerned about his shot selection.
Having scored over 4000 runs in all forms of cricket and his two-in-one bowling skills is used mostly in the shorter version of the game. Mendis scored two half tons with many useful scores at the recently concluded World Cup matches.
As the junior national captain the most memorable match in his career was the 2018 World Cup match against the West Indies. A match swung from side to side, Sri Lanka emerged victors mainly on Dhananjaya Silva and Hasitha Boyagoda brilliant efforts.
Mendis is proud to captain the Sri Lanka Under 19 team and with that pride he has the motivation to do a lot for Sri Lanka cricket.