A cafe for your taste buds, your mind and your pets too!
View(s):

Opened newly in Colombo 4, Café Sociale as its name suggests is a place for people to socialize. In keeping with the theme the café has also introduced innovative concepts such as the "Co-ffice" which is a space for 8 hot desking spaces available to customers on a first-come-first-served basis. At a nominal fee this "seat" also offers 8 hours of free Wi-Fi.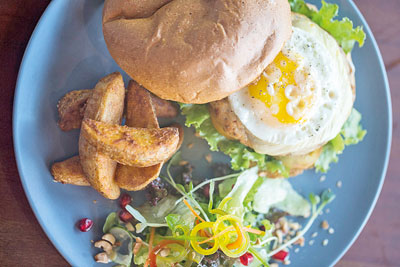 Café Sociale, a café cum working space is also pet-friendly, the first of its kind in Colombo to offer this opportunity to pet lovers and boasts an eclectic menu. Conveniently located at 252A, Galle Road, Colombo 4 (opposite St.Paul's Church), the café is open from 10 a.m. – 10 p.m. daily.
"Café Sociale is not just your typical café where you would walk in for a quick bite or a coffee to-go. Instead what we have created is a space for people to come and be innovators. We have tried to make the interiors as high-tech and comfortable as possible to allow people to think creatively," Managing Director Shiva Balachandran said.
"The food and beverages are also created to inspire great minds. Then there's the pet-friendly factor which is another first in Sri Lanka and a culture we would like to promote as well."
Consultant Chef Thushara Gunawardhana, who has over 14 years of experience in the hospitality industry in Australia and Sri Lanka dreamed up the menu using plays on famous movie titles. The short but interesting menu pays tribute to the likes of "Vanilla Sky", "Top (Gun) Bun", "Beverly Hills (Cop) Cod" and "Italian Job" among many others. Reasonably priced at rates affordable enough for students and start-up businesses, the menu includes many favourites from around the world.
"We believe that these spaces are the offices of tomorrow especially for young entrepreneurs who prefer to be their own bosses. Many young people with innovative start-ups have issues with a quiet space to further their business propositions and we want to be the solution to that problem," Shiva added.
The café also houses a 12-seater boardroom aptly named ""Co-laborate" which can be rented out for an out-of-office brain-storming session or a meeting of any kind. For the more casual gatherings, Café Sociale also has an outside space where pets are welcome. This backyard can also be rented for private functions. With ample parking for more than 20 vehicles, the café also takes away that part of the hassle.
Café Sociale is backed and funded by Gnanam Imports Private Limited, under the mentoring of Rajendran Gnanasambatham. For more information and to make reservations please call 0774 445814.