Ammonia tragedy: Factory ignored two warnings, says Labour Dept. Commissioner General
By Abdullah Shanawaz
Urgent moves to streamline workplace health and safety issues
View(s):
The Horana factory where five deaths occurred last week had been under a warning to improve safety condition for workers after two previous visits by inspectors before the incident, a senior Labour Department official said.
Labour Department Commissioner General R.P.A. Wimalaweera said his officers and inspecting engineers reported that the factory had not provided its employees with adequate safety gear.
"After the first visit, we urged the management to act on this immediately. And we did so the second time as well. I accept we should have filed legal action after finding they hadn't adhered to our first warning," Mr Wimalaweera told the Sunday Times.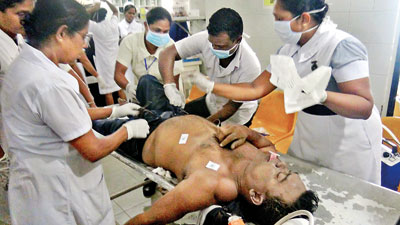 The Labour Department employs about 500 labour officers and more than 30 engineers to inspect factories and construction sites.
The Commissioner General said he believed this number was sufficient for the task. However, he said he hoped to carry out more awareness programmes on occupational health and safety, enabling labour officers to act on safety issues more efficiently.
He said that after he assumed office, he noticed that most measures taken by his department and other authorities were reactive instead of preventive. "We hope to change that," he said.
The Sunday Times learns that the Labour Department awaits the reopening of the Horana latex factory to obtain statements from the employees with regard to the recent tragedy with a view to filing action.
"We need to obtain the post-mortem report as well as statements from the factory owners and employees before we can take the case to the magistrate's court," Mr. Wimalaweera said.
He said that without statements from the employees, it would be difficult to prove the case.
However, since the incident indicated that adequate safety measures had not been taken to protect the employees, it would be easier to build up a credible case, he said.
The Commissioner General said the department's probe was not connected to the ongoing police investigation. "It is a case based on an investigation of our own."
Before the tragedy happened, the factory was temporarily shut down by the Central Environment Authority (CEA) following complaints over environmental pollution and the factory's failure to obtain an Environment Protection Licence. The closure was not due to negligence of occupational safety and health measures.
The National Institute of Occupational Safety and Health (NIOSH) Director General, Champika Amarasinghe, said the importance of the issue of occupational safety and health is largely ignored, or, at any rate, underestimated.
Insisting that employers needed to give more priority to health and safety issues, she said that around 2,000 occupational safety-related incidents had occurred last year. "But when you set this against the 8.5 million workers employed in Sri Lanka, the figure is obviously an underreported one."
The Labour Department had filed 32 court cases relating to occupational safety accidents (both fatal and non-fatal) last year. But most of these were after an incident had occurred. Only a few were proactive, where they were able to discern an issue on inspection.
Dr. Amarasinghe said that while the enforcement aspect was, no doubt, important, it alone would not solve the problem. "There should be a sense of personal responsibility and a proper understanding of occupational safety and health, on the part of both the employers and employees."
To promote occupational safety, the NIOSH carries out training programmes aimed at educating the workforce.
The Labour Department hopes to gazette guidelines relating to occupational safety and health. This will give the department a baseline to act upon any breach on the part of either the employer or employee, enabling a more efficient process of legal action to follow.
Mr. Wimalaweera said he believed that no matter how much legislation was in place, it would not matter one bit if they were not implemented and proper and quick action taken.
"If cases drag on for ages in the courts, without a fast process, this and other issues will never be resolved. And after the passage of time they will be forgotten by the people."