Veteran candidates better watch out as new faces take up challenge
By Sandun Jayawardana and Kasun Warakapitiya
Local Govt. Elections: Central Province
View(s):
Overpopulation, traffic congestion, air pollution, housing shortage, lack of  infrastructure development foremost issues in Nuwara Eliya and Kandy
Low interest in elections among people in Matale
Almost three years after local government bodies were dissolved, both voters and candidates in the Central Province welcome the chance to again elect their representatives. They also say that under the new electoral system, it would be the background of the candidate and not the party he or she is contesting from that would be the decisive factor, come election day.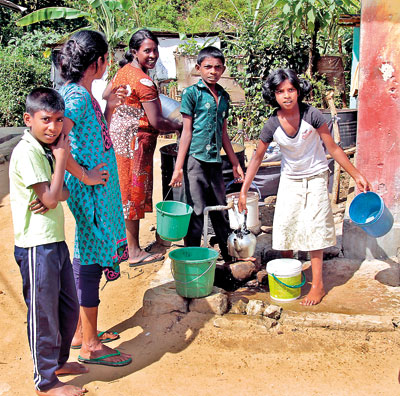 In all three districts of the province, — Kandy, Nuwara Eliya and Matale, campaigning is continuing without the intensity exhibited in past elections. There are hardly any major rallies, while the number of posters, cutouts and banners that violate election laws are also few and far between.
While allied with the United People's Freedom Alliance (UPFA), the Ceylon Workers' Congress (CWC) is contesting for the Nuwara Eliya Municipal Council (MC) separately as it believes it stands a good chance of winning a significant number of seats that way. Twenty one members are due to be elected to the Nuwara Eliya MC, more than double the number under the previous system.
Five estates come under the Nuwara Eliya MC, and while the CWC enjoys widespread support among the estate community, campaigning has been difficult there because the MC, while under non elected officials, had failed to provide even basic services to many of the estates, alleged Ramanathan Balakrishnan (Bala), CWC group leader contesting the Nuwara Eliya MC.
"The MC has done virtually nothing and people are demanding answers. We have been able to do some work using funds provided by our leader Arumugam Thondaman. That's the only reason we can go and campaign there."
Mr. Balakrishnan sees complications under the new system, even with the representation of women. "In desperation to fill their lists, some parties have fielded female candidates who are candidates by name only. They have no qualifications and zero experience in politics or community work. Even if such people are elected, is it fair to expect them to be efficient and knowledgeable representatives?"
Another issue is that candidates appointed as members from the list are done so by the Party Secretary. This places too much power in the hands of one party official, who could well appoint candidates favoured by him or her, and not those who worked for the party's victory, he pointed out.
Despite their political differences, all parties agree that the local bodies were plagued by corruption and mismanagement during the period that officials were in control.
The Nuwara Eliya MC earlier had Rs 60 million in a fixed deposit account, but now the council is struggling to find funds just to pay salaries to its employees, claimed the United National Party's (UNP) Mayoral CandidateChandana Lal Karunaratne. Mr Karunaratne insists corruption and mismanagement had led to such a situation.
The town is also far too overpopulated and struggling with traffic congestion, environmental pollution and housing shortages are major issues, Mr Karunaratne stressed.
Meanwhile, illegal constructions have dotted the landscape while tests have proved that drinking water in certain areas coming under the council have been contaminated with sewage, he further said. "These are just some of the major problems that will need to be addressed by the new administration."
The election has also exposed rivalries within the ranks of various parties. In Talawakele, we met Ashoka Sepala, former Mayor of the Talawakele-Lindula Urban Council (UC) who, though a strong supporter of former President Mahinda Rajapaksa and the Sri Lanka Podujana Peramuna (SLPP), is fielding an independent group against the SLPP under the 'wristwatch' symbol. Mr Sepala claimed his loyalty to the former President is steadfast. "Even when others abandoned Mr Rajapaksa following his defeat in 2015, I was one of those who continued to be with him," he stressed, adding that all candidates who are contesting with him are also strong Rajapaksa loyalists.
He claimed he and several others were denied nomination from the SLPP due to internal issues.
As such, he chose to field his own team for five local government authorities, not necessarily to defeat the SLPP, but to prevent voters who felt betrayed by the SLPP from casting their ballots for a rival party, Mr Sepala remarked, though he is confident of winning control of the UC on his own. "I didn't have time, but if I did, I would have fielded candidates for all local authorities in the Nuwara Eliya District."
Most voters who spoke to the Sunday Times stated they were glad the new system allowed them to elect a member who would be responsible for their ward. This would enable them take their problems to the member directly if they were not being attended to, they pointed out.
M.M. Upali (52), a retired STF officer said drinking water contamination and pollution were issues that concerned him the most. "We want to elect people who can get things done. The party doesn't matter," he added.
While there is not much of an 'election fever' to speak of, there seemed to be strong support for the pohottuwa (flower bud) of the SLPP, observed P. Vijayakumar (31), a shop worker. For him, one of the most pressing issues was the acute shortage of permanent housing in Nuwara Eliya.
For Mohammed Isfar (30) and Mohammed Irshad (32), an urgent need is for authorities to fix the city's drainage system, which had fallen into disrepair after the local government bodies were dissolved. Garbage collection was also haphazard at best and non-existent at worst, they claimed. Mr Irshad though, is happy that the new system gives them a member directly responsible for their ward. "At least we can go and scold him if things aren't being done," he quipped.
Guest-house owner W.M. Prematilake is hoping to vote for a person who would work to improve Nuwara Eliya.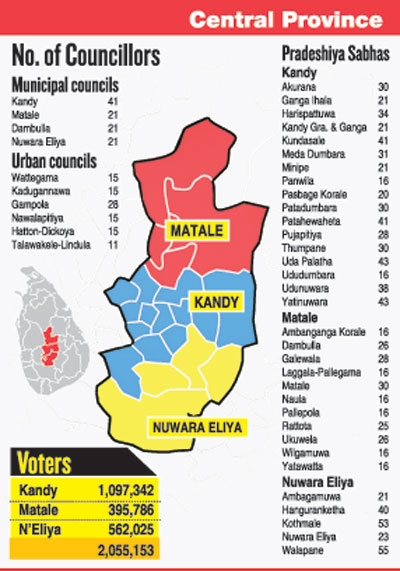 Speaking from the point of view of one engaged in the hotel industry, he remarked that local authorities should improve the city's infrastructure to attract tourists.
"The village level election is important, the council members are the ones that need to improve the roads and such services have remained idle after the authorities were dissolved," he said.
Meanwhile, water for the area was taken from Pidurutalagala Mountain and is uncontaminated. Water supply however, is not continuous and as such, the people are forced to use storage tanks. Water pressure was also lacking, he stressed, adding that he hoped the new councillors would look into the matter.
Some of the veteran politicians seem to be resting on their laurels by limiting their campaign to talking about what they did years ago, while some of the younger candidates who have no prior political experience are working hard on the ground, and are becoming increasingly popular as a result, one man observed. "If the veterans don't step up, they may well be in for a rude shock on election night."
Kandy
In the hill capital, traffic, air pollution and lack of infrastructure development are among the foremost issues in the minds of voters and candidates alike.
The UNP is fielding a strong team for the Kandy MC and is confident of winning it outright, stressed, Kesara Senanayake, former Kandy Mayor and son of former UNP Minister E.L. Senanayake. According to Mr. Senanayake, severe traffic congestion and resultant air pollution were the two most pressing issues facing the city today.
Research has shown that respiratory diseases, especially among schoolchildren have rapidly increased in the region in recent years, he said. "Answers have to be found for them now."
The practice of bypassing the local council's planning committee when planning buildings had resulted in many illegal constructions springing up in the city, he remarked, adding that the practice must be stopped immediately.
In a curious turn of events, Mr Senanayake's elder brother is also contesting against him from the same ward from the United People's Freedom Alliance (UPFA) ticket.
Though reluctant to comment on his brother's politics, Mr Senanayake claimed his brother did not pose a challenge to him or the UNP.
With parties having to meet the 25 per cent quota for female candidates, demand for qualified candidates, especially for those with a political background is high. This is the reason why Samudra Dayananda who has extensive family connections to politics, was sought after by three major political parties requesting her to contest for them. "The UNP, SLFP and SLPP all requested me to contest. I have been a great admirer of former President Mahinda Rajapaksa and know him personally. As such, I accepted the invitation to contest under the flower bud symbol," she told us.
The grandfather of Ms Dayananda, a successful entrepreneur was a former deputy minister while her father was also chairman of the village council. Her support for Mahinda Rajapaksa is largely due to ending the war.
If elected, her priority is "not to fix drains in the city," she emphasised, noting that this was what all councillors did. "I want to encourage women to become entrepreneurs. I don't know if I will be allowed to do that inside the council, but I will try."
Corruption within the Kandy MC actually increased after the dissolution of the authority, claimed UPFA Asgiriya candidate Anura Kumara Gonawala, who had previously served as a council member from 2002-2011. He said evidence was being collected regarding alleged malpractices, adding it was the duty of the elected members to ensure accountability.
Mr. Gonawala, who had earlier been with the JVP during his tenure as a Municipal Councillor, is now contesting under the UPFA and supports President Maithripala Sirisena.
Insisting that he was not in a position to provide "character certificates" to any party, including his own, Mr Gonawala said he would strive to do the right thing, even if it meant going against the party he represented.
Meanwhile, voters say that they would choose individual over party and that "clean" candidates who have experience working with the community should be given preference.
Upali Bandula (47), a three-wheeler driver noted that, though he lived within the limits of the Kandy MC, roads that led to his area had not been developed in years. "The MC has done nothing for the villages within it. We feel completely left out. The youth have no jobs. We repaired some of the drains using our own money," he said, adding that those who had not lifted a finger to help such areas during their tenures in the council and those accused of corruption would not be welcome in their areas.
Matale
The local government election in Matale has been largely uneventful so far, with interest among the local population being rather low. Nevertheless, all major parties are fielding candidates in the district, and contests for the two MCs of Matale and Dambulla are being watched closely.
A significant trend seems to be that some younger candidates have joined the fray and are contesting against members of the old guard, posing the veteran politicians a strong challenge to retain their seats.
Several attempts of distributing goods as 'bribes' to voters has also been detected, with one notable incident of a candidate allegedly distributing Buddha statues to households under his name and party symbol being widely reported.
Additional Reporting by L.B. Senaratne in Kandy and Hilton Berenger in Matale
The hills come alive with sham promises
During every election season, a familiar story repeats itself inside the country's estates. Politicians descend en masse, making grandiose promises to the thousands of eligible voters living there, literally begging for their votes. Afterwards, however, such promises are lost in the wind, just like the words of the candidates."During elections, they come and kneel before us for our votes. When it's over, we have to go and kneel before them, yet they still won't come," was how one worker at Palmerston Estate, Ratnagiri Division, contemptuously described the antics of the local politicians.Coming under the Kotagala Pradeshiya Sabha (PS), those from this estate live under minimal conditions, largely deprived of basic requirements such as sanitation, clean water, education and a proper road for transportation.Sinnaiya Dureisami (37), born and bred in the area, says a proper road is one of the most essential requirements inside the estate, to enable them reach the Nuwara Eliya Main Road easily. The road in use now has not been maintained for years, and the gravel washed away, making vehicular travel virtually impossible.

"The Kotagala PS is responsible for renovating the road, but they promise they will fix it only during the election period," Mr Duresami charged.

"It is extremely difficult to take pregnant women to the nearest hospital at Lindula, using this road. The damaged road rocks the vehicle, and there is the constant danger of complications, with even childbirth in the middle of the journey."

"It is also difficult to find transport along this road in an emergency, as three-wheeler drivers are often reluctant to travel along it due to the risk of damage to their vehicles," he further pointed out.

Estate worker and mother of three, Vasantha Kumari (33), said the Montessori and the Primary school premises within the estate have remained closed for some 15 years due to lack of resources.

"The politicians say the school will be reopened after the elections, yet that promise is never kept."

"With three-wheelers refusing transport, her 2 schoolchildren have to walk almost 2 km to attend school and return home walking another 2 km," Ms Vasantha added.

"Meanwhile, water is provided only for several minutes at a designated time every day, and those who miss the time have to walk a long distance, carrying pots and cans, to collect water from a well," she claimed.

Ms Vasantha is A/L-qualified, and had been a Montessori teacher in Bogawantalawa. But, after marriage and coming to the estate, she had been forced into plucking tea, as "there are no other jobs here."

S. Balamurugan, who was a teacher at the now-closed primary school in the estate, said he is able to teach children up to Grade 3, but lacks resources to do so.

He explained that, due to lack of education facilities, compelled to travel far for schooling and financial constraints, many schoolchildren drop out of school midway and work on the estate.

"We would like our children to become doctors, engineers and good people, but they remain in the same social level," he said.

Change, however, maybe on the way. A young man from the estate, along with 2 others from the neighbouring estates, are contesting for the Kotagala PS.

"As they are our own people, we think, if we elect them, perhaps they can finally bring us results, as they are aware of our issues so well," one man told us.