Uma Oya sufferers tap well of frustration
By Sandun Jayawardana and Kasun Warakapitiya
Local Govt. Elections: Uva Province
View(s):
Political novices affected by project take aim at main parties   
Something truly historic is happening in the Bandarawela local government election: a people's movement of those adversely affected by the Uma Oya project is contesting for two local government bodies, and, while many of the contestants have never been in politics, there is widespread belief that they pose a formidable challenge to established parties.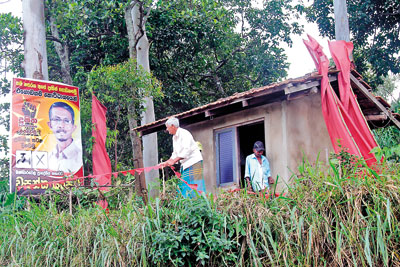 The group is contesting for both the Bandarawela Municipal Council (MC) and the Bandarawela Pradeshiya Sabha (PS) under the symbol of a tap.
The Uma Oya project, initiated by the last government, was designed to take water from the Uma Oya southwards through long underground tunnels to the arid Hambantota area. The tunnels began leaking badly and local water sources became denuded. Critics say the scheme has degraded land and forests and polluted water.
With many wells in the Bandarawela region drying up due to the Uma Oya project, water is being supplied from bowsers and almost 12,000 water tanks have been distributed among the public. A tap thus was an obvious choice of symbol.
On 26 December 2014, the inland Uva Province suffered its own "tsunami," said Wasantha Sanjeewa Somasiri, the group leader contesting for the Bandarawela PS.
That was the day water first started leaking from the main tunnel of the Uma Oya Multi-Purpose Development Project. Since then, the damage has spread over 39 grama seva divisions in seven pradeshiya sabhas, Mr. Somasiri claimed.
As the tragedy escalated the Uma Oya Bahu Winashakari Viyapurthiyata Erehi Janatha Peramuna (People's Front Against the Multi-Destructive Uma Oya Project), was formed to fight for restitution for those harmed by the project.
Now, the group is contesting for power within the two local authorities. It wants its vision and purpose to stay strong.
"We wanted to still be able to function as a group even after being elected. We don't want to be trapped in party policies," Mr. Somasiri said.
Several women who lost their homes due to the project are contesting under the tap symbol. Samadhi Rodrigo, a candidate on the list for the Bandarawela PS, said she had never had any political affiliations and that she chose to contest as the Uma Oya group was not affiliated to any political party.
"It was through this organisation that we were able to fight and win the concessions we have achieved so far. We will have to keep doing that in future too. This was why I and the other candidates chose to contest from this group," she said.
The Uma Oya group Convenor, Samantha Vidyaratne, said the election was an opportunity to voice a strong protest against the government.
Pointing out that 33 protests have already been held over the Uma Oya issue, Mr. Vidyaratne termed the coming election the 34th protest.
Mr. Vidyaratne, who led the struggle against the Uma Oya project while he was a provincial councillor with the Janata Vimukthi Peramuna (JVP) says he did so as a local area representative rather than as a JVP member.
He said the JVP, which has strong support in the Badulla District, had chosen not to contest the two local government authorities in the district, making way for the independent Uma Oya group. It would contest the other 16 authorities.
Mr. Vidyaratne acknowledged that the JVP violated election laws by pasting posters.
"But from our side," he added, "this is the only medium we have to get our message across. Other parties have money to advertise in the media."
The people of Bandarawela have pressing issues apart from Uma Oya. The town is becoming more congested by the day. Traffic is a nightmare with all the byroads into the town being blocked by unregulated constructions, residents say. Parking spaces are few and access roads into them are blocked.
A garbage mountain reminiscent of Colombo's Meethotamulla rises like a monster some distance from town. Even part of the adjacent public crematorium is being used to dump garbage due to lack of space.
The Bandarawela MC is a curious battleground: except for the United National Party (UNP), none of the major parties are contesting individually.
While the JVP is not fielding candidates, the Sri Lanka Freedom Party (SLFP), Sri Lanka Podujana Peramuna (SLPP) and the Ceylon Workers' Congress (CWC) have reached an agreement to field candidates as a single independent group under the symbol of a wristwatch.
Group Leader Nalin Suriyage, who had earlier served as mayor for 20 years, insisted that such a group was "what the people of the area demanded".
Bandarawela and the surrounding areas were in a deplorable state and the three parties had made an alliance to ensure that the area could be restored to its former glory, he claimed.
"We have no issue with President Maithripala Sirisena, Prime Minister Ranil Wickremesinghe or former president Mahinda Rajapaksa. We respect them all and will welcome assistance from any of them to develop the area," Mr. Suriyage said.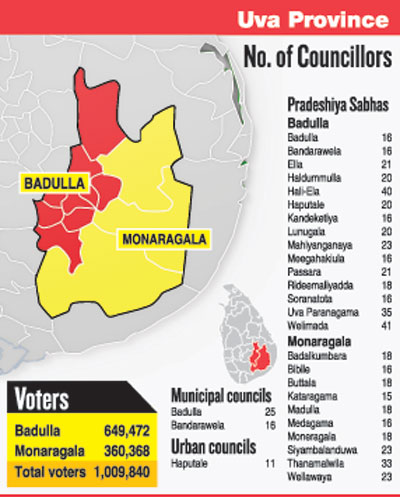 Although the UNP is contesting on its own, former deputy mayor and businessman Anura Waththuhewa has no doubt it can overcome all the other groups.
"These groups will not pose a challenge for us since they lack sound policies and proper leadership," said Mr. Waththuhewa, who is now the UNP's mayoral candidate.
He was dismissive of claims that the Uma Oya issue and the scandal over the bond scam would have any bearing on the election, saying the bond scandal did not reach down to people at grassroots level while Uma Oya was initiated under the Mahinda Rajapaksa regime – and while the JVP was part of that government.
"The thieves were there during the previous government. Their crimes should be probed first," Mr. Waththuhewa said.
Local authorities all over the country have suffered due to not having any elected members for nearly three years. Corruption had become endemic while even basic services had been hindered by the absence of political leadership. It was the duty of elected members to immediately look into any claims of corruption and hold those responsible to account, the UNP  mayoral hopeful said.
The new electoral system being implemented for the first time during this election is bringing its own complications, particularly in poorer local government authorities. In many local authorities, the number of elected members is set to double. Whichever parties that win control will have to find ways to manage their local bodies with resources that are already meagre. The Uva-Paranagama PS is a case in point.
"Our PS had 19 members. This has increased to 38 under the new electoral system," said Kanchana Ruwanmali Malwatta, leader of the UNP group contesting positions there.
"It is extremely difficult for an authority such as ours to sustain so many members. We only have limited means of income such as through court fines, stamp duties and retail licences."
Despite its relative poverty, the Uva-Paranagama PS is one of the country's largest pradeshiya sabhas in area and population, coming under the Uva-Paranagama Divisional Secretariat Division.
About 200,000 people live here, overseen by 68 grama seva divisions spread over 131.5 sq km. Parties here are fighting for votes from 85,000 eligible voters. The area has many problems: the roads in most places are in a bad state and there is no central town although the local authority has been trying for years to develop the Luhunuwatta area into a town.
Ms. Malwatta has no doubt the UNP would win power in the Uva-Paranagama PS and that she would become chairperson. She was PS chairman from 2002-2006 and group leader of the opposition from 2006 till the dissolution of the authority.
She cautions that if the national government does not step in to help poor local authorities such as Uva-Paranagama, it would be extremely difficult to provide the services expected of them.
"I don't want funds dedicated to serve the people to go towards paying salaries and allowances of members," she said, adding, "even our PS building can barely accommodate 19 members. I don't think we will be able to fit in 38 members without expanding the hall. Money will be needed for that too."
As a female candidate, she welcomed the new system that makes it mandatory that 25 per cent of all nominated candidates be women.
Women are heavily active in many fields in the country, with politics being a rare exception, she stressed, adding that even women who are already prominent in politics have come there mostly due to their family background.
There are very few women who have come up the political ladder from grassroots level, Ms Malwatta noted. The new system allows women who have been working at the grassroots level and who are recognised and respected for their contributions to be elected to local authorities.
Her party is fielding 11 female candidates for the PS but finding females to enter politics is problematic, she acknowledged. It was particularly difficult to attract younger women – as well as men – to contest. "Young people are more interested in finding jobs, and it seems many have a clear disgust towards politics," Ms Malwatta said.
The UNP candidate, who has been in active politics ever since she joined the party's youth wing in 1997, said social attitudes continue to make women think twice about engaging in politics.
"They fear that politics may sully their image, and that if they lose it would also affect their future employment prospects. They are fearful of social attitudes," she said.
This could change by the next local government election, as women come forward and people see women members working. Ms. Malwatta hopes this would make more people realise they could play a key role in serving their areas as local government members.
Additional reporting by K.R. Rajamanthree in Welimada and Sumanasiri Gunathilake in Monaragala
Muted interest in Monaragala polls   
In the Monaragala District, 10 pradeshiya sabhas are being contested by all the four major parties – namely the UNP, SLFP, SLPP and the JVP.

Several independent groups are also in the fray, with one group contesting the Wellawaya PS while another is contesting for the Thanamalvila PS.

Campaigning so far has been mostly confined to house-to-house visits by candidates and pocket meetings. No party has yet held a major rally in the district and general interest among the public, at least for now, remains low.

While distributing goods is prohibited under election laws, some candidates are getting around the prohibition through other means, such as distributing goods in small areas through individual supporters. Some have also made house visits carrying gifts such as biscuits while others are offering to pay electricity and water bills of eligible voters.

Nevertheless, a strong consensus seems to be emerging among local people that they should not vote in former members accused of corruption.