Engineers overcome rains to finish Gurugal Oya project
By L.B. Senaratne
View(s):
The completion of the Gurugal Oya Project this week provides not only a much- needed reservoir envisioned in 1947 but also a roadway linking the rural families of the Nuwara Eliya and Kandy districts.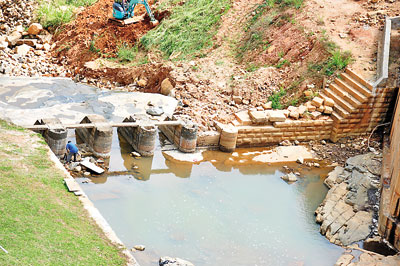 The Rs. 780 million project took eight years to complete, the Irrigation Department's Executive Director of Irrigation for the Central Region, K.M.A.P. Karunanayake said.
Its history began in 1947 as part of the Murapola Anicut scheme proposed to irrigate 2000 acres of paddy land – a target eventually reduced to 1200 acres.
The problem was that although the anicuts channelled water there was no way to store the water during lean times. The answer to this was the 128-acre Gurugal Oya reservoir to enable land to be cultivated during both the Yala and Maha seasons.
In February and August, the water stored in the Gurugal Oya Dam would be released for cultivation, the head of the project, Chief Engineer Kumudini Deera said, and during overflow periods farmers could use the river water freely.
The weather had significantly hindered work on the project, Mrs. Deera said. Heavy rains had made work difficult and washed away equipment, causing periodic abandonment of work. This had led to delays, especially in laying the layers of concrete at the base of the reservoir.
A farmer benefiting from the project said the linking of the two districts was a happy augury, especially for schoolchildren to cross between the two areas. Informal connecting pathways across anicuts were now replaced by a tarred road that would also carry a bus service.
The project was declared open by the Minister of Irrigation, Gamini Vijith Vijamuni Soyza in the presence of Minister of Social Empowerment, Welfare and Kandyan Heritage S.B. Dissanayake, Central Province Chief Minister Sarath Ekanayake and council members Mahinda Abeykoon (the former council chairman) and Shanthini Kongahage.
Unveiling a plaque, Mr. Soyza made the point that garment exports were not universally beneficial to the country as waste from the garment factories entered the river systems, killing indigenous fish.
"The money we earn from these exports does not warrant the disappearance of the fish and other river life and is detrimental to the country," Mr. Soyza said.