Shiva Sunbeam: Another new butterfly for Sri Lanka, the 248th
View(s):

The "Shiva Sunbeam" (Curetis siva), a butterfly species hitherto unrecorded in Sri Lanka, but found in India, was recently discovered by a butterfly expert here.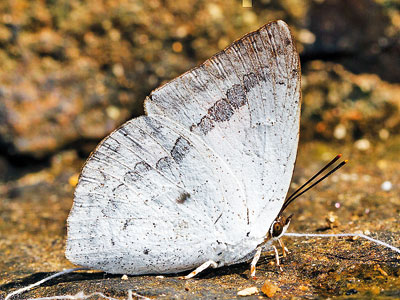 Dr. Michael van der Poorten who discovered the butterfly has now confirmed the existence of "Shiva Sunbeam" (Curetis siva), earlier wrongly identified as a seasonal form of another butterfly, the "Indian Sunbeam" (Curetis thetis).
The adult butterfly can be seen flitting through the canopy of trees in the wet zone forests and is generally seen around "Nadun" , one of its larval food plants. The males occasionally settle on moist soil.
This discovery brings the total number of butterfly species recorded in Sri Lanka to 248, of which 31 are endemic. In 2016, Dr van der Poorten and his wife Nancy published their landmark , Butterfly Fauna of Sri Lanka.
Dr. van der Poorten, with over 40 years of experience as a Lepidopterist in Sri Lanka and Canada, also discovered a butterfly in Sri Lanka in 2008, Catopsilia scylla, which is native to Australia, Singapore and Malaysia. In addition, he is credited with the discovery of the butterfly Cephrenes trichopepla, also a native of Australia, in the same year. Both butterflies are now quite widespread across the country.