Shankari Chandran : My work as a lawyer has had a huge effect on my writing
View(s):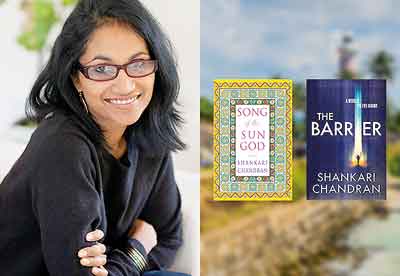 Shankari Chandran was raised in Canberra, Australia, by parents who were both doctors. She told the Sunday Times, "I grew up in Australia but Sri Lanka feels a part of me because my parents' and grandparents' memories are so vivid. I spent my childhood eavesdropping on their conversations and then in my adulthood they enjoyed my fascination with their past, and shared their memories generously."
Back home in Australia, although she was shielded from pop culture, early on she was introduced to the wonders of medical science and world religions. As a child she sometimes watched her dad perform neurosurgery. Despite her father's longing for her to follow in the family tradition and study medicine, Shankari became a lawyer. She moved to London, to work at the social justice desk of a huge corporate law firm.
In 2002 she persuaded the firm to take on a landmark international case, which centred on the fate of prisoners at Guantanamo Bay. Altogether, she was responsible for projects in over 30 countries ranging from training lawyers in Rwanda to advising UK Prime Minister Gordon Brown.
Her work helped her understand the role and limitations of international humanitarian law in conflicts. It also showed her what happens to society when governments subvert civil liberties. These issues form major themes in her writing.
"My work has had a huge effect on my fiction writing," she would admit."As a lawyer, I was exposed to the worst kind of human behaviour, our selfish and savage side. I was also exposed to the best kind of behaviour, our brave and just side. I watched the moral compromises people make, those subtle shades of grey that exist between the binaries of good and evil. My characters reflect these shades."
Working with organisations like the International Committee of the Red Cross helped Shankari understand the role and limitations of humanitarian law in conflicts.
She eventually returned home to Australia, where she now lives with her husband, four children and their cavoodle puppy, Benji.
Shankari is currently researching her third book, a work of fiction also set in Sri Lanka. She describes it as a political thriller set in Sri Lanka at the end of the civil war. A high-profile journalist, Ameena Fernando, is executed in the streets of Colombo in broad daylight. No one knows who did it or why – was it the government or someone else?
The main character is Ellie Ryder, a human rights lawyer for the US State Department, who is determined to find justice for Ameena. Ellie becomes embroiled in an international conspiracy as well as her own desire for redemption.
The book is much anticipated in the wake of her first two books, both published in 2017. The first, 'The Barrier' was set in a future when humanity has recovered from the brink of extinction, devastated by a global religious war and lethal strains of Ebola virus. The sci-fi thriller pitted developing nations against the West, exploring the nature of faith along the way.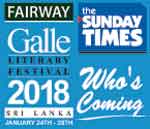 "I love dystopic fiction," she confessed in one interview."The End of the World fascinates me. I secretly stock up on bottled water and canned chickpeas from time to time. The Barrier is set after the kind of apocalypse that I worry Trump and the ultra-nationalists of the world might precipitate."
Her next book 'Song of the Sun God' brought her back to Sri Lanka and to family. The characters in the book, Nala and Rajan, were based on her maternal grandparents. It depicted them with so much love that she was fielding phone calls from friends who saw the resemblance clearly.
"The dynamic between Nala and Rajan is very much the same as that between my grandparents," Shankari says affectionately."Everything from his meticulous bed making to her self-proclaimed best butter cake in the world, is them. So is the love and humour."
The Festival programme will be released tomorrow, (December 18).