Postage stamp marks 50th anniversary of Mitirigala Forest Hermitage
View(s):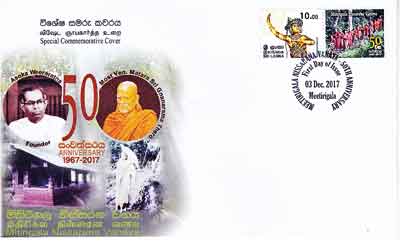 The 50th anniversary of the founding of the Mitirigala Nissarana Vanaya (Mitirigala Forest Hermitage) was commemorated at a public meeting held at the Nissarana Vanaya Aranya on Sunday December 3 (Unduvap Poya Day). A postage stamp together with a special commemorative cover was issued by the Philatelic Bureau of the Department of Posts on this occasion.
Mitirigala Nissarana Vanaya situated in a tropical forest reserve close to the village of Mitirigala, off Dompe was founded in 1967 by Asoka Weeraratna, who subsequently entered the order of the Sangha in 1972 as Ven. Mitirigala Dhammanissanti Thera.