Nelli-rasakinda herbal regime can boost immunity of oral cancer patients, study shows
By Kumudini Hettiarachchi
View(s):
Their goodness has been oft-mentioned but now the immunity-boosting capability of this herbal duo has been tried, tested and confirmed in a unique 'western-eastern' medicine partnership.
Nelli (Emblica officinalis) and rasakinda (Tinospora cordifolia) have been placed under scrutiny and performed their roles effectively in boosting the immunity (the ability to resist and fight disease) of people who have undergone surgery for oral cancer.
The nelli-rasakinda herbal regime has been used in a randomized double blind prospective clinical trial and research study on oral carcinoma of the buccal (cheek) mucosa and the tongue at the Oral and Maxillofacial Unit of the Karapitiya Teaching Hospital, with support from the Institute of Indigenous Medical Science, University of Colombo.
"Nature gave us an answer on how indigenous ayurvedic medicine could improve the immunity of oral cancer patients," says Consultant Oral & Maxillofacial Surgeon, Dr. D.K. Dias who conducted the research with the support of Senior Lecturer, Department of Surgery, Institute of Indigenous Medical Science, University of Colombo, Dr. L.P.A. Karunathilake.
The study focused on 'chemoprevention' by using the dried powder form of the nelli (amla) fruit and the stem of rasakinda (guduchi) after completion of the conventional cancer treatment of these patients. It explored alternative or experimental methods of chemoprevention to prevent or reduce the recurrence of the malignancy in once-treated patients.
Animal studies on the nelli-rasakinda powder mix have been conducted in other countries including China and there is evidence to indicate that it helps to modulate the immune system, creating an anti-cancer, anti-tumour and anti-oxidant effect, says Dr. Dias, explaining that he had got the powder-mix tested at the Industrial Technology Institute (ITI) to ensure that there were no other ingredients, before administering it to the patients. The tests had found that it was "very high" in anti-oxidants.
Providing disturbing information on the oral cancer situation in the country, Dr. Dias who has performed more than 2,000 operations linked to this malignancy in the past 25 years, says that it is the "commonest" cancer among men, on par with breast cancer among women.
Oral cancer kills 3 to 4 people each day in Sri Lanka
Oral cancer affects around 2,500 patients each year in Sri Lanka
The 'profile' of those who are hit by oral cancer is: Mainly men in society's underprivileged strata who include many farmers and estate workers.
Lamenting that even with technological advances in the treatment of oral cancer, the long-term prognosis has not changed, he says it revolves around three vital factors: How aggressive the cancer is which would hinge on environmental responses such as drugs, food, water and pollutants; how aggressive the treatment is; and the patient's immunity to act against the cancer.
"We have no control over how aggressive the cancer is," he says, adding that there is also no control over how the treatment would work in individual patients. "As such, we picked up the factor of how the patient's immunity would act against the cancer."
On why some people fall victim to cancer and others do not, Dr. Dias says that when a cancer attempts to raise its head in a person's body, that person's immune system battles against it and neutralizes it.
However, the malignancy will keep trying to get a grip in that person's body.
In a person's immune system, meanwhile, there are two sets of disease-fighting soldiers – the 'non-specific' soldiers and the 'specific' soldiers, he says, explaining simply this complex system. The 'non-specific' soldiers are the first-line of defence and will battle every infection or disease such as cancer that enters the person's body. However, sometimes, when these 'non-specific' soldiers are defeated, unfortunately, they become the allies of the person's enemy, that is cancer, and help the cancer grow and spread.
"This is why we targeted the 'specific' soldiers with the nelli-rasakinda powder mix in a 10-year study from 2005-2015 covering 163 patients initially, who had cheek and tongue cancer," he says, stressing that it was in addition to the standard conventional treatment.
Some disturbing facts
Oral cancer is preventable but the tragedy is that thousands succumb to it each year, reiterates Dr. D.K. Dias, urging that more awareness programmes are needed to arm the people with information.It has been rated as the sixth commonest cancer in the world, affecting more people in developing rather than developed countries.
The commonest culprits causing oral cancer are tobacco (smoking or chewing), areca-nut, heavy alcohol consumption and betel, the Sunday Times learns.
He gives some shocking data for people to chew on:Those who smoke and drink have 15 times greater risk, than those who do not, of being affected by oral cancer.
Those who smoke heavily and drink heavily are 100 times more at risk than others of being struck down by oral cancer.
Heavy drinkers (taking greater than 100gms of alcohol per day) are 30 times more at risk than others of getting oral cancer.
Heavy smokers are 15 times more at risk than others of being hit by oral cancer.
Warning children and youth against following the so-called fashionable trend or becoming victims of a copycat syndrome, Dr. Dias is waving a bright-red flag against such substances as babul.The symptoms of oral cancer include pre-malignant white patches or lesions and unhealing painless ulcers in the mouth. These wounds would be reddish but because they do not hurt there is late presentation to doctors, says Dr. Dias, adding that most of those hit by oral cancer are in the age-group 55-60 years.

More warnings of disturbing trends come from Dr. Dias:

Recent findings are showing an increasing trend of oral cancer in women, which may be due to increased patterns of smoking and heavy drinking.
Younger people, those around 30 years, are also being affected by oral cancer.
With 1 in 10 people being at risk of developing cancer in their lifetime, 1 in 64 would be vulnerable to oral cancer.

According to him the aetiology of oral cancer differs in developing and developed countries.

Due to betel-chewing with tobacco, areca-nut and lime, the developing world is seeing more cheek cancers.
With heavy smoking and heavy alcohol intake, the developed world is witnessing more cancers in the tongue and the floor of the mouth.
Meanwhile, the human papilloma virus (HPV) and candida super-infection could also be contributory factors for the development of oral carcinoma.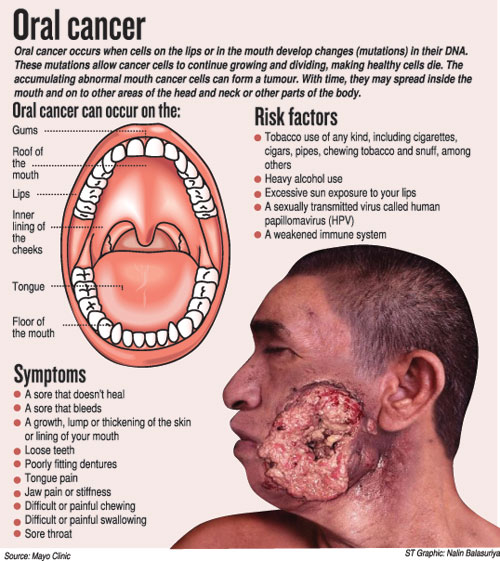 The study: How it was done and the findings
In the study, the patients had been divided into two groups. One group had been given the slightly brownish nelli-rasakinda powder to be drunk daily mixed with milk for three months, while the other group had got a placebo (what seemed to be the nelli-rasakinda powder-mix but was not). The study had been able to follow 114 patients for five years.The important findings are:

There was a statistically "significant" reduction in the nodal recurrence of the patients who had been operated on for tongue cancer.
There was a statistically "significant" reduction in the local recurrence of the patients who had been operated on for buccal cancer.
The recurrence reduction in both groups led to better survival rates – the five-year recurrence-free survival of these trial groups was 62.7% when compared with 42.3% in the control group.
Therefore, it is justifiable to conclude that the nelli-rasakinda mix showed statistically significant benefits in preventing cancer recurrence in the follow-up period, which leads to an overall improvement in the survival rate.
The actions of nelli and rasakinda were:

Enhanced production and secretion of interferon and corticosteroids. (Interferons are a group of signalling proteins made and released by host cells in response to the presence of viruses, bacteria, parasites and tumour cells, while corticosteroids are hormones which provide relief for inflammation.)
Anti-viral properties as well as functioning as anti-bacterial and anti-fungal agents.
Immuno-modulators in a variety of immune-compromised conditions.
Adaptability to induce leukocytosis (an increase in the total number of white blood cells).
Improvement in phagocytosis and intracellular killing capacities of neutrophils (a type of white blood cell) and macrophages (mobile white blood cells). Phagocytosis is the process in which phagocytes in a white blood cell, ingest or engulf other cells or particles.
Inducing T-lymphocyte (that plays a central role in cell-mediated immunity) proliferation and increasing cytokine secretion. Cytokines are a number of substances, such as interferon, interleukin and growth factors secreted by certain cells of the immune system and have an effect on other cells.
Cytotoxic (toxic to living cells) effect on cancer cells.
Inhibiting the proliferation of tumour cells.