Abode of 'Kohamba Deviya' endangered
By L.B. Senaratne
View(s):
Conservationists claim the abode of the 'Kohamba Deviya' at Uragala in Hantana, Kandy, is being destroyed via clearing activities for a roadway and the construction of a swimming pool in an area situated 3000 feet above sea level.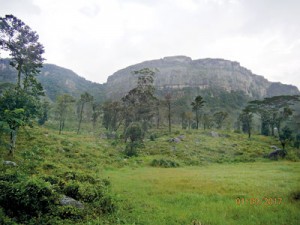 The Divisional Secretary of the area has categorically denied permission had been given for the construction of a road or for the construction a swimming pool, within the Hantanne Estate.
He added the area was part of the Hantanne Reservation.
President of the Hantanne Nature Conservation Association (HNCA) Amith Sennnayek, said it was illegal to clear land or construct a road in the area, as it came under the purview of the Hantane Management Committee of which his Association was part of.
He added permission was not given for any project, and emphasised the Committee had no power to allocate land above the 3,000 ft level.
The area is part of the Hantanne Estate while at the same time being part of a village.
Villagers claim that if the abode of 'Khomba Deviyo' is disturbed, a calamity would follow. They point out Uragala has long been the legendary abode of 'Khomba Deviya' which also houses a Devale.
Villagers and other area residents protested the illegal activity, but received no positive result.
The Hantanne Management Committee which is chaired by the District Secretary will meet within a week. Meanwhile villagers are preparing a series of protests to emphasise their opposition and halt the illegal activity.