Animal bites and other accidents: Focus on prevention
By Shadya Ismail
View(s):
Animal bites make up more than 33 percent of accidents in Sri Lanka, eating into a large chunk of the Health Ministry funds, according to the ministry's first ever data compilation report on accidents.
Health Ministry officials said most of these accidents were preventable and if people were vigilant, the tragedies could be minimised and the state could save the large amount of money it spent on anti-rabies vaccine, serum and other medicine.
According to statistics, 33.1 percent of personal injuries last year occurred due to animal bites, 18 percent due to falls and 15.9 percent due to road accidents. However, the animal bites category does not include animal stings (1.5 percent of all personal injuries) and animal attacks (1.3 percent).
The ministry's non-communicable diseases unit director, Dr. Thilak Siriwardana, told the Sunday Times the ministry began collating data last year so that they could be well informed to take measures to minimise such accidents. Moreover, the data would help the ministry to coordinate its programmes and allocate its resources to various hospitals.
Dr. Siriwardana said some hospitals maintained computer files to record all types of accidents and shared them online with the ministry, but still there were hospitals which lacked computer and internet facilities though they maintained the manual system to record data. To streamline the process, the ministry would buy 110 computers and distribute them among these hospitals.
During a media briefing held this week to mark National Injury Prevention Week, officials revealed that one in five Sri Lankans suffered injuries due to accidents every year, leading to some 11,000 people seeking treatment in hospitals daily. Among them, 27 die every day or 10,000 every year. Some 3,000 of them are road accident victims.Of the 10,000 annual accident deaths, 3,000 lives are snatched every year due to road accidents which is 51.8 per cent. Accidental suffocation-related deaths accounted for 9.8 percent of deaths, 8.9 due to poisoning and 4.5 of drowning.
Commenting on the high number of road deaths, Colombo Traffic Police Assistant Superintendent W.D.A. Dananjaya said that daily on average some 600,000 vehicles ply on 98,000km of city roads and this was a huge vehicle volume.
"The police record around 40,000 road accidents every year and for the past 10 years there have been 2,500 to 3000 deaths every year," he said.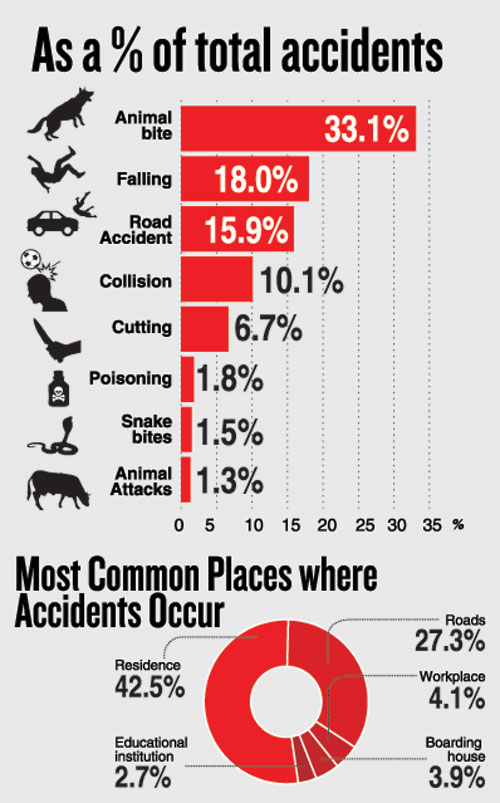 Pointing out that the death toll exceeded 3,000 last year, the ASP urged drivers and pedestrians to be more vigilant when using or walking on roads.
Dr. U.A.R.S. Ranawaka, Consultant Paediatric Surgeon at Colombo's Lady Ridgeway Hospital, said that since 42.5 percent off all accidents were taking place at home, more awareness needed to be created to prevent such accidents, which could even lead to grievous disability or death.
Health Ministry director Dr. Siriwardana said a disturbing trend was that most of the accident victims who died or became physically challenged were young people, especially in the 15-20 age group.
He said this trend was a major cause for concern as their deaths or disability in their youth cut off or curtailed their contribution to the economic growth. Besides, the mental trauma family members undergo and the cost the state incurs on treatment also affect the economy.
To generate awareness on accident prevention, National Injury Prevention Week is marked from September 18 to 22. Health officials say that on day one, tomorrow, their focus will be on preventing road accidents. On day two, they will take the message of safety to industrial sites and on day three, their efforts will target reducing home accidents. On the fourth and fifth days, they will turn their focus on preventing accidents in pre-schools and schools.