Blatant violation of conditions governing garbage disposal for filthy lucre
By Anthony David
Commission of Inquiry into Meethotamulla Garbage Dump Collapse
View(s):
A Commission probing the collapse of the garbage dump in Meethotamulla on Sinhala-Tamil New year's day, has received startling details on how moneymaking deals were made over garbage.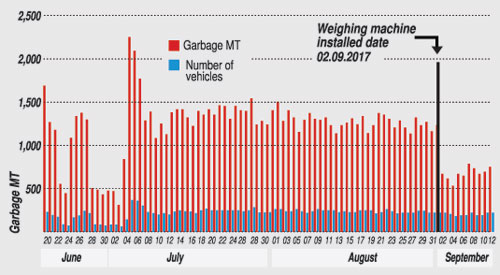 The Commission headed by former Judge Chandradasa Nanayakkara, received information on how a private company was contracted to spray the garbage dump with a chemical, a few weeks before it collapsed, on how exorbitant sums were paid to hire vehicles from a company in Battaramulla, to level the garbage dump, and how tender conditions for private cleaning companies were violated.
The details are to be studied by the Commission in compiling its report about the incident in which at least 37 persons were killed, several injured and dozens of houses damaged.
Among the details the Commission has received is that, two companies contracted to collect and dispose garbage, were permitted to dispose garbage in Meethotamulla, in violation of the tender requirement where the companies have to declare the lands where garbage would be dumped. Colombo Municipal Council (CMC) Commissioner V.K. Anura is alleged to have given permission for the companies to dump garbage.
Though, there is also a tender condition that if the surcharge for failure to fulfill tender conditions, exceeds Rs 1.5 million, the tender would be cancelled. Supporting documents too have been attached and sent to the Commission.
Another allegation was that, prior to the Supreme Court permitting the dumping of garbage at the Meethotamulla site, the CMC Commissioner had granted permission to dump garbage there.
The decision to hire heavy equipment from a company in Battaramulla, for an annual fee of Rs 187-190 million, to level the garbage mound, has been questioned, as the annual expenditure had been around Rs 34 million, before the Commissioner took over.
A system to conduct an internal audit on the expenditure too had been halted on a directive of the Commissioner, enabling payments for the heavy machinery.
Among the other evidence brought before the Commission is that, the garbage dump was sprayed with chemical by a company from Pagoda Road, Nugegoda, prior to the collapse, without proper approval, thereby violating govt regulations.
A proposal by the company had been submitted twice to the CMC Finance Committee, claiming that four specialists had inspected the chemical. Inquiries by the CMC Treasurer from the experts, revealed they were unaware of the chemical. The Commission has been informed there was no written consent for the use of the chemical.
However, subsequently, the CMC Commissioner had allegedly claimed he was authorised to approve purchase of the chemical and gone ahead with the purchases, the Commission has been informed.
The Meethotamulla residents believe that the use of the chemical on the garbage dump had led to its collapse, but the CMC has repeatedly denied a chemical was used.