Tex-Mex fast food chain Taco Bell is here
By Kaveesha Fernando
View(s):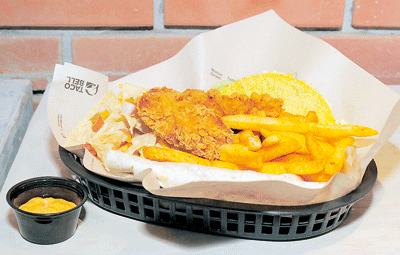 Famous American fast food chain Taco Bell will be opening its doors in Colombo next week, with a focus on bringing a modern experience to consumers. Taco Bell is one of the world's biggest Mexican inspired fast food chains which serves tex-mex favourites such as tacos and burritos. Tex-mex is a fusion of Mexican and American cuisine which is popular in the United States of America.
Located in Horton Place, the outlet has plain brick walls devoid of plaster and sports graffiti designs – an unfinished look which is intentional, we learn. Inside, a wall of graffiti designed by a local artist depicting traditional Sri Lankan 'wes munu (masks)' and local food stands in front of an interactive screen which diners can use to select each option in order to get an idea of what each dish constitutes.
On the menu are tex-mex favourites such as crunchy and soft tacos, burritos, quesedillas and chalupas. There will also be a few items which have been designed for Sri Lankan preferences such as crispy fish tacos and burritos, a rice bowl and pineapple mojitos. Diners can choose from five fillings and three sauces which includes a vegetarian option (pinto beans) and vegans simply can opt out of the cheese. The tacos start from around Rs. 400 each while a slightly bigger meal with more fillings and other side dishes etc. would cost around Rs. 850. They hope to open a drive through option in the future as well.
Taco Bell has been brought to Sri Lanka by Gamma Pizzakraft Lanka (Pvt.) Ltd. and Managing director of Gamma Pizzakraft Lanka Amar Raj Singh says he is excited to bring the Taco Bell experience here. "This has been one of the most exciting markets I have seen in 45 years in the food and beverage industry. The hallmark of our Sri Lankan consumer is that first of all, he's a great experimenter, secondly he's a great foodie, he loves to have food and number three, Sri Lankans love to come out and eat," he said.
Taco Bell will open its doors tomorrow, July 17. The outlet is located at No. 36, Horton Place, Colombo 07.