Appreciations
View(s):

Farewell, kind spirit of the inky way
Manny (E. C. T.) Candappa

With the death of Manny (E. C. T.) Candappa, last week in Melbourne the media mourned one of its most eminent and proficient personages who wielded a pen as newspaperman, author, poet, playwright and broadcaster for more than six and a half decades. Manny, full moniker, Emmanuel Christopher Thomas Candappa survived three transitional technological generations in the changing newspaper era, with admirable aplomb and equanimity.

Following a nearly half century stretch at Lake House where he cut his teeth and rose to be one of its most prolific and popular scribes in what is considered by many as the Homeric ages of local journalism, he migrated to Australia in 1987 with his wife Yvonne and four children. He became a household name as a writer and editor in some of the prestigious newspapers in Melbourne. His was an exceptional saga of a committed newsman who succeeded in his craft both in the land of his birth as well as the country of his adoption.
Manny was a veteran when I joined Lake House as a greenhorn and was always supportive with a kind word to young scribblers. In truth, he was a journalist extraordinaire, who became a comrade who stood head and shoulders above us all.

We his colleagues considered Manny a magnificent human being, a great family man, a consummate professional and a journalist par excellence. You couldn't meet a more warm-hearted, unassuming man in a fraternity that was peopled by a bunch of unruly, inquisitive, rebellious and strong-willed professionals imbued with their notorious craftsmen's testiness and egotism. Amid these wild and rambunctious elements Manny's charisma shone out in a packed newsroom long before you were introduced.

He had a beaming, expansive personality as well as a sharp mind and a facility for expression. And Manny did so with grace and charm, combined with a quick wit and unfailing humour. Yet with all his inherent benevolence Manny was often at the centre of office pranks during lulls in deadlines. His impish streak with fellow conspirators included bogus phone calls to colleagues in heavily accented watchmen's voices, summoning them to the reception. The victims returned to the editorial with flushed faces while Manny and the perpetrators pretended to be innocently bashing away at the much-abused typewriters.

Manny enjoyed his tipple moderately and was a splendid companion to enjoy a chat with while raising a friendly glass or three. These are the sessions I will miss most – his stories, his incisive wit that could reduce me to tears of mirth, great tales, brilliant company and his kindness. Manny's advice and wise counsel have served me well on countless occasions and I will miss him hugely. He was always interested in work and family and was quick to offer big-brotherly advice when warranted most.

For instance he took time despite his debilitating illness to commiserate with me following the recent death of my wife, Thelma, who was also a former colleague. Here is an excerpt of a condolence message he mailed to me:

" My very dear friend and confrere. The news which reached me a few days ago saddened me greatly. It was the suddeness of her passing that shocked me. My heartfelt condolences to you all and the rest of the family on both sides. I shall miss Thelma. Every time I phoned you it was she who answered and was always in a hurry to pass the phone to you. And I always assured her I wished to speak to her as well. I can never forget what a generous and gracious hostess she was, what a devout Catholic she was, how delighted she was when Dishan became a priest.

"We have already remembered her at a Mass. Now for a very brief bit of elderly brotherly advice. You know how dearly your welfare and particularly your health mattered to Thelma. Do please honour her memory- and for the sake of us your beloved friends – look after yourself and take recourse in your Faith, and not in the weed and bottle. Please keep in touch. Yours as ever, Manitou."

Missives such as this were typical Manny, signing off as Manitou with the nickname I had conferred on him ages ago. For the record Manitou is the great spirit of the North American Indians. Manny was also the master of pun and in another instance signed off his letter with the name of his wife. Love from Yvonne and Manny-too.

All who really knew Manny loved him just for being himself. In an industry of larger than life characters, Manny stood out as one of the giants, a true legend who was an inspiration to generations of journalists. Ink ran through his veins, he was passionate about writing, the welfare of his family, his friends, his fellow man and his God. In all he was a generous spirit, a kind and compassionate man.
So here's to you Manny, cherished friend, comrade and colleague. You left a legacy and reputation as an exceptional professional and human being which has been a hard act to follow.

His funeral was preceded by a Mass at St John Vianney's Church on July 15 in Melbourne. Manny's wife Yvonne preceded him in death. We offer our heartfelt condolences to his children Orion, Chrismarie, Fr. Dishan and Nirmalene (Nimmi) and to his only sister, Prudence.

Gaston de Rosayro
---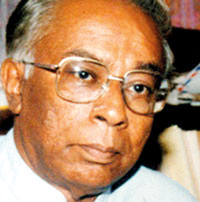 A brilliant mind and administrator, he showed the way without fear or favour
Prof Buddhadasa Hewavitharana
With the demise of Professor Buddhadasa Hewavitharana on July 7, Sri Lanka has lost yet another of its eminent economists, and academic who nurtured several generations of economists at the University of Peradeniya.
Professor Hewavitharana was born on September 9, 1932 at Beruwala, to parents who were both school principals. He entered the University of Ceylon in 1951 from Ananda College and graduated with a B.A. Econ (Hons.) degree in 1955. He obtained his Doctorate from the London School of Economics in 1967. He joined the academic staff of the University of Peradeniya in 1955 and served for 43 years, of which 19 years was as Professor of Economics. As successor to Prof. H.A. de S. Gunasekara, he was the third Professor of Economics in the history of the University of Ceylon/Sri Lanka. During this period, he served as the Head of the Department of Economics, Commerce and Statistics, administering the largest department of study in the university system in the country. On his retirement, he was conferred the title of Professor Emeritus by the Senate of the University of Peradeniya.
During his career of more than 50 years of intellectual and public life, Prof.Hewavitharana contributed widely to teaching, research, and policy in the field of development economics and economic planning in Sri Lanka as an eminent economist, academic, administrator and policy advisor.
He was an Economic Advisor to the Ministry of Finance under Dr. N.M. Perera (1970-'75) and founder member of the Mahaweli Development Board, the Janasaviya Trust Fund,and the Institute of Policy Studies of Sri Lanka as well as several other public corporations and statutory bodies. He was Chairman of the Institute of Policy Studies from 2006-2009. He also served as a member of the Royal Commission of Inquiry into Agency Houses and functioned as Chairman of the Planning Councils of North Western Province, the Central Province and of the Udarata Region producing development plans for these regions. In addition, he was an Honorary Fellow of the Sri Lanka Economic Association.
During his long and illustrious career as an academic, he was Commonwealth Academic Staff Fellow at Cambridge University from 1978-1980 and South Asian Studies Fellow at the International Development Centre, Queen Elizabeth House, Oxford University from 1994-1995.He wrote extensively on development policy, poverty alleviation, regional and rural development, devolution, and contributed to pioneering research in Buddhist economics and gross national happiness.
This appreciation would not be complete if I did not share some personal reflections of Professor Hewavitharana which bring him to life as teacher, boss and mentor in later life. Many who encountered Professor Hewavitharana regarded him as formidable and unapproachable as well as a strict disciplinarian. This was not my experience. I found him to be fair, flexible, and, as Head of Department, someone who would go out of his way to support his academic staff. To mention only a few such instances: As a very junior staff member, I once approached him to complain about my workload which I thought was heavy. From the expression on the clerk's face, I knew that he thought this was a case of fools rushing where angels fear to tread. Far from admonishing me, Prof. Hewavitharana gave me a fair hearing, though I am not sure that my workload was reduced. I know that when I was going overseas for postgraduate studies, it was on the strength of Professor Hewavitharana's strong recommendation and conviction that I would return to Peradeniya, that I received my visa. He maintained contact after his retirement, often taking the initiative to provide invaluable advice in long phone conversations.
Professor Hewavitharana was Head of Department at a time when resources for developing the department, including staff development, were fairly thin. The best strategy to develop human resources was to recruit and retain well-qualified staff, and Prof. Hewavitharana did this without fear or favour. One did not have to share his politics, or his ideology, or his beliefs, to be hired by him, or indeed, to earn his respect. To acknowledge this today – with gratitude for his example – is, the greatest tribute I can pay him.
Dileni Gunewardena
---
The lotus among my treasured sisters
Padmini Coomaraswamy
The lotus blossom Padmini spread her delicate fragrance into our family, with each unfolding petal bringing out her inner beauty while also radiating love, graciousness and gentleness. It was such a source of inspiration and admiration to us three younger sisters.
Padmini, is another name for the beautiful lotus flower that is offered to the Lord at temples. The lotus flower is born in the depths of a tank and blossoms through the water to bask in the sunlight which it loves, giving out beauty, joy, love and kindness. Pathmakka, as we sisters used to call her, was steadfast in her devotion as a Hindu, celebrating Thai Pongal and all religious festivals.
While she was in good health, she always went to the temple and observed all the religious traditions and until about two years ago it was the temple in Nallur, Jaffna that she frequented with her family. She taught me all about Hinduism and from the day I can remember we spent Thai Pongal evening with her and her family.
There were different aspects to her personality. She was a wonderful hostess and excellent in making delicious puddings such as Butterscotch Caramelized Tart, Pineapple Upside Down Pudding and Chocolate Biscuit Pudding, adding extra ingredients to make them more scrumptious.
Pathmakka was truly blessed. She got engaged at a young age and married cricket-loving Satyanna, making a beautiful bride. They have three angels as their daughters – Priya, Shyamala and Anushya, who just adored Pathmakka and were always there for her every minute of her life. Akka was so happy to see her grandsons and great-grandsons and their families when they came to visit her from the United Kingdom.
She became an ardent cricket enthusiast after marrying Satyanna, for he had captained Sri Lanka and played for Sri Lanka in the international cricket games.
We were born into a very bonded family. Our love for each other was unconditional. We walked together with our own choices and decisions.What a precious jewel you were to me, Pathmakka. Always there for me whenever I needed you. My family of sisters surely is one of the treasures the Lord has bestowed on me.
Memories of my childhood echo and re-echo in my mind. Akka, you have left your indelible footprints in my mind. The love we have for you, Pathmakka will always occupy a very special place in our hearts.Thank you, Priya, Shyama and Anushya for being such adorable nieces in looking after your precious mother.
Malini Naganathan
---
A go-getter she gave selflessly to others
Rozana Amina Jamdeen Abdul Gaffar
She was dynamic, charismatic and pragmatic –full of life and a bundle of energy – she was a lady for all seasons.Roshana Amina Jamdeen Abdul Gaffar passed away at the Sri Jayewardena Hospital on March 29. She was born to a well known Malay family as daughter to T.H. Jamdeen and Queenie. I first saw her together with the other siblings at the residence of the late M.H. Amit, ex-Member of Parliament and General Secretary of the All-Ceylon Muslim League and later its Deputy President (when Dr.M.C.M. Kaleel was President for 43 years).
Amina was born in Hambantota as the fifth child of Jamdeen and Queenie of a highly respected and distinguished Malay family. She came from the family of Dr. T.B. Jayah, that great national leader and freedom fighter being one of his nieces and daughter of T.K. Burah. Amit's first marriage was to Razeena (daughter of Jayah). Their daughters Fauzia and Zareena, and grand- daughter Geethanjali, I could observe at the funeral house, were emotionally moved, along with other members of the family when the Sandook was carried from Ferial's house to the Dehiwela Mosque burial grounds.
Amina was very friendly and hospitable. Whenever I took Amit to Nawala Mosque from Parliament for Jummah prayers, she would take special care to prepare a special dish for me – beef mixed kankoon – a special Malay traditional cuisine, which she knew I liked. I sorely miss it now. These are fond memories which I would always cherish.
Amina was a go-getter. She was an active member of the women's wing of the United National Party, travelling all over the country to do propaganda work. For all her tireless work, whether she was compensated by the party is a question that will remain unanswered. Her public relations was superlative. This quality was evidently manifested when she worked as the co-ordinating secretary to Mayor Sunethra Ranasinghe at the Dehiwela Municipal Council. All who came to get their civic problems solved still recall with gratitude the exemplary manner in which she performed her duties.
How her stepfather married her mother is a fascinating romantic tale. On that momentous day Amit all of a sudden summoned a few of us – Hussain Mohamed (later Mayor and Ambasssador), A.T.M. Ooisz (Asst.Treasurer of ACML), Mashoor Moulana (Senator) and Katheeb M. Jezuli Salahudeen and said, "Aise, I want to get married; now and here.." We were just flabbergasted. "Don't worry; the bride is already here in the room…" "Why not you wait a few days and invite all your relations for the big occasion," we insisted. "No, nothing doing; I am taking her and the children to Hambantota early morning tomorrow, and the marriage must be solemnized now; I don't want anything to go wrong; everything must be in the permissible (halal) way.."
So, Katheeb Salahudeen opened the Marriage Register and confronted an interesting moment. "What is the lady's full name and age?" He couldn't remember. "Queenie, what's your full name and age?" It was answered by her. "How many children does she have?" was the next question. Six small kids emerged from the room: Shamseer, Ferial, Cannisa, Soraya (girl triplets), Amina and Inthicab. With the recital of Kothba, and Hussain Mohamed and myself being attesting witnesses, the wedding ceremony was concluded! Although all his family members and friends held views otherwise, Amit happily took the hand of Queenie.
Like stepfather, like stepdaughter –Amina was a symbol of sacrifice! She refused to enter matrimony early in life. When forced, she would say: "How could I, when I have to look after my uncle (Amit)?" True to her words, she looked after him more than her own father, by day and night; dressing him up, combing his hair, buttoning his shirt, placing a handkerchief in his pocket, giving his medicine on time. When he was bedridden, she rose up as a true nightingale. I watched her selfless services very closely, as I was a frequent visitor to their Nawala residence to take him to Parliament. As ordered by President Premadasa, Amina took care to place the Sonko (cap) on his head to show his Malay identity (he was appointed to Parliament to represent the Malay community). Amina was a sharing and caring lady, a giving lady, a benevolent lady and a model unto others.
Amina, your dynamic personality, your sterling qualities, your stirring voice are no more seen or heard today. But, we are certain that for all the earthly good merits you earned, you will receive the highest felicity of Allah Subhanahu watha'ala – Ameen!
A.H.M. Azwer
---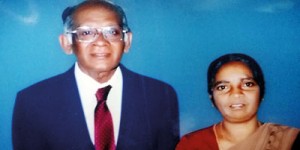 Together they set a wonderful example for the younger generation
James Jesubatham & Victoria Jesubatham
This is to convey the enormous sense of gratitude and appreciation we feel to James Jesubatham and Victoria Jesubatham, my father- in-law and mother-in-law who had given me so much of themselves. They passed away on March 22, and April 1, at the ages of 87 and 82 within ten days of each other. They had been married for 63 long years which is remarkable.
Having lost their first born Ranjith in 1955 after a brief illness, they had another son Ravi and three daughters, Romila, Rajeevo and Ramya who were provided higher education, all comforts in life and finally given in marriage. They had eight grandchildren whose welfare they saw to with pleasure.
James Jesubatham worked for A.Baur & Co. Ltd., Colombo for 50 long years joining in 1947 as a clerical hand and retired as a Senior Accountant in 1997– a rare record. Victoria Jesubatham started her career as a Trained Govt. Teacher in 1960 and retired as a Vice-Principal in 1990 at the same C.C. School, in Pussellawa, serving for 30 long years. Their loyal dedication and respect for their jobs were indeed remarkable.
They unitedly served and contributed to the smooth running of their church. Mr. Jesubatham was a Senior Member of the Holy Trinity Church, Pussellawa and served as an Acolyte assisting the parish priest. Mrs. Jesubatham served as a warden and later as the Hon. Treasurer for nearly 12 years at a stretch. Only during the funeral oration, did everyone get to know that they had donated a large sum of money towards the Kurunegala Diocese to help the poor and needy and the clergy of Kurunegala after retirement.
Both had a special talent for counselling, not only family members but also teenagers and elderly people. They were punctual and methodical. They won the hearts of people showing love and compassion. They stood for what was right at every instance.
We should console ourselves that they have gone to rest with Jesus in heaven after toiling hard and setting an example for the next generation. May God keep their precious souls in His bosom forever.
Rajan Selvadurai