Samanthi Vidyapathy: 35 years of dance
By Oshani Alwis
View(s):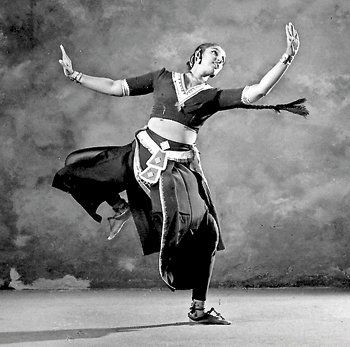 Renowned Sri Lankan dancer, drummer, choreographer and painter Ravibandu Vidyapathy is presenting an exhibition of photographs today, July 16, to mark 35 years in dance of his wife Samanthi Vidyapathy to celebrate her 55th birthday.
The exhibition features a collection of 40 dance photographs of Samanthi from her young days as a dancer,  her first major public role in the ballet "Nirasha" to the production of 'Macbeth' as an Oriental ballet by Ravibandu in 2008.
Samanthi started dancing at the age of seven at the Chitrasena Vajira Dance Foundation. Her solo performance as 'Naari Leela' in the ballet of "Shiva Ranga" created by Chitrasena- Vajira she feels, was a turning point in her life as a dancer and she also received  critical acclaim for her role in "For the Young killed in War", a contemporary ballet produced by Ravibandu. Her dancing skills were noted by the great Chitrasena: "Samanthi is an outstanding dancer who has made her mark in the local dance scene", he said in the book of Nrtya Puja (A Tribute to Chitrasena 50 Years in the Dance).
"It's a great honour that the exhibition would be inaugurated by Mrs. Vajira Chitrasena who has been the dancing guru and inspiration in the field for both Samanthi and me," said Ravibandu.
The exhibition will be open to the public today from 12 noon to 7 p.m, at the Lionel Wendt's Harold Peiris Gallery, Colombo 7.