Mt. Lavinia residents protest against illegal constructions
By Duruthu Edirimuni Chandrasekera
View(s):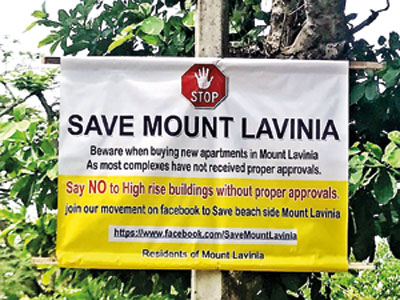 Residents of Mount Lavinia, a group recently formed to protect this town, is lobbying to put a stop to illegal constructions.
"We stand to protect Mount Lavinia by raising the issues to relevant parties to rectify them in order to protect this beautiful town. Unplanned construction of apartment complexes on the narrow roads of the town is the main concern in the current set of issues faced by the residents. We are trying to create awareness on this which is why we put up posters in and around Mount," a spokesperson for this group told the Business Times.
He added that some these posters were torn or taken down which means that they are on the right path. This city is considered as a Tourist Recreational Zone owing to the beach that's named the 'Golden Mile' that runs alongside.
The law only permits 7-floors of constriction for apartments in that area. "But builders constantly violate this law," a resident of Mount told the Business Times noting that the builders get the Certificate of Construction (CoC) approved and then build further up to,  at times 14 floors. This is a scam, he said adding that those who pay upfront for say a 14 floor condo don't get their title when they occupy the apartment, but have to wait years to get it. "What happens is that the builder pays a penalty of Rs. 100,000 for breaking the law and then they are free to give the titles to the owners. This is happening too frequently now."
The group has written a petition to the President with this issue as well as issues with regard to inefficient system of garbage collection, water supply and low water pressure in the area, lack of maintenance of drainage system, prevalence of dengue illness in the area and also the due to this traffic congestion especially during school opening and closing times.
He said that potential buyers are kindly advised to be cautious when buying a condominium property in Mount Lavinia to make sure that the condominium property that they intend to purchase, is not an illegal and/or unauthorised construction, has necessary clearance from the relevant authorities such as Urban Development Authority and/or the Condominium Management Authority and/or local authority, etc. "Your failure to check the above may result in being unable to obtain the deed of your condominium unit, demolishing and/or restraining orders from the local authority may prevent condominium units being constructed or excessive delay and hassle in obtaining the deed," he said. He also said that potential buyers are advised to consider factors such as water pressure, vehicular and pedestrian traffic issues especially during school opening and closing times, sewerage capacity, problems relating to garbage collection and issues with regard to electricity supply before investing your hard earned money in such a property.