Customs probe continues into luxury car undervaluation racket
View(s):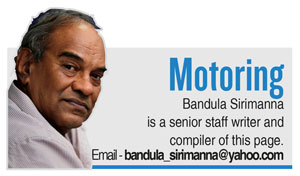 Sri Lanka Customs is still to complete an investigation into a massive vehicle racket of importing 1500 undervalued luxury cars in 2015 causing a loss of billions of rupees to the country, officials alleged.
These investigations are yet to be completed due to the complex nature of the racket involving a private vehicle firm and a leasing company which is a subsidiary of a bank, Customs spokesman Dharmasena Kahandawa told Business Times.
This private vehicle importer had registered a company overseas and the luxury cars were imported through this company for several local car dealers, he said, adding that a leasing company which is a subsidiary of a bank has provided loans to import those vehicles.
The modus operandi of the racket was to open Letters of Credit (LCs) for a value less than the actual value under the name of the overseas company and brought down those vehicles without directly importing from the manufacturing company in Germany.
Racketeers have imported those vehicles using duty free and duty slashed permits issued to Ministers, MPs, provincial councilors and senior government officials, a Customs trade union leader said.
He noted that a senior official of customs has lodged a complaint at the Bribery or Corruption Investigation Commission claiming that this custom duty fraud had taken place with the knowledge of a top politician in the country.
Already the Government has forfeited a staggering Rs. 57 billion in revenue granting duty free concessions for import of vehicles for public servants, Treasury data revealed.
The duty free permit only allows a senior official to import a vehicle valued at less than US$35,000. Most officials sell those permits as they don't have money to import a vehicle even on a permit.
Some motor traders purchase these permits and use the permits to import luxury vehicles, he said.
He said these companies also receive a tariff relief on the declared value of less than US$35,000 when importing the vehicles.
He said the companies pay about 0.45 per cent tax  to the Customs instead of the actual taxes of 352.12 per cent.
At least Rs 13.9 million per vehicle was being lost by not levying the actual duty, levies and other charges, he disclosed.