Growth of 50% informal sector in SL tourism irks established trade
By Jayampathy Jayasinghe
View(s):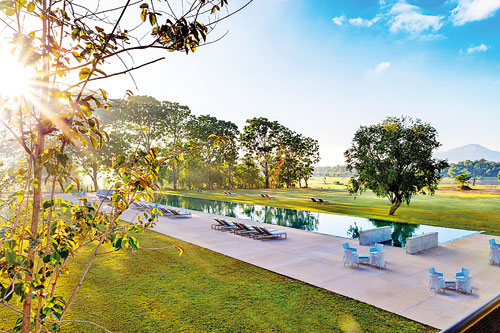 DAMBULLA – A surge in non-formal hotel accommodation is seen hurting the larger Sri Lankan tourism industry with the organized sector raising concerns over multiple issues.
"We are competing for 50 per cent of the business in Sri Lanka while the other 50 per cent goes to the informal sector which is not a bad thing. But when 50 per cent goes to the informal sector we have to ask whether that money comes into the country and whether people are benefited from it," said respected hotelier Hiran Cooray.
He raised these concerns, shared by many in the organised sector, while briefing the media at last week's launch of Jetwing Lake in Dambulla, the newest addition to the Jetwing group of hotels.  Mr. Cooray, Chairman of Jetwing Hotels, said Sri Lanka is not a cheap destination anymore and offers products to match international standards. "We have a challenge today to position and market Sri Lanka as a travel destination. Destination Sri Lanka has to be marketed vigorously abroad to lure tourists into the country as we have five star properties, products and services to offer internationally," he said.
The hotel located in the cultural triangle of Dambulla was inaugurated in the presence of several travel agents, business leaders and media personnel. The 94-luxury room hotel with four suites is stylishly designed by a disciple of a famous Sri Lankan architect that captivate the imagination of its surrounding environment to weary travellers checking into the hotel. It is located on an 18 acre property, is just 5 km from the Dambulla town and in close proximity to many of the heritage sites such as the iconic Dambulla Cave Temple and the Sigiriya Rock.
Mr. Cooray said it took five years to build the Jetwing Lake having sought the blessings of High Priest Ven. Inamaluwe Sri Sumangala Thero of the Dambulla Vihara who humbly gave his blessings to build the hotel. When one of the travel agents asked Mr. Cooray what his favourite Jetwing hotel was, the latter struggled a bit to answer. However he pointed out that his favourite destination was the Dambulla Cultural Triangle because of its serenity. "It is unique because of its people and its peaceful surroundings. That is why many tourists are attracted to the cultural triangle."
Jetwing has four hotels – Jetwing Yala, Yala with 90 rooms; Jetwing Kaduruketha, Wellawaya with 25 lodges; Jetwing Lake Dambulla with 90 rooms and 4 suites and Jetwing Colombo Seven, Colombo with 70 rooms and 28 serviced apartments. Referring to expansion of the Jetwing Group, the chairman said that they were building 20 Jetwing Chalets at Pottuvil at Arugam Bay.
Director Jetwing Hotels Jude S.W. Kasturi Arachchi said Jetwing Group is 50 per cent carbon neutral a journey that started about seven years ago. Jetwing Lake however is 70 per cent carbon neutral using renewable energy such as bio gas. In case of a breakdown of bio-gas a conventional chiller has been installed for the functioning of the hotel.