SL's Blind Cricketers to participate in World Blind 20-20 Tourney
By Lakshman Ranasinghe
View(s):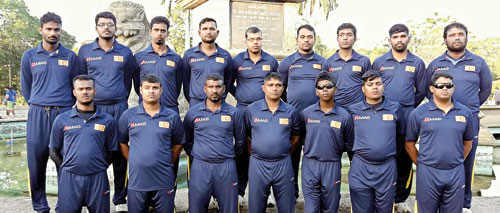 Acontingent of 17 Sri Lanka's Visually Handicapped Cricketers and 3 officials will leave for India on January 31, to take part in the 2nd 20-20 World Blind Cricket organised by the World Blind Cricket Council, to be held from February 1-12.
A well balanced team of 11 seniors and 6 freshers led by Chandana Deshapriya and selected from 3 categories- B1: Totally Blind, B2: Partially Blind and B3: Slightly better vision than B2, are brimming with confidence to win the Championship, as the team consist of 8 batsmen capable of coping with any bowling attack. The bowling too looks well balanced with Upul Sanjeewa (B2), Suranga Sampath (B3), Ruwan Karunatilleke (B3), Saman Kumara and Dimuthu Ravindra (B1) always making run-getting tough for the batters, with their nagging length.
Batsmen in the calibre of Dimuthu Ravindra, Saman Kumara (B1), Ruwan Wasantha, Chandana Deshapriya, Dinesh Matugama (B2), Chandana Kumara, Chandana Deshapriya and Suranga Sampath (B3) are all in good touch, and expected to put up respectable totals, to give the attack consisting mainly of medium pace bowlers, a chance to keep the opposing batsmen in check.
Sri Lanka will be pitted against India, Pakistan, Bangladesh, Nepal, South Africa, Australia, England, West Indies and New Zealand.
Coach Shehan Gunawardene, speaking to the Sunday Times, said the selectors had a tough job picking the squad, banking on experience, while expecting stiff opposition from India and Pakistan. He went on to say that this outfit is capable of winning the trophy, as all the members of the squad are in good touch. Apart from the recognised 8 batsmen, all-rounders Saman Kumara, Chandana Kumara, Dimuthu Ravindra and Suranga Sampath are sure to make significant contributions with both bat and ball. He also said that, Sri Lanka played in the inaugural 20-20 World Championship and did exceptionally well to reach the semifinals, and was ranked 3rd in the world.
Sri Lanka made an early exit in the 2016 Asian Championship, while faring well against Pakistan in April 2016, in Pakistan.
A special request was made by the President of the Visually Handicapped Cricket Association (VHCA) Chaminda Pushpakumara, to Sri Lanka Cricket (SLC), to affiliate the VHCA with SLC, as the ICC had directed every VHCA to be affiliated with the Cricket Boards of their respective countries.
Team
B1- Dimuthu Ravindra (V. Capt.), Saman Kumara, Sahan Kumara, Kosala Herath, Khalid Usman, Mogan Raj
B2- Upul Sanjeewa, Ruwan Wasantha, Chandana Bandara, Madusanka Vishwanath, Dinesh Matugama
B3- Chandana Kumara, Chandana Deshapriya (Capt.), Suranga Sampath, Ruwan Karunatilleke, Dinesh Maduwantha, Priyantha Kumara
Officials: Chaminda Pushpakumara (Manager), Shehan Gunawardene (Coach), D.S.K. Athulathmudali (Umpire)
Sri Lanka Fixtures: Jan.31 vs New Zealand (Delhi); Feb.1 vs West Indies (Delhi); Feb.2 vs Pakistan (Delhi); Feb.3 vs England (Gujarat); Feb.4 vs India (Gujarat); Feb.5 vs Nepal (Delhi); Feb.7 vs Australia (Kochi); Feb.8 vs Bangladesh (Bangalore); Feb.9 vs. South Africa (Bangalore)
Feb.11- Semifinals; Feb.12- Finals