Kandy sinks Navy; quality Aussie referee ensures safe Rugby
View(s):

Speculation was rife on the eve of the Kandy-Navy match that, Chairman of Sri Lanka Rugby Union (SLRU) Tournament Committee (TC), Lasitha Gunaratne (LG), had resigned. Talking to the Sunday Times, Gunaratne confirmed he has sent in his resignation to the Union, but continues to hold office as its Vice President. A Letter of Demand for Rs 10 million, sent by a player, was seen to be exerting pressure to force his hand. LG is perturbed that, when decisions are made by the TC, it is collective responsibility. So, why should he be singled out. On the other hand, the TC is an extension of the SLRU and hence, vicariously responsible.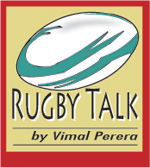 The reason for the demand arises out of a contracted player wanting to cross over but prevented by his former contract. The TC has not given the nod for the change of Clubs, with the Chairman saying it has been done in accordance with Tournament rules. He believes, the move, if left unattended, will see the game being controlled through the issuance of Letters of Demand. What would happen to the Chairman of Selectors, if somebody were to demand compensation if a player is not selected? Taking the argument further, will this open a new flank of attack on Referees, if and when decisions are questioned?
Will there be a case when players are sent off the field by the Referee? World Rugby laws and regulations adequately cover this area, but the hassle the Referee will have to undergo will make things difficult. These were some of the thoughts LG shared on the reasons leading to his resignation. The Referee, I believe, stands more insulated, as in the Shapiro court and other cases, found that umpires sitting closer in position and time to the questionable event, are in the best position to act as "judges of facts". LG said such decided court cases may be less and far in between to support or defend the demand for Rs 10 million.
Leaving the Legal wrangle and the piqued TC aside, Kandy fans were delighted as Kandy beat Navy by a handsome margin in their Dialog Club League Round II game. Navy on the other hand, lost their chance of being considered a virtual contender for the League title. This win leaves Kandy behind Havelocks by a mere point. Kandy has won one less game and Havies lead by 9 games to 8 out of 10. Kandy by virtue of bonus points, is very much breathing down the neck of the leaders.
The Kandy back division was very much instrumental in defeating Navy. Most important was that, they played as a team, with the forwards supporting the backs. Navy, I believe, lost the match in the first quarter of the game, as they were penalised and were driven back or, allowed Kandy to advance. Navy were penalised for tackler not releasing or, because players were not on their feet. Sealing or bridging is how this is called, though the law does not say it as such.
The Australian Referee wanted quick ball and he policed the breakdown to ensure that part of the law was strictly applied. He did not stop at one penalty, but repeated kept penalising, thus forcing Navy to backpedal.
These areas of breakdown have normally been where Referees have been at the receiving end. Most people shout that the ball has not been released, when the onus of first release is with the tackler. Most, it appears, are confused with what happened many moons ago, when players were penalised for not releasing the ball. That law is still there but, first in the protocol is that, the tackler must release the tackled. Similarly, people thought and still think that, you have a right to secure the ball till your players arrive. Therefore, you put your hands beyond the ball and deny quick ball.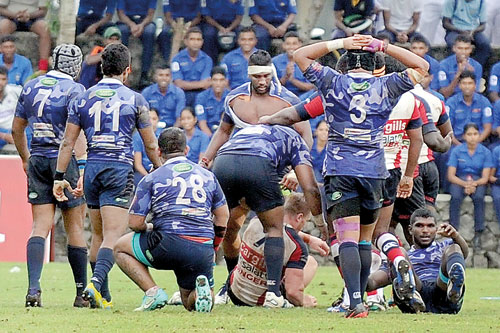 A fact is that, this key game in the League was refereed by an Australian, possibly in his early 20s. Imagine a local young referee given a key game. There would have been hundreds of questions on his pedigree. Which school or club did he play? The more cynical may ask whether his parents played Rugby. They still comment on Referees who have been doing so for close to a decade. "What Rugby has he played". When a key game is refereed by someone just out of his teens and is from Australia, can you think he has a long playing background? For all purposes, he may have not played top Rugby. He was following a Referee's path and not a player's path. Hence, he referees from a young age. Sri Lanka has been a place for Referees from outside the shores, to get exposure. Up-and-coming Asian Referees took that opportunity earlier. None were, however, as young as the one last week.
It now appears that the training ground and the stage for exposure for Referees from Western Australia (WA), is in Sri Lanka. Sri Lankan's officiate over 700 games a year. Yet, the better game is not for them. Will Asian countries or WA offer our Referees to blow in a top game? If not, where do they get the required exposure? In recent times, Referees have come from Asia, while some have reciprocated with exchanges but, to referee at lower level games and sometimes for 'social' Rugby matches.
A lesson in this match was the firm and quick blowing at the breakdown and the high tackle which received a yellow card, keeping in line with World Rugby guide and emphasis on safety. School Rugby is around the corner and there will be a tight contest. There will not be foreign Referees around to referee the breakdown and the dangerous high stiff arm tackles frowned upon by World Rugby. Nevertheless, there will be many local armchair referees who will shout at the top of their voices.
Vimal Perera is a former Rugby Referee, coach and Accredited Referees Evaluator IRB