Seylan Bank annexes two netball titles
By Susil Premalal
View(s):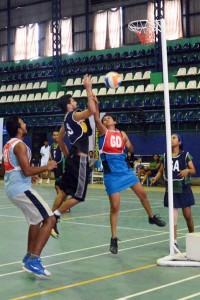 Defending Champs Seylan Bank emerged champions at the Inter-Company Netball Cup Championships, defeating HNB in the final 44-41 at the St. Joseph's College Indoor Stadium in Maradana yesterday.
The tournament was conducted by Sri Lanka Sports .Com. Thirteen teams took part in the contest. Last year too Seylan Bank and HNB came into the final and Seylan Bank triumphed over HNB by a solitary point at 28-27.
The Plate championship was won by Citizen Development Business Finance (PLC) who beat Commercial Credit 18-12.
The Bowl Championship was annexed by MAS Shadeline who beat David Pieris in the final 20-18.
The Mixed Tournament was won by Citizen Development Business Finance 23-9.
Last year the Plate Championship was won by Expo Holdings. The Bowl was annexed by Kanrich Finance.