Whither Mountain Biking
View(s):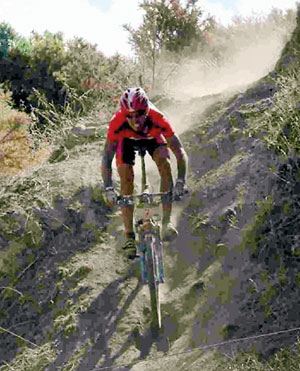 Year 2000 saw a dramatic change in cycling in Sri Lanka, few Ex- Officials of the national body for cycling introduced a new discipline , as retaliation for clipping them off from the main body due to pressure made by then minister of sports, S.B. Dissanayake who used his ministerial powers to get rid of us who were not the "Yes Sir" type which I feel was a detrimental trend that gave affect to politicizing the national bodies which is continuing even up to date.
Few ex officials like Patrick Happuarachchi, Shabir A.I.Jafferjee, Sam Soundravale, Wasantha Kahapolaarchchi, A.M. Sumanaweera, (three times winner of Tour de Lanka) and the writer with few of his business colleagues like Fazlee Ahamad started the National Mountain Biking Association as an alternate body for Cycling Federation and was running national events in mountain biking when the federation could not maintain a national calendar. There was a huge hue and cry to stop us by the controlling body but the sport ministry under then minister Johnston Fernando maintained that NMBA is doing a good job whilst the CFSL is in a slumber.
With Colombo Super Cross 2000, at Waters' Edge the first ever Cyclo Cross was conducted under the patronage of the Sri Lanka Army, invited by Ex-Chief of Staff Major General Neil Dias (Rtd) and Major General Ivon Dassanayake (Rtd). I must mention Army has been the role model in any sport in Sri Lanka and gave their unstinted support to develop cycling, while always steadfastly stood for what was right devoid from politics. We were surprised to see the participation of the kids in numbers and thrilled to see the competiveness, and a new sport was born as mountain biking.
Most encouraging factor was that NMBA always maintained that any sport has to be inculcated to children when they are very young. This was a trend setter for schools who chose mountain biking for their sport meet because most of the kids were having MTB bikes at home. This time low cost used bikes were freely available in the market and most of the parents supported their kids as this is a low budget sport and also safer compared to road racing which was 100% costlier. Moreover, we were hell bent to give a fight to CFSL and volunteered to design and make off road tracks which was also inexpensive (mostly by Sramadana) and became an instant crowd puller.
Then came our most prolific sponsor thanks to the publicity given at Colombo Super Cross, Aitken Spence Hotels Plc seen the positive side gave a superb out right sponsorship followed by many other hoteliers and "cyclocross" became a house hold name. Tree of Life, The Tea Factory, Kandalama Hotel, Habarana Hotel, Sigiriya Hotel, Waters Edge, Light House Hotel and within an year we had over seven national events even though we were at the eyes of CFSL an outlaw organization but we kept our guns firing of course thanks to our team effort and non interference status core maintained by the Ministry of Sports.
Soon we were catering to wider age group of riders from Under-12 to Open nationals for both boys and girls, and had few fun events for novices and veterans, this gave birth to another trend setter "cycling for all" with a mood of festivity came to effect and people look up to this as a place of happening for family get together.
In fact NMBA was very transparent and more sponsors came forward. In fact sans politics Carlton Super sports was instrumental in popularizing mountain biking to remote Hambantota and NMBA was organizing and conducting cycle cross event for seven years and it was the most prolific event which had over 500 participants within a day's programme, a crowd puller with parents, teachers, playing pivotal role. We have always maintained accountability and with savings coming from sponsorships we have saved for a rainy day and must thank all who rallied round us and gave their blessings and contributions to keep the momentum for mountain biking in Sri Lanka. Of course with the demise of some members and retirement of few there is a set back, today I find it difficult to find volunteers who can sacrifice some time and energy to move NMBA towards a productive future where we find that volunteering factor has over shadowed to a piece rate volunteering which is having adverse affect on sport administration. Common epidemic soon will run over all sports.
Having said that , we are still moving on overcoming obstacles and 2017 will be brighter for mountain biking as new found friends in cycling has come forward and new companies have shown their interest to sponsor mountain biking and we have on pipe line cyclo crosses in Katana, Anuradapura, Tissa and Nuwara Eliya
We are also keeping our faith on present Minister of Sports and working a strategic plan to develop a MTB track and cycling path for all at Waters edge, and our first round of meeting with the minister was fruitful and hope the energetic minister will have the self confidence to make things happen as NMBA has the vision to make a park for cycling at water edge and already found the funds for developing the MTB and BMX tracks. In fact we have already got the blue print and the UDA has identified allotment of land for mountain biking at Waters edge….So over to you minister of sports.
Amal Suriyage, President National Mountain Biking Association