Lakshina takes the first step forward
Dialog 4G-the Sunday Times Most Popular Schoolboy Cricketer of the Year 2017
View(s):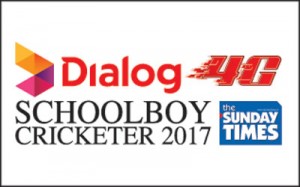 The first week's result of the Dialog 4G-the Sunday Times Most Popular Schoolboy Cricketer of the Year 2017 contest, which kicked off last week, comes out this weekend with some of the well-known schoolboy cricketers in fray.
Honours of the opening week of this much awaited, competition goes to Lakshina Rodrigo of St. Peter's College, who was an active contender last season too. Lakshina was in the fray from the beginning in 2016 but he finished at fourth in the All-Island Schools category.
Having enjoyed a successful season with a reasonable record in batting and bowling for the Peterites, Lakshina comes in with new hopes this season obtaining 33 votes right at the kickoff.
Next to him is Maris Stella College allrounder Lasith Croosepulle, a versatile player with greater abilities. At third place is Wesley College batting powerhouse Thilina Perera.
Down the order are Dineth Madurawala of St. Joseph's, Salith Fernando of St. Anthony's Wattala, Sammu Ashan of Ananda, Pathum Nissanka of Isipathana and Sanogeeth Shanmuganathan of Trinity.
The readers have done the correct selection of players for this year's Most Popular Schoolboy Cricketer contest by picking the names of players with good records.
The Emerging Schools category, where players of Division II and III cricket playing schools get to come among the top, is initiated by Raveen Yasas, the skipper of Devapathiraja Vidyalaya, Rathgama. The first week of the Dialog 4G-the Sunday Times Most Popular Schoolboy Cricketer of the Year 2017 promises to be a keenly contested one. The nature of the race to the top could definitely hit a peak as weeks progress with 25 more weekends to go before it comes to an interesting end.
Coupons will be published in the Sunday Times, the two English dailies, the Daily Mirror and DailyFT, and the two Sinhala dailies, Daily Lankadeepa and Ada. Coupons will run for 26 weeks with the deadline set for week beginning on July 2. Readers could vote for their favourite schoolboy cricketer and take them to the winning post during that period.
In addition Dialog Axiata have introduced a digital version with an online voting system through an Online Portal to vote for the Most Popular Cricketer (www.dialog.lk/cricket). Players who wish to enter the fray will have to confirm their participation by registering online with www.dialog.lk/cricket from January 8 to 31. Even schoolboy cricketers whose names are entered into the competition by readers must register during the month of January. Players who registered online will be officially scrutinised of their eligibility and entered to the online voting mechanism from February 1, while the customary voting through coupons will be still on. Both coupon votes and online votes will be counted on a weekly basis and the official results published every week beginning this Sunday in the five newspapers and its websites, as well as that of Dialog Axiata's Online Portal. The deadline for online voting will be the same as for the coupons.
Results:All-Island Schools 
Name                                    School  
Lakshina Rodrigo………………….. St. Peter's College…………………….. 33
Lasith Croosepulle………………. Maris Stella College…………………….. 30
Thilina Perera……………………….. Wesley College…………………….. 19
Dineth Madurawala…………….. St. Joseph's College…………………….. 17
Salith Fernando……………….. St. Anthony's Wattala…………………….. 13
Sammu Ashan……………………….. Ananda College…………………….. 12
Pathum Nissanka………………….. Isipathana College…………………….. 11
Shanogeeth Shanmuganathan………. Trinity College…………………….. 10
Emerging Schools 
Name School 
Raveen Yasa…………………… Devapathiraja Rathgama………………….. 10
Tissara Dilshan………………. Jayananda National School Polonnaruwa….. 2
Readers prizes go to: 1. A. Witharana, 50/3/1, Heenatikumbura, Thalangama North, 2. A.L. Diaz, 3, Jayasuriya Road, Off Station Road, Kandana, 3. Lloyd Devarajah, 49 – 6/2, Collingwood Place, Wellawatte, 4. Roshen Travis, T/N/6, Tony Mawatha, Galahaduwa, Hendala, Wattala.