No short-cuts in life for regular gardener Dian Gomes
View(s):

IN THE GARDEN OF EDEN:
Plant a tree today, especially if you live in Colombo, so that you can do your bit to see that our beautiful city does not become a concrete jungle. This is sage advice from Dian Gomes, the constant gardener, whose first-hand experiences with nature serves as a reminder that success does not happen overnight.  Dian has many metaphors for life. Boxing is top of the list with his favourite life-lesson being if you get knocked down, get up and have another go. Another is to never hit below the belt. Always fight clean and win on merit. Then there is teaching. He has given close to 500 lectures on leadership and motivation to audiences ranging from international graduates at Oxford University to senior officers at the Defence Services College in Batalanda.

One of his favourite themes is to learn from your failures.  "You learn more from failing than from being a success. One of the most important things I teach is to understand defeat. If you don't understand defeat you can never make a good leader."
And then there is gardening, the third prong in a trident which he wields like Poseidon ruling the oceans of a far-reaching empire. Gardening comes with a hint of urgency for if you don't do it right away, the chances of success are less.  "It doesn't happen overnight. It takes a good 10 years to grow a tree and by the time we realise that, it might be too late," says Dian as he proudly points to the lush foliage that surrounds his sprawling house down Byrde Place, Kirulapona.

Mara trees
Giant Mara trees spread its flamboyant branches with regal grandeur. We can't believe we are in the heart of Colombo. The dense greenery which envelops us is like a calming balm for the pained soul. There is no sound of traffic. Nature rules supreme and stress melts away.  "Colombo is now turning into a concrete jungle. Land is so expensive and everywhere you turn apartment blocks are cropping up. But even if you have a small piece of land, you can still have a fantastic garden or create a courtyard," Dian points out.  "You can always find room to plant a tree, but unfortunately a lot of people would rather cut a tree down. I detest this. Even in my neighbourhood there are people who think that having trees is a problem, having to sweep the garden every day.

But what they don't realise is how much coolness and what a soothing effect a tree brings. "In our hot climate, we need more trees. I have been planting trees for about 10 years and it is only now that I'm benefiting and enjoying the fruits of my labour," smiles Dian, a picture of bliss as he shows us around his verdant garden.  Last December Dian retired from MAS having steered the company in a 26-year odyssey, transforming it from a US$6 million outfit into a global $2 billion conglomerate. Retirement was not his cup of tea. The maestro of the apparel industry is now chairman of Hela Clothing, a British multinational apparel giant. He has two big goals in life.

One is to see that Sri Lanka has a boxer good enough to qualify for the next Olympic Games and the other is to take his company public. And both goals have got the same deadline – 2020. His trademark beret is set at a jaunty angle on his head but there is no hiding the fact that Dian wears a number of other hats too. He reminds us of his long love affair with boxing as he picks up a pair of gloves stiff with age. It is the pair he owned when he was champion for four years in the flyweight category (52 kilograms) at Royal College in the mid-70s. It seems he hasn't lost his pugilistic skills as he poses and shows off a few of his float-like-a-butterfly steps which in 1975 won him the national junior flyweight crown.

His boxing exploits are well documented in his biography 'Cornerman' but the story is still unfinished for four years from now, he hopes to repeat the feat of 2008 and take another boxer to the Olympic Games. At the Beijing Olympics eight years ago, Dian was in the Sri Lankan corner as Anurudha Rathnayake flew the Lion flag proudly meeting a fighter surnamed Jesus from Brazil in the first round. There was no second coming for Rathnayake. He lost.  "But just being at the Olympics was a huge victory for him and Sri Lanka," says Dian. "The last time the country had a boxer at the Olympics was in 1968 and Anurudha broke a 40-year drought by qualifying. He made us proud."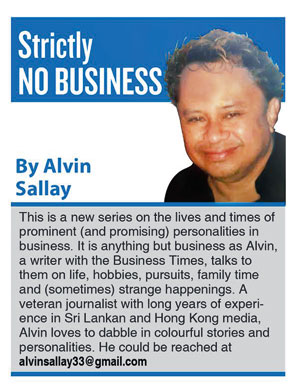 Passionate about boxing
Dian was at the forefront of that qualifying campaign. He was mentor and a coach, a role which he had been playing for 16 years prior to that as a cornerman.  "I have been Sri Lanka's cornerman at nearly 350 international fights including Olympic Games, three World Championships, three Asian Games and three Commonwealth Games," Dian ticks off a long list.
It is a tough and thankless task, one of the toughest in his life, for as he says you only get 30 seconds (between rounds) to motivate the boxer. "It is one of the hardest things to do to try and pump belief into your man in that short time. It is tougher and more difficult than taking a business decision. It is like watching your son go into battle and fight.
There is only so much you can do.  "I have to be his friend, his mentor, his father or his brother as I try and motivate him and take the fear and pressure off the boxer. Boxing is the ideal metaphor for life. You get knocked down and you get up. It is important to believe and I have to do that in 30 seconds, try and inspire the boxer."  He has been successful. One of his charges, Manju Wanniarachchi, won the gold medal at the 2010 Commonwealth Games (he was later stripped off it after failing a drug test) while another Anusha Kodituwakku won an Asian Championships gold medal in 2006 and another gold in an international meet in Tunisia in 2013.
Yet, there is no bigger stage than taking part in the Olympics. Even Muhammad Ali began his stellar career as an amateur at the Rome Olympics in 1960. Sri Lanka boxing has failed to qualify at the last two Olympics – 2012 London and Rio this August – and Dian, a former president of the Amateur Boxing Association, has set his heart on making sure that the country will have one in Tokyo in four years.  "This is my next big challenge. For me life is not only about business. Sport is a huge passion of mine (he also founded the Sri Lanka Fencing Association in 2008 and is vice-president of the Sri Lanka National Olympic Committee)."
When he was nine years old, Dian won an international art award and the picture was hung at The Royal Albert Hall. He was tutored by the late A.C.G.S. Amarasekera, one of the great portrait artists of Sri Lanka. His parents were worried.  "My parents never wanted me to pursue this passion because they thought I would become an artist. They wanted me to be a professional."  Dian lost his father (a banker) when he was 12. His mum, 89, who lives with him and his wife Vehara ("my biggest inspiration") has seen her only son grow into an astute business tycoon. His two daughters, Shahili, 26, and Elisha, 23, are both working and studying in London.
Dian pays tribute to Royal College for shaping his destiny and giving him a distinct edge. Now he wants to pass this on to young people all over the country.  "I was first inspired to do this when I first went to Pannala in 1992," explains Dian, who was sent by his previous employer MAS to set up a division called Slimline.  "I spent 15 years of my life (in Pannala) building a great company. It changed my philosophy to life seeing how all these young village kids given the right opportunity, the right conditions and right training could compete globally be it on the sports stage or in work."
No discrimination
"We had that advantage by going to a school like Royal with a proud history and tradition. It was at Royal that I learned it didn't matter from which background you came from. It didn't matter to me whether my classmates were a Christian, a Muslim, a Hindu, a Buddhist, or if he was Sinhalese, Tamil or any other ethnicity. It didn't matter if he was rich from the upper strata or poor. We were taught from grade one that we were one school."  "These friendships have lasted over 50 years. We were never divided from where we came and what our backgrounds were because we got that grounding at Royal. Today, when I have a plain cup of tea with my toilet cleaner in the office canteen I don't have any inhibitions because (of my attitude) it started at Royal.
I had the richest guy's son as well as the fishmonger's son in my class. It didn't matter to me as my friendship still blossomed." What was handed on a platter to Dian at Royal, he is now trying to hand over to his staff and people he comes in touch with.  "I live a capitalist lifestyle but I'm a socialist at heart," laughs Dian. One thing is for sure, with the rewards that have accrued from that capitalist lifestyle, Dian has been able to influence and inspire countless numbers from the present generation.  Like a well-nourished tree that has firmly taken root over the years, he is able to spread his shade far and wide.