Affordable luxury hotel for visitors in Colombo Fort
By Jayampathy Jayasinghe
View(s):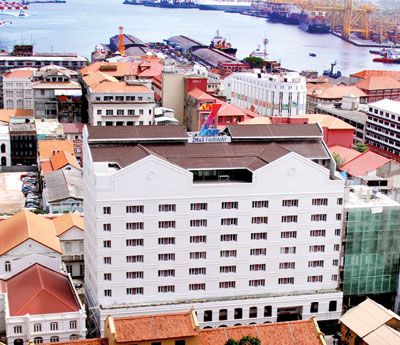 A building which was in complete ruins in the heart of Colombo has been transformed into a city business and tourist hotel to cater to large numbers of foreigners arriving in the country following the formation of the new government, said the Minister of Finance Ravi Karunanayake at the gala opening of the ZMAX Fairway Colombo owned by Fairway Holdings (Pvt) Ltd, in Fort on Thursday.  The Minister said jokingly although the hotel has not been classified as a three, four, or five star hotel it cannot be taxed on the star class because it is only a business hotel. "But the government would soon find a way to tax it.
He said the destiny of Sri Lanka was changed following the presidential election held on 8th January 2015. "We see dividends coming back into the country. There are many foreign tourists arriving in the country today due to our generous foreign affairs policy. We also see the world that shunned us before is once again embracing us and more investments are coming into the country."  He said the property developer who owns the hotel was probably aware that Colombo was going to be a financial hub in the country and that may have been the reason why he picked up this location to build a city business hotel.
"I know the property developer had picked up the best of people from China and with local businessmen to provide tourists an affordable stay and make it a homely place." He said the government has been the best marketing agent with the President and the Prime Minister, two leaders able to make one national policy. Referring to other businessmen and hoteliers present on the occasion the minister said that the government was willing to give leadership to them and it was together that "we make Sri Lanka a better place", he added.
Group CEO /Director of Fairway Holdings Imal Fonseka said smart luxury is an innovative and a unique proposition to the hospitality landscape of the country. "We at Fairway have focused on innovation, sustainability and differentiation that is part and parcel of our latest venture." He said the Fairway Holdings has entered into an agreement with the Plateno Hotels Group of China which was the fifth largest hotel chain in the world to manage the 200-room hotel.  The Fairway Hotel is centrally located on Hospital Street, opposite the World Trade Centre and behind the old Dutch Hospital premises. This is the first hotel to be developed by the Fairway Holdings Group.