Hayden says player power needed to rectify a 'horse shit' system
By Jon Pierik
View(s):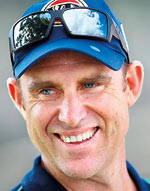 Former Australian batsman Matthew Hayden has taken aim at coach Darren Lehmann and high performance manager Pat Howard, declaring it's time for the players to wrest back power in a system which had become "absolute horse shit". In a stunning attack on the Test side in the wake of a losing 3-0 series against Sri Lanka, an angry Hayden, who is also a former Cricket Australia board member, said Lehmann and Howard were having too much of an influence. The Australians were flummoxed by the Sri Lankan spinners, having been confident heading into the campaign they had the necessary mental and technical nous to deal with the local conditions.
They have now lost nine straight Tests on the sub-continent, having also ceded the Ashes in seaming conditions in England last year and dropped to third on the International Cricket Council's rankings. Hayden said on Saturday the reliance on high performance input was "horse shit".  "It's not an easy problem, this. I don't like seeing just how high performance and I don't think cricket is in isolation here either, high performance tends to dominate the decisions that get made at the pointy end of the stick," he said. "Now in cricket, you as a captain are the person that is the go-to that needs to stand up and be responsible for your actions, be responsible for your team.
But what I'm seeing a lot more of, more recently, is that the coach and the high performance sector [are] controlling a lot of the decisions.
"Since when has the fact that you can sit on a force-plate test and test a little bit down on your response, then resonate with selectors. They then go, he is not jumping 140 kilograms, so therefore he is out. I mean that is absolute horse shit." Hayden's comments came after a week where skipper Steve Smith was ordered to return home from Sri Lanka and miss the final three one-day matches to rest up for the summer ahead, sparking criticism from past greats Michael Clarke, Shane Warne and Michael Slater.
The one-day series is locked at 1-1 heading into tonight's clash. Speaking on Triple M, Hayden didn't mention Lehmann, who is also a selector, and Howard by name but clearly took aim at the power they had. Hayden and Lehman had been teammates during Australia's golden era under Steve Waugh and in the early years of Ricky Ponting's reign. "Some of your best performances are always those that come when you have to bloody dig deep, and when you're in subcontinent conditions, mate, you're digging deep the entire time," he said. "The players have got to actually wrestle back some of their own power from within rather than listening to your physios, your strength and conditioning coaches, your high performance manager and even your coach for that matter and actually dig in as a group and build the culture.
"That's the fabric of the baggy green, that's what you're passionate about, and I'm not seeing some of that at the moment and I'm disappointed."
It's not the first time an Australian coach has been publicly questioned over whether he wields too much power, for that was the complaint some players had when Bob Simpson was in charge in the late 1980s and early 1990s. Lehmann and Smith get on well, with Lehmann recently having his contract extended until the end of 2019. The 2011 Argus report had recommended a change to the team performance structure, with Howard coming on board in the new role. He reports to CA chief James Sutherland. Cricket Australia did not wish to comment when contacted by Fairfax Media. Hayden averaged 50.73 across 103 Tests for Australia and famously swept his way to 549 runs at 109.8 in the losing 2001 series in India, having prepared for that series by dusting up Brisbane's practice wickets.
He was also a key member of the series wins in Sri Lanka and India in 2004.  The Queenslander also took aim at Australia's overall tactics, which have been questioned by several past greats. Only fast bowler Mitchell Starc was a stand-out on the tour, with frontline spinner Nathan Lyon even told by Smith and Lehmann he needed to add greater variety and learn to spin the ball more like his sub-continental brethren. "It's almost like rabbit in the headlights stuff, the guys aren't organised in their thinking," Hayden said. "It's like studying for an exam the night before you finish, you may as well forget it. You've got to have years of preparation.
Batsmen Joe Burns and Usman Khawaja were so confused on how to handle the spinning, or non-spinning, deliveries that they were axed after the second Test. Howard has since said a "horses-for-courses" squad would be selected for the blue-chip four-Test tour of India from February, although it remains to be seen if the Australians have the players with the necessary skills to adjust. This philosophy means runs and wickets taken on Australian shores this summer won't carry as much weight as typically can be expected, for the decks in India are expected to be sharp turning. Lehmann has said the tourists should have been "reasonably embarrassed" by their results in Sri Lanka. Courtesy – Sunday Morning Herald