Are we really investing in Sevens Rugby!
View(s):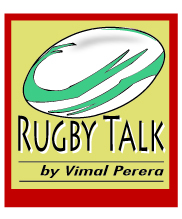 Sri Lanka has a reputation for sevens rugby in Asia, so what is our plan to be Asia's best sevens team. The junior rugby performance at sevens at U20 and 18 has been impressive so we need to look ahead.  Do we have a "winning edge" strategy in place? This should be a collaborative effort led by partners in rugby? Australia sports winning edge 2012 -2022 recognize the following: Investing for Success – Planning – Right support – Good Governance and Capability – Evidence based decisions. That is how they look for high performance. The point behind the investment based approach for success is to see that there are resources available to support a talented athlete. It is no doubt a fact that Isipathana has provided talent to the National Rugby Cause Year in Year out and winning tournaments consistently over the last couple of decades.
It has been happening in almost at all age levels of rugby. Yet they do not have a ground to call their own. The school needs to restore and re-grow not for them but for the continuous feed they have made to the game and will continue to make as we see talent at all age groups.  This will go hand in hand with the second pillar that is planning where the resources need to be ongoing. It is not only financial resources but also working with the feeder to rugby the schools section. In this area it is sad that there is little consensus or link between the governing body and the schools.
The right support is providing the necessities for current high performers as well as recognising that schools are the platform for potential rugby players.
In this Pathana are not alone there are schools such as Science who too have contributed to the National grid who have a ground but resources. The support is not just grounds but working and using knowledge of the governing body. Good governance and capability to deliver and the key to this are the people, the systems and a culture of excellence. Confidence in the leadership capacity is must and huge gap exists will be discussed later.  Evidence-based decisions a requirement across sport will be the need to make decisions based on clear performance evidence.  Currently there is much money spent on rugby by Clubs and Schools. Despite the money Club tournaments have not provided the excitement or entertainment. In schools there is much money spent and mostly for individual (meaning school) appeasement or to satisfy the supporters.
Can this money be used more effectively than to pay officials whose future depends on evidence of wins even at the most junior level. If they do not perform they are out of the scene so they will try and make professionals out of school boys. No passion more injuries and finally parents opting not to send children for rugby as they have no time to study being involved almost all year.  In the Under-18 tournament played currently teams may not be best represented as boys keep away from practice as the O levels are due while some schools have kept away. Did somebody plan to fail or fail to plan? If this tournament was conducted by the SLRFU such clashes with exam dates may have been excused. But this is under the Education Ministry who are aware of the School Calendar and the plan should have fitted in.

There is an Under-16 tournament like Under-14 played earlier. Boys practice for one year (almost) and play a two-day tournament in which a win is a must for the coach, parents and the advising old boys. Then when they don't the referee has to be blamed. We must be blaming somebody as coaches are paid and old boys find the money.  I recently happened to walk into an Under-18 match played match played at Ananda College Grounds at Rajagiriya. A good property and a boon for rugby as there is another ground. My question is whether this ground is suitable to play rugby at this stage. The need to run a tournament does not make any ground suitable. Matches are played from 9.00am to 5.00pm. The ground is in my view not suitable as it is uneven and soft with holes at places exposing players to ankle injuries.
The area behind the in-goal is not adequate and is a safety hazard as somebody can go into the mesh fence where at one point there is a post almost on the dead-ball line.  World Rugby priority is safety of players and this violates a basic principle of playing game. We cannot say we are not accountable to world rugby requirements as we run according to the education ministry circulars. But all aspects of rugby are not covered in circulars and there is a need to follow the world governing body. Investing is a pillar for success; it is good and much welcome to have rugby ground which will not only help Ananda but the game as a whole: the Investment need to be wise. There is still room to re-discuss the ground plan and reorient so that there will be a greater contribution to the game.
It is not the architectural model to build that will give a ground and a pavilion but a ground that will pass the test of time as a valuable rugby ground or else all the money spent will not contribute to the game. I asked the Vice President of the Rugby Union Lasitha Gunaratne whether any discussion were held on the ground plan and the answer was no. His view was that rugby needs more grounds and this is a valuable property and a rethink and reorientation will be a boon to rugby. The need to work together at school level must be emphasized as the way to a winning edge depends on the plan and the structure. I understand that the SLRFU representative to the schools section is the Vice President Lasitha Gunaratne who has so far not been invited to any meeting. Is it a communication gap or an ego issue?