Army DSG 2016 Champs for the 5th time
By Lakshman Ranasinghe
View(s):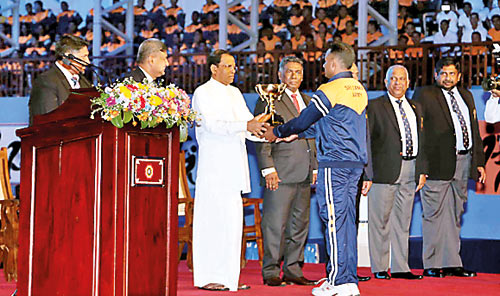 Sri Lanka Army (SLA) swept the boards at the 9th Defence Services Games (DSG) 2016 to emerge overall champions for the 5th time, at the newly constructed Panagoda Stadium recently.  DSG, the annual joint platform for tri-services sportsmen and sportswomen to showcase their prowess in sports, while competing with their comrades-in-arms in a specific sport. The keenly anticipated and closely contested DSG was inaugurated in 2003, as a collective recognition of sporting talents of tri-service personnel.
won the overall championship by emerging champions in 15 games and events (15 Men's and 7 Women's), of a total of 35 in the entire event, with specific men's and women's categories. The SLA previously won the championships 4 times in 2003, 2004, 2007 and 2008. SLA sportsmen and sportswomen lead from the front in all Sports- Nationally and Internationally. The armed services led by the SLA are helping talented sportsmen and sportswomen by providing them employment and grooming them to become recognised sportsmen and sportswomen. This year's event was hosted by the Sri Lanka Air Force (SLAF) with the support of the other sister services.
Months of competitive sports and events of the tournament, after its commencement in March, saw more than 800 men and 400 women of tri-service personnel, vying with one another under the supervision of veterans in the field of specific events.  President Maithripala Sirisena graced the occasion as Chief Guest for the prize distribution and closing ceremony to declare the DSG 2016 closed, which was followed by the National Anthem.  SLA won 95 Gold, 133 Silver and 127 Bronze.  The next edition of the DSG will be hosted by the SLA and it was symbolised through the handing over of the DSG Flag to the Army Commander by the Air Force Commander.
SLA's achievements in the Games as Overall Champions are:
Athletics- Men & Women, Badminton- Women, Baseball- Men, Carrom- Men, Cricket- Men & Women, Handball- Men, Judo- Men & Women, Kabaddi- Men, Karate- Men, Rowing- Men & Women, Football- Women, Table Tennis- Women, Taekwondo- Men, Tennis- Men, Volleyball- Men, Weight Lifting- Men, Wrestling- Men, Water Polo- Men. `