The story of a house, two portraits and now a third
By Kumudini Hettiarachchi
A ceremony at the College of Surgeons to mark the little known role played by author Anne Ranasinghe regarding this old-world building, takes the audience through the corridors of time to the owners of the property, Dr. Noel and Nora Bartholomeusz
View(s):
They were a close-knit foursome – two reputed doctors of yore and their wives, both nurses from foreign lands who made Sri Lanka their home.
Three are no more but on a busy Friday evening, with heavy traffic whizzing past, a small crowd, eminent surgeons and a few invitees gather in a beautiful home with its old-world charm still intact in the very heart of posh Cinnamon Gardens to honour Anne Ranasinghe.
Anne, the wife of the late Prof. D.A. Ranasinghe needs no introduction, for she is not only a survivor of the infamous holocaust but a prolific poetess and author. However, it is not for her literary skills that she was felicitated on August 12 in the cosy, arched hall with its rich wooden flooring, accessed through a colonnaded portico at 6, Independence Avenue, Colombo 7, now the home of the College of Surgeons of Sri Lanka.
Mrs. Ranasinghe's portrait was unveiled across from those of Dr. Noel and Nora Bartholomeusz in a simple ceremony for a little known role that she has played. Anne, however, was unable to attend the ceremony to hear all the accolades showered on her but was represented by a few relatives and close friends.
This is what the invite to the felicitation states: "The magnificent house and property, where the headquarters of the College of Surgeons stands, was the gift of Nora Bartholomeusz in memory of her beloved husband, Noel.
"This was facilitated by Anne Ranasinghe, a devoted friend of the Bartholomeusz couple, who looked after Nora until she died. Anne is now a friend of the College of Surgeons…………..With the unceasing support of Prof. A.H. Sheriffdeen and Dr. Vimala Navaratnam, she made this gift possible hopefully ensuring legally that the college would safely serve its valuable purpose well."
Mrs. Ranasinghe was one of the Executors of Nora Bartholomeusz's will and helped set up the Noel and Nora Bartholomeusz Foundation, ensuring that all legalities were attended to and a watertight agreement was in place not to destroy, demolish or sell the house on 80-perches of land that was home to her dearest friends.
Nora, 92, who had passed away on April 13, 2003, had been cremated at a private funeral, according to her wishes, the very next day at the General Cemetery, Kanatte. The decision to gift the home she had shared with Noel had been intimated to the then President of the College of Surgeons, Prof. A.H. Sheriffdeen in 2000, when he met her at her request to discuss "an urgent and private matter".
Prof. Sheriffdeen, though, knew Dr. Bartholomeusz, for he was the Surgeon under whom the young man had had his first clinical appointment in surgery.
When he met gracious and dignified Nora, she had discussed the gifting of her "valuable and virtually priceless" house to the College of Surgeons, according to 'Our beginnings' put on record by Prof. Sheriffdeen on the college's website. The 'conditions' were few…….that no part of the property should be sold and eventually it should be named 'The Noel and Nora Bartholomeusz Foundation'.
The rest is history. The Deed of Gift being signed before her lawyers, the Executors of her will who included Mrs. Ranasinghe and Prof. Harshalal Seneviratne; Dr. Vimala Navaratnam; and a few members of the college Council.
Shy and reserved Nora, states Prof. Sheriffdeen, consented to a few photographs thereafter.
After Nora's death, the safe transition of the property was handled by Mrs. Ranasinghe who was oft referred to as "a true friend" of the College of Surgeons during the felicitation by current President Dr. Ranjan Dias.
Past President Dr. Narendra Pinto goes back in time to when the college operated from a cramped room at the Sri Lanka Medical Association  coincidentally No. 6, down Wijerama Mawatha in Colombo 7 in the late 1990s. Desperate for decent premises of their own, the college had been able to secure a plot of land from the Urban Development Authority for a SAARC Surgical Care Society Headquarters to be operated from Sri Lanka as well as a home for the College of Surgeons. But developing that property turned out to be a nightmare, with Past Presidents of the college running here and there in attempts to raise funding.
The good news of the donation of the "magnificent building and property" by Nora had then been brought by Prof. Sheriffdeen, to the relief of the college.
Dr. Pinto reminisces how Mrs. Ranasinghe was very particular about honouring Nora's wishes and maintaining the mansion in its original state. She had been heavily involved in renovating the building. When the electrical fittings in the hall needed to be changed, he himself chauffeured her to Majestic Electricals on Galle Road in Bambalapitiya, stopping in a parking prohibited area and on being confronted by Traffic Police, pointing to the 'foreign lady' as an excuse and getting off scot-free.
"Many have heard of Iron Ladies, but Anne is not made of iron but of steel," he smiles, adding that beneath the steel is a very tender heart.
For Prof. Sheriffdeen a scenario still vivid in his mind is seeing, as a raw medical student, Dr. Noel rinsing his hands at the dilapidated sink of Operating Theatre D of the General Hospital (now the National Hospital), while Prof. Ranasinghe was lying on a metal trolley sans a single nurse hovering over him, after an operation. The House Officer was Prof. Arjuna Aluwihare.
Much later when Nora decided to gift their home to the College of Surgeons, Prof. Sheriffdeen says, Prof. Lalitha Mendis was eyeing it to build a hostel for female medical students. Similarly, he adds that he thinks that Prof. Mendis never forgave him.
Pointing to the portrait of Dr. Noel, he says that every morning he would rise at 5 and in his pyjamas tend and water the plants in his orchid house before picking an orchid for his lapel to match his suit. Now the beautiful auditorium of the college stands where the orchid house was.
Little nuggets of what went on in the home of Dr. Noel and Nora are revealed during the felicitation ceremony.
Medically too their home has been of significance, for according to Prof. Aluwihare, it was in the couple's bedroom that home dialysis was performed for the first time in Sri Lanka.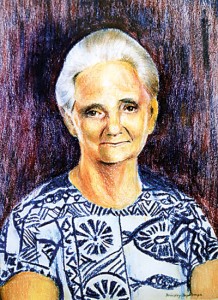 Mrs. Ranasinghe herself turns the spotlight on Nora through an appreciation published in a newspaper now on the college website stating how she found time to assist a number of charities and regularly visited sick and disabled friends carrying baskets filled with nourishing food and medicines, the small luxuries they could not afford, but Nora knew they craved.
"When Noel fell seriously ill in the late sixties, they both travelled regularly to England. It became apparent that he needed dialysis, which at that time was in its very early experimental stages and so Nora took a special course in a London hospital. They returned to Colombo loaded with all the paraphernalia needed and for the next 8 years Noel underwent the 12-hourly procedure three times a week, at home, at night, while performing his magical surgery in the day time uninterruptedly," says Mrs. Ranasinghe.
Recalling the generosity and kindness of Noel and Nora, Prof. Aluwihare adds that he and his nurse-girlfriend, who is now his wife, had been invited to tea to their home, when he was a young House Officer.
And even on that Friday, August 12, the ceremony concludes on the right note, a familiar one in that house –a spread of sandwiches and short-eats and steaming cups of tea.