Improving maternity care in Sri Lanka
View(s):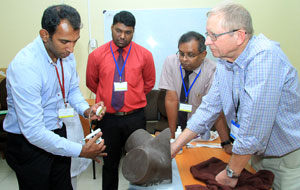 They are clustered around 'Lucy', not her face area, because that is non-existent, but below her belt. A peep through the inner circle reveals a birth in progress. For Lucy is in the second stage of labour and there is some foetal distress but the team successfully brings into the world Lucy's baby through a vacuum delivery.
Lucy is a mannequin and the birthing process is a simulation to hone the skills of maternity teams in Sri Lankan hospitals. Three Obstetricians and Gynaecologists and four midwives are at a hands-on instrumental delivery training at the Family Health Bureau (FEB) in Colombo.
The training programme with funding from the Health Ministry has been organised in association with the Centre for Maternal and Newborn Health at the Liverpool School of Tropical Medicine (LSTM) in the United Kingdom. It was a collaboration between the LSTM and the Health Ministry, with the FEB acting as the local focal point. The Course Director in Sri Lanka was Prof. Hemantha Senanayake.
JAT Holdings, meanwhile, had donated some of the expensive mannequins that could also be used in future courses.
Although Sri Lanka has reached a pre-eminent position in maternal death rates in developing countries, many of the maternal deaths could be classified as preventable. The concern in Sri Lanka has been that the rate of decline of the deaths has been too slow, hovering around 31 per 100,000 live births for almost eight years, it is learnt.
The need is to use all possible approaches to correct this, it is understood, as in recent years the main causes of death have been indirect — viz heart disease and respiratory illness. The rates due to haemorrhage and preeclampsia have been far less, but these too could be prevented.
The emphasis of the training course was to improve 'quality' of care by imparting a structured, evidence-based, hands-on training to all categories of staff, using a team approach. The staff is good, but there is a need to address quality issues. The course also included sections on effective communication and respectful care.
The trainer-team included LSTM Course Director of Emergency Obstetric Care and Senior Research Associate, Terry Kana; Obstetricians Adrian Murray, Franz Majoko & Gillian Scothern; Midwife Annette Ellis; and Administrator Keri Murray.