National Trust lecture: Prestigious Sigiriya
View(s):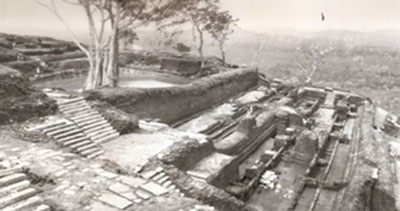 "SIGIRIYA  -  The Most Prestigious Architectural Heritage of Sri Lanka, The Past, Present and Future" will be the title of the National Trust lecture for August  to be delivered by  Prof. Nimal de Silva at the HNB Auditorium, 22nd  Floor, HNB Towers, 479 T.B. Jayah Mawatha, Colombo 10  at 6.30 p.m. on Thursday, August 25.
The fortified landscape city of Sigiriya built in the 5th century by King Kashyapa is a World Heritage site now.  At the beginning it was a glorious creation highlighting the Sri Lankan concept of landscape-driven architecture.  As it went out of royal use and patronage it faced a rapid decline.  With time, during the last 1500 years it went to ruin.  Today,  after restoration by the Department of Archaeology, it has become a tourist destination, with more than 5000 people visiting daily.  It earns revenue but its destruction has accelerated.  What will its future be?
The author of several books and research publications, Prof. Nimal de Silva is the President of The National Trust, Emeritus Professor of Architecture, University of Moratuwa and Director General of the Central Cultural Fund and member of the Advisory Board, Departments of Archaeology and National Museums..