Appreciations
View(s):

Elmo Fernando

A radio star that video never killed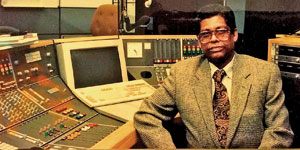 For us 70s kids in an era of deprivation of entertainment, the SLBC radio  was the sole source to fall back on. Only the rich upper classes were fortunate to own that much loved status symbol of the "record player" in the era of Engelbert Humperdinck, Tom Jones et al.
The SLBC (still Ceylon Broadcasting Corporation, CBC,  to those connected to the station) was bringing us to our living rooms, the BBC from the Bush House, cricket from Lords and the MCG and Top of the Pops, a BBC transcription service of latest pop music which invariably arrived at the SLBC some three months after their original release.
Fernandos dominated the SLBC then, from Mark Antony to Harold to Eric and among them was Elmo. Never seen in person and known only through the ears, they were treated with stardom by the listening audience.
Elmo was a close friend of my father and for me in my early teens he was Uncle Elmo. My first meeting with him was something vivid in my memory to this day, the guy who reads news every morning was in front of me saying hello to me. Never did I dream that he would be a dear media colleague later in my career.
His reporting from Manila for Radio Veritas was much sought after long before his much loved sign off "BBC lokasevaye Sandeshayata Elmo Prananadu kolombasita" did drive in his broadcasting personality to the hearts and minds of the populace.
Kolombasita was such a hit that once Elmo travelling through Omanthai check point to the north was stopped for a routine check. Having asked to establish his identity the soldiers let him through after they asked him "anay sir ekaparakn Kolombasitakiyala yannako".
A man of extreme integrity,  his greatest value was that he never sought to abuse his profession for personal favours. His conduct was of exceptional humility, he behaved at all times as just another reporter and not someone who was a stalwart,  a near colossus  in journalism in his own right.
His humour was no less entertaining. With many anecdotes from the years gone by he was a great entertainer of those close to him. Some of them professional mishaps as a radio person, each of them were lessons for young radio journalists.
Closeness to his family was his outstanding trait,  he made sure he returned home to be with his wife for lunch. He rejected calls for evening entertainment for he loathed leaving his family and spending time without them. A stickler for hard work he never wavered in his commitment recording for the umpteenth time until he got his 40 seconds daily despatch right.
He treated the mobile phone for the purpose it meant for, only for the mobility, it never rang at home. A prompt switch off as he returned home.
None would beat him for punctuality and detail for work ethics. On time always and leaving promptly,  he never stayed chit chatting post press conferences to curry favour with politicians. His press conference behaviour was one of thorough professionalism, he never hesitated to 'Sir' even the most junior politician, he commanded respect while raising his questions. The question-shy journalists benefited from Elmo's outstanding news sense. He made their jobs easier.
You stamped your journalistic finesse with your precise Sinhala pronunciation, clarity of the spoken word. Rest in peace. Your candle may burn out but your legend never will.
- Mahendra Ratnaweera
---
Rev  Sister Gloria
A kind-hearted angel
Reverend Sister Gloria was a teacher of mine at St. Anthony's Girls' English School, Dematagoda, Colombo 9. The name was changed to  St. Anthony's Balika Vidyalaya, Dematagoda when she was serving as the principal. She was my class teacher when I was in grade six.
Even though seven decades have passed, I can still recollect her very well. She was a talented and committed teacher, always punctual. She was my second mother. She gave priority to ethics and good values. Even though she laid down many rules, she loved all her students. I will never forget the manner in which she taught us sewing and knitting. She carried a large box of multi- coloured thread to the class room. We had to wash our hands before the class. She taught us how to match colours and sew neatly.
The ten years I taught at St. Anthony's Balika Vidyalaya was the golden era of my life. My best friend Iranganie Godamune was also a student of Sister Gloria and she also served in the same staff. Sister Gloria was very proud of us and would tell the students, "These two are my students. They are role models. Follow them and be winners in your lives."
Her leadership qualities were remarkable. She was a very good manager and good organiser. Other than the formal school activities she organised several functions and training programmes for the teachers and students. Once she organised a three-day trip to Anuradhapura, Polonnaruwa and Trincomalee. We stayed after school and prepared the food. She was a good cook and even prepared the Maldive fish, the snacks for tea, fish, meat, seeni-sambol, pickle and  moju for the three days. During the trip she wanted us to enjoy by visiting archaeological and religious sites and she stayed back to cook meals for us. I will never forget the trip to India which she organised for the teaching staff.  We spent very limited amount of money and it was an interesting trip. She taught us how to organise events very systematically and economically which indeed helped me later in life.
She was a dedicated social worker and maintained a fund to help the poor. Every year before Christmas she withdrew the interest and bought clothes and stationery for the poor children in our school. She never forgot to buy gifts for children of the staff.
She was a mother to all students, an advisor and counsellor to all. She encouraged us to save and opened savings accounts for teachers who were not keen in saving.
Once when I underwent an operation the Doctor issued a medical certificate for two weeks. I was so worried about taking leave I reported to work after one week. When she saw me seated in the classroom, she came running up to me and said, "You look very weak. Why did you report for duty today?" That evening she visited our home with three bottles of vitamins! When my old mother fell seriously ill, she sent me home saying "I will look after everything." She visited my home and had looked into everything, including my two kids.
I will never forget the way she encouraged me when I was following the Post Graduate Diploma in Education Programme. When my Master Teacher visited the school to observe and evaluate my lessons she went to all the classes in the school and asked the children to observe silence. The whole school was dead silent. However it was a very sad moment when my results were released since she had already left us forever. Even my dearest mother left us the same year. In 1986 I won the gold medal for the Best Performance in Post Graduate Diploma in Education. My second mother, Sister Gloria would have been the happiest person in the world to hear about my achievement.
It was a golden era of the school academically and ethically during her time. St. Anthony's Balika Vidyalaya is situated in a multi-ethnic society. There was a large painting in the staff room hung up by her. The painting was a vase full of flowers of different types and different colours. The slogan below the painting was 'Unity through diversity'. As she wished we were like members of the same family. This social environment was created by Sister Gloria.
The service she rendered to the education sector is remarkable. She was a unique person with an excellent character – hard working , straightforward, accurate and well organised.  A kind hearted angel.
I pay my tribute to her, 30 years after her departure. I am sure thousands of her students, their parents, teachers and their families and community members join me in this tribute. God bless Sister Gloria!
- Dr. Srini De Zoysa
---
S.D. Saparamadu
Loss of an insouciant friend and guru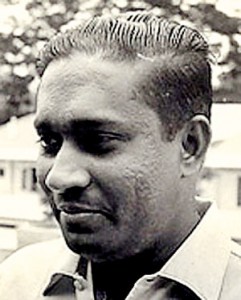 The demise of former civil servant, S.D. Saparamadu has taken from us an exceptional man – administrator, scholar, historian, publisher, hotelier and nature conservationist – wrapped in the personality of an insouciant friend and guru.
His insouciance was beguiling much like the Lankan centurions at the third Test vs. the Australians at the SSC, Dhananjaya and Chandimal who by nature are happy stroke-makers but when needed displayed a disciplined approach to the task at hand.
Sappi, as he was popularly known was a tough cookie to combat when confronted with what he perceived as unreasonableness, but was otherwise warm, friendly, carefree and jovial.
I had the good fortune to associate with him in the early 1970s when I was seconded from the Government Information Department to the Department of Wildlife Conservation as Assistant Director and Editor of the Sri Lanka Wildlife bulletin. Saparamadu was Director of the Wildlife Department and concurrently Additional Secretary to the Ministry of Shipping and Tourism.
As we got to know each other better, we developed a rapport beyond the 9 to 5 office hours which grew in mutual respect for each other's work ethics and the love of nature. The times we visited the National Parks on inspection tours were numerous. It was on these tours that I gleaned Sappi's commitment to nature conservation and to the welfare of the staff whose duty it was to maintain the Parks and ensure the health of their denizens.
Sappi's closeness to the Ministry enabled him to secure the funds to undertake the, until then much neglected, infrastructure in the Parks. Under his tenure, entrance gates at Wilpattu and Yala were erected, new office buildings were constructed and a wildlife museum to educate visitors, particularly schoolchildren, was inaugurated in Yala. Better and permanent living quarters for resident staff were built and the staff wage structures were revised upward. The field staff were, for the first time offered opportunities for promotion to the head office and Park Warden, Percy De Alwis was promoted as Assistant Director. Within the Parks several grassy meadows were planted and water holes for the benefit of the animals were constructed some of them being named after dedicated field staff, such as Percy BendiWewa.
Sappi was also keen to ensure that the message of nature conservation was propagated among the rural folk of the country as he believed that they were the true inheritors of the traditions of ahimsa, embedded in their concepts of the unity of ALL life and the humanitarian ideals of Buddhism and, therefore, the true guardians of nature.  To achieve this, he believed the common people should be given opportunities to visit the Parks and stay overnight. Towards this end he built Vishramasalas to accommodate large numbers of people and expanded the number of Park bungalows in Yala and Wilpattu. This brought him in direct conflict with the Wildlife and Nature Protection Society who opposed the idea of opening the Parks to 'saronged yakkos'. Sappi viewed the WNPS, then headed by influential fertilizer merchant Thilo Hoffman as a gang of wealthy urban cowboys whose desire to preserve privilege drove them to want to corral the Department to inaction. Sappi stood firm and won the day. Through these turns of vicissitude, I was privileged to fight the good PR battles alongside Sappi and our friendship grew.
One day, Sappi came with the thought that the Dept. of Wildlife was too small and limiting a place for me and suggested that I should move on to the Ceylon Tourist Board, where he foresaw my going places further than Yala and Wilpattu. A few days later having got my consent, he spoke to the Minister (Kalugalle) and the Acting Chairman of the CTB (as Chairman, Dharmasiri Senanayake had resigned to contest the by-election at Dedigama). I was immediately transferred to a parallel post of Assistant Director, North America, Japan and Australia, at the Tourist Board. That was my entry to the world of tourism and it was Sappi who opened the doors for me. It can now be said that I went to the concrete jungle of New York from the jungles of Sri Lanka.
Six months ago, I invited Sappi to the launch of my book "Flickering Fortunes" by Minister Amunugama who was Director of Information at the time of my secondment to the Department of Wildlife. I had on a previous visit to Sri Lanka shown an early manuscript of the book to Sappi and he volunteered to publish it immediately, free of charge. I demurred as the book needed editing.
Sappi declined the invitation to the book launch saying "I am old and feeble now" and I resolved to see him on my next visit. Sadly, that is not to be.  Thanks for the memories, Sappi; May you attain the bliss of Nibbana.
In closing this tribute to a man of my highest esteem, I quote a passage from the Karaneeya Meththa Sutta which Sappi quoted often:
     As a mother protects her only child
By sacrificing her own life,
     In this same manner, express
    Unlimited kindness to ALL living beings"
  – Lakshman Ratnapala
---
SRIMATHIE PADMA GRERO
A gracious lady who led a simple life 
Srimathie Padma Grero, Srima akka to most of us, passed away three months ago on  May 15, 2016 at the age of 80 years after ailing for some time.
She was born as the only child to respected teacher parents Mr. and Mrs. Kaluvitharana from Talpawila, Matara. After her early schooling at the Matara Convent, she gained admission to Visakha Vidyalaya in Colombo as a very young girl. My father-in-law, David Hewa Gajanayake who had the magnanimous quality of helping relatives and friends from his native area, had played a prominent role in getting Srima akka admitted to Visakha Vidyalaya in Colombo, and moreover providing her with accommodation at his own house in Sylvester Road, Mt. Lavinia.
This had provided the opportunity for my wife, Vajira and her two brothers, late Naresha and Ranjit to entertain Srima akka as one of their own family members and my wife had benefitted immensely as a result. Apart from her parents, Srima akka had been the mentor and guardian of my wife over a long period of time. After completing her school career at Visakha Vidyalaya, Srima akka went into the teaching profession following her parents' footsteps and subsequently married Dr. Ananda Grero, former Appeal Court Judge, while he was practising as a young lawyer in Matara Courts.
They were a loving and an exemplary couple, helping each other in all their activities. While Ananda Aiya had a busy life engaging in literary and religious activities in addition to his official duties as a legal professional, Srima akka looked after the home front maintaining close acquaintances with relatives and friends of both of them.
She had the rare quality of moving at ease with people of all walks of life and helping them in whatever the way she could to make their lives happier.
After Ananda aiya's demise about fourteen years ago, Srima akka became somewhat lonely at her home in Meegoda. However, she had the ability to face the situation courageously with the help and support of everyone who was around and faithful to her including Podi, Amarasiri and others. She enjoyed the company of her close relatives and friends and invited them home to spend the time with her. She had a poetic skill too which Ananda aiya also possessed. Her birthday greeting cards or any other greeting card sent to us and to her other close relatives and friends always accompanied a number of verses composed by her, some of which were very emotional.
She observed Ata Sil on every Poya day and donated immensely to temples and other charity organisations. She sought the advice and guidance from the Maha Sangha whenever needed. She made it a point to obtain the blessings and guidance from Most Venerable Trikunamale Ananda Maha Nayaka Thero of Vajiraramaya Temple every year when the Dhamma booklets were printed for free distribution in memory of her husband late Dr. Ananda Grero. She travelled to India on Dambadiva pilgrimage on three different occasions and we were also fortunate to join her on one such occasion paying homage to Buddhagaya and most other places of religious importance.
Srima akka donated her ancestral home in Talpawila, Matara to the Sarvodaya movement for them to use it as a house for disabled children. She was very friendly with the staff and the inmates of this home and they too reciprocated her affection which she enjoyed very much.
She had made prior arrangements to distribute all her wealth to her relatives and to all those who helped her, keeping with her only the minimum savings to be used for her daily expenses and illnesses.
I and my wife now miss the long chats that we had with Srima akka almost every night.
She was a gracious lady who led a religious and simple life to the very end and her demise has left a big void in the lives of all those who loved her.
May she attain the Supreme Bliss of Nibbana.
- Susiri Dayaratne
---
Professor Mahroof Ismail
A model human being whose memory will be cherished
Professor Mahroof Ismail, passed away on June 13 following a life of academic activity and service to this country, and the world at large, and having led an exemplarily gracious life. A fitting appreciation of his achievements and qualities was published in the Sunday Times of  July 24 by Professor Nilanthi de Silva.  This is a personal tribute to him from one who had the privilege of being his student, then a staff member of a department of the Faculty of Medicine, Colombo of which he was the head, and later a colleague and a friend.
His academic achievements in the field of medical parasitology, were nationally and internationally recognised and highly appreciated, including by the World Health Organisation, for their value in controlling parasitic diseases. His many contributions through research, in particular to the control of filariasis in Sri Lanka culminated in the disease being eliminated from the country, and the country being certified by the World Health Organisation as being free of it. Although he did not live to witness the event itself, he was enormously gratified by this national achievement.
His committed public service was adorned with positions as the Head of the Medical Research Institute, and later the Dean of the Faculty of Medicine in Colombo. Behind these achievements was a person of admirable qualities whose memory will be held in high esteem by all who knew him. Although in the same broad field of study, our sub-specialities differed, and so we worked for some years in parallel, while in the same department. As an administrator, he was supportive,and never stood in the way of anyone's progress – a quality rarely encountered in public institutions.
He was one of the happiest and most moderate persons I have known, who embraced life with calm, passion and goodness. He was a loving husband and father, giving his best to the family, his colleagues, and to everyone he knew. He was always polite, he held liberal views, loved people, and had a hearty sense of humour. He believed in everyone else's entitlement to be happy, and so went out of his way to contribute to it. It irked him to admonish a person which duty may have called him to do– but which he rarely did.
The times that my husband and I have spent in the company of Mahroof and his dear and accomplished wife Jezima were some of our best – we shared ideas, and had interesting discussions against a backdrop of warm hospitality, and often Mahroof would have prepared the meal – he was a passionate and talented cook. He and Jezima – a life partnership that could beat the best, gave their three children whom I knew from their childhood, a very loving home despite them both having had busy and important careers, and lived lives of public service.  Great accomplishments of a scholarly nature, a warm, gracious and compassionate personality, and a happy life of noble service, is what the world will remember Mahroof for.
We will miss him dearly. He was a model human being, loved by many.  His memory will be cherished by us, and all who were fortunate to have known him.
- Dr. Kamini Mendis