Snuff targeting schoolchildren, floods country through legal loopholes
By Sandun Jayawardana
View(s):
A decade-old legal loophole is allowing addictive substances containing nicotine to flood the country, with schoolchildren allegedly the prime target.
The recent seizure of two stocks of a powdered substance identified as SVS snuff (dunkudu) has brought this matter into refocus. In September last year, Customs officials confiscated 75,000 vials of SVS snuff imported from India. The importer had tried to get the stock cleared through Customs by declaring the consignment as 'sambrani' (benzoin resin) used as incense.
Subsequently, a second consignment was seized. Only this time, the importer from Pettah had declared it contained SVS Snuff, while falsely claiming it was to be used as an Ayurvedic drug. The Government Medical Officers' Association (GMOA) has alerted President Maithripala Sirisena to the issue. It insists that SVS snuff is designed to be marketed to schoolchildren as an addictive intoxicant.
Tests conducted by the National Dangerous Drugs Control Board (NDDCB) on samples of the Snuff have confirmed that, while no narcotic drugs were present, they did contain nicotine. The regulatory body in this regard is the National Authority on Tobacco and Alcohol (NATA). But, while it is now 10 years since the NATA Act which established the Authority came into effect, crucial regulations enabling full implementation of the law have not been promulgated.
Section 33 of the Act relates to the "Prohibition of manufacture or sale of tobacco products which are prescribed". It states: "A person shall not manufacture, import, sell or offer for sale, any tobacco product as may be prescribed by regulations."
However, these regulations have still not been gazetted. In effect, there is no list of prescribed tobacco products. And why the authorities have failed to pass these regulations for over a decade remains a mystery.
In the absence of regulations, Customs officials detained the Snuff consignment on a technicality. They fell back on other regulations pertaining to the labeling and packaging of tobacco products. These state that every packet, package, carton or label of any tobacco product shall have printed thereon the date, month and year of production. None of the Snuff vials had such labels. The importer is now trying to get the consignment released on the assurance that the labeling would be done subsequently.
The Health Ministry had warned the public about SVS snuff as far back as 2010, when President Sirisena was Health Minister. Back then, the Ministry underscored reports that usage caused intoxication, and there were clandestine attempts to promote it among schoolchildren. Samples were sent to the Government Analyst's Dept for testing.
Despite these very public warnings, in November 2012, the Department of Ayurveda gave approval to the same company to import SVS snuff as an Ayuvedic drug (due to its supposed effectiveness against hay fever) for a period of one year on "a trial basis".
Documents obtained by theSunday Times show the trial period expired in November 2013. Approval was not extended, as the importer had failed to submit the drug to the Ayurveda Research Institute for clinical trials, in keeping with directions issued by the Dept's Yoga Sangraha Committee (the body tasked with regulating Ayurvedic medicines in the country).
"There are absolutely no Ayurvedic properties in Snuff," insisted GMOA President, Dr M.H.N. Karunasiri. He said there were no Ayurvedic texts prescribing snuff as a medicine for any type of ailment. He questioned why the Ayurveda Dept would approve such a substance, even for a trial period.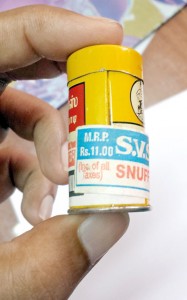 The Yoga Sangraha Committee had rejected a proposal to register SVS Snuff as an Ayurvedic drug, as it failed to meet the required specifications, said Deputy Commissioner- Dept of Ayurveda, Dr Sisira Gamini. "We don't endorse using a substance containing nicotine as an Ayurvedic drug," he said. "The Dept has no objection towards relevant authorities taking legal action against persons importing Snuff under the guise of an Ayurvedic medicine."
Despite these assertions, the failure to gazette regulations under Section 33 of the NATA Act continues to allow importers to escape sanction. It was urgent to promulgate these regulations to close the legal loophole, emphasised Director- Presidential Task Force on Drug Prevention, Dr Samantha Kumara Kithalawaarachchi. "It is clear these substances are a danger to children and should not be freely available," he said.
Work on these regulations is now finally under way, authorities said. The draft has been finalised and cleared by the Legal Draftsman, NATA Chairman Dr Palitha Abeykoon revealed. They are with the Health Ministry for approval. Dr Abeykoon was confident the regulations will be passed in the near future.
Unfortunately, Health Minister Rajitha Senaratne appears not to have seen them yet–despite it being several days since the regulations were sent to his ministry. "I will have to look into that," he told the Sunday Times.
Snuff falls under the category of smokeless tobacco. There is currently no legal bar to importing smokeless tobacco products, provided the importer has a valid permit. This has been rectified in the draft regulations which will clearly list Snuff as one of the tobacco products that shall not be manufactured, imported, sold or offered for sale, Dr Abeykoon divulged.
"Once the regulations are gazetted, the law will be very clear," he said. "They will no longer be able to freely import the substance."