Farmland, forests and fauna suffer in mountain fires
By Anushiya Sathisraja
View(s):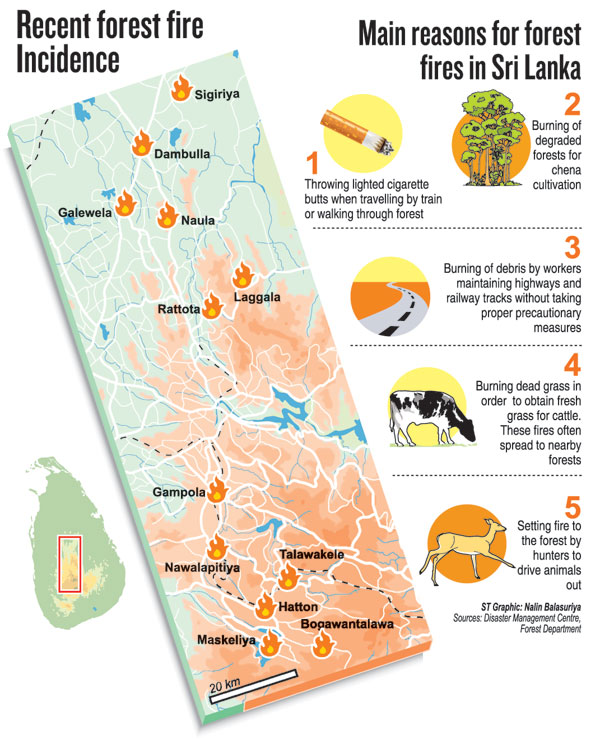 Forest fires across the central part of the country, aggravated by dry conditions, have left hundreds of acres of trees destroyed and brought suffering and death to wild animals.
Firefighters continue to tackle a huge blaze in Ravana Ella, Badulla, with nearly 20 acres of land laid waste by fires spreading in the mountainous regions.
The Department of Wildlife Conservation says nearly 60 hectares (148 acres) of farmland have been destroyed in forest fires so far this year.
There have been several fires in the past two weeks, with incidents being reported from the Naula, Laggala, Rantota, Dambulla, Gallewela, Sigiriya, Gampola, Nawalapitiya Hatton, Maskeliya, Bogawantalawa and Talawakelle, the Conservator-General of Forests, Anura Sathurusinghe said.
Fires were difficult to control because they were breaking out in remote areas and being aided by the dry weather.
Mr. Sathurusinghe said the blazes were caused by various factors including hunters setting fire to an area of a forest so that animals could be captured and killed when they flee to another area.
The grassland areas of Kandy and Matale are the areas most prone to forest fires. Since dry weather conditions can convert even green vegetation into inflammable fuel even a simple spark can create a big forest fire, he said.
"Particularly during the dry season, people light fires for hunting, chena cultivation and also for cattle grazing.
"These fires are difficult to control and severely damage forest biodiversity," he said.
Almost all forest fires in Sri Lanka are man-made, through accident or design.
Forest Department sources say farmers sometimes set dead grass alight to clear land to grow fresh grass for cattle, and these fires can spread to adjacent forests. Farmers also burn down degraded forests to clear land for cultivation.
"Forest fires severely damage the eco system: they affect the animals' breathing, destroy plants and create soil erosion. Amphibians, reptiles and insects are directly affected," an official of the Environment Conservation Trust said.
"Forest fires directly destroy the seed bank of a plant," the official added. "These contain seeds needed for the next generation of plants and as a result of these fires many native plants are destroyed."