Photo focus: Neglected Sinhagama villagers
Story and pix by Kanchana Kumara Ariyadasa
View(s):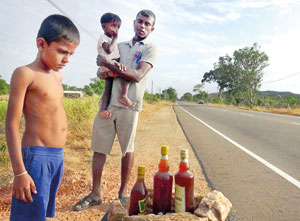 For the 144 families living in the village of Sinhagama located along the Habarana –Tricomalee main road, life can't possibly get any more difficult. With limited means of generating  an income , lack of water and the constant threat of  attacks by wild elephants, the men, women and children living here  lack the basic amenities including proper sanitary facilities,housing, a school or  public transport.  Thirty families have to depend on tube wells for their daily water needs. To ward off elephant attacks, the villages have erected their own fence using discarded tins. and they sell honey obtained from the wild to make some money.
The villagers were given land to settle here in 1987 by former President Ranasinghe Premadasa while the tube wells too were installed at the time. Between now and then, no other state intervention has taken place to relieve them of their hardships.
The nearest District Secretariat is 95 kilometers away, the police station 35 kilometers away, the nearest schools are between seven and 17 kilometers away.
Hingurakgoda Divisional Secretary Pushpa Kumari Ekanayaka when asked about the neglect of Sinhagama agreed that the villagers are facing sever difficulties and said plans are underway to help them. She did not elaborate what these plans are.