Natural gas exploration off SL awaits Cabinet approval
View(s):

Petroleum Resources Development Ministry will next week seek Cabinet approval to offer natural gas exploration opportunities in Sri Lanka.  International tenders will be called from companies for exploration of gas in two blocks off Mannar.
Minister of Petrolueum Resources Development, Chandima Weerakkoddy said discussions have already been held with six international companies including Petronas (Malaysia), Shell- a subsidiary of Royal Dutch Shell, Oil and Natural Gas Corporation- India, Total- France, Exxon Mobil Corp- an American multinational oil company and Halliburton based in the U.S.
He said that an Indian delegation is due in Sri Lanka next week to assess the opportunities available.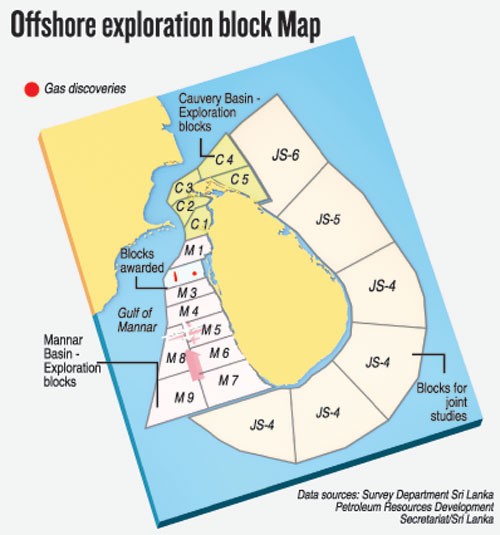 Mr Weerakkody said data already available will be provided to the companies in order to expedite gas exploration.
Cairn India Limited (CIL) had already spent about US$ 235 million collecting data on hydrocarbon deposits in the Mannar Basin. Director General of the Petroleum Resources Development Secretariat (PRDS), Saliya Wickramasuriya said this data will also be made available to interested companies.
Cairn's study had already identified natural gas reserves valued at an estimated US$ 12 billion in a section of the Mannar Basin, and open bids will be called for companies to undertake drilling and distribution operations in partnership with PRDS.
Meanwhile, the contract to conduct exploration in two blocks in the Cauvery Basin, named C1 and C2, will be granted to a Singapore-based company as the qualified bidder in a bidding process conducted in 2013, when the former Government had held off awarding the contract to the company. The Government has decided against calling for fresh bids for these two blocks, as the initial successful bid had followed due process. A new Cabinet paper is to be presented to grant approval for the company to commence operations.
The Government has already inked an agreement with Total S.A., a French multinational, to conduct a Joint Study on two blocks off the country's east coast, known as JS-5 and JS-6. Exploration on these blocks is also due to commence in the coming weeks.
A separate Cabinet paper will be presented within three months seeking approval for companies, in partnership with PRDS, to carry out airborne gravity and magnetic surveys of the remaining blocks, to identify possible oil and natural gas deposits.